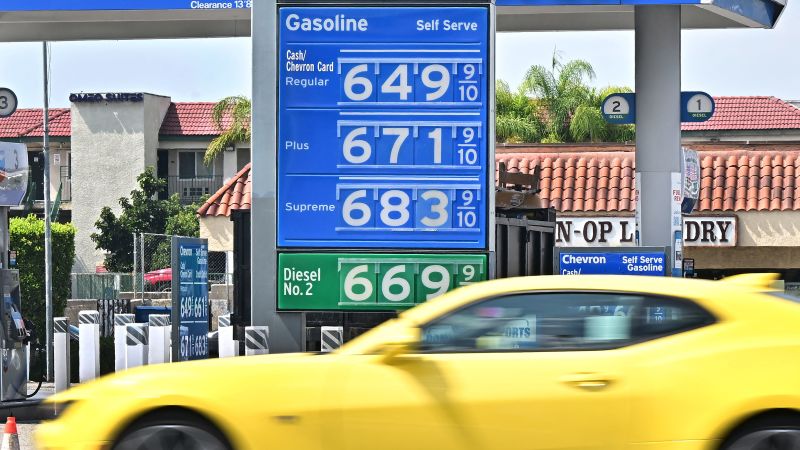 Editor's Note: A version of this story appeared in CNN Business' Nightcap newsletter. To get it in your inbox, sign up for free, here.
Inflation's like a bad roommate who you're stuck living with until your lease is up.
A fresh set of that was released today leads me to believe we could be seeing more of this "roommate."
Here's the deal
Inflation's cooled a lot from a year ago. At its peak in June 2022, prices rose at a 9.1% annualized pace. In contrast, the latest Consumer Price Index report found Americans paid 3.7% more for goods and services for the 12 months ending in August than they did one year ago.
But that was the second straight month inflation accelerated after slowing for 13 consecutive months.
If the third time is the charm, prepare to be charmed when Thursday's CPI report for September is released at 8:30 am ET. By that I mean, inflation on an annual basis is probably going to increase for the third month in a row.
I could be wrong though. Economists expect the annual inflation rate to ease slightly to 3.6%, according to consensus estimates from Refinitiv.
Reading the room
Higher energy prices are the main reason inflation has been heating up. Last month, gas prices hit new yearly highs, as oil prices pushed past $92 a barrel amid supply cuts and catastrophic flooding in Libya.
Case in point: A separate inflation gauge, the Producer Price Index, rose last month. PPI measures the average price changes that businesses pay to suppliers.
As my colleague Alicia Wallace notes, "PPI is a closely watched inflation gauge since it captures average price shifts before they reach consumers and serves as a potential signal for the prices consumers ultimately end up paying."
That's why it's not uncommon to see PPI rise in one month and CPI to rise in the following month.
Want to take a guess how many consecutive months PPI has been rising on an annual basis? I'll help you out — three.
But it's worth noting that wholesale prices are rising more slowly than consumer prices. That could help give way to lower prices for consumers.
Looking ahead
Inflation is still higher than the Federal Reserve would like it to be. The central bank's goal is 2% annual inflation.
And while some people are scratching their heads asking, "What's so special about 2%?" and wondering if 3% is close enough, Fed officials are pretty firm on getting inflation down to 2%.
The majority of Fed officials think it'll take one more rate hike to get there. But some aren't convinced that's necessary.