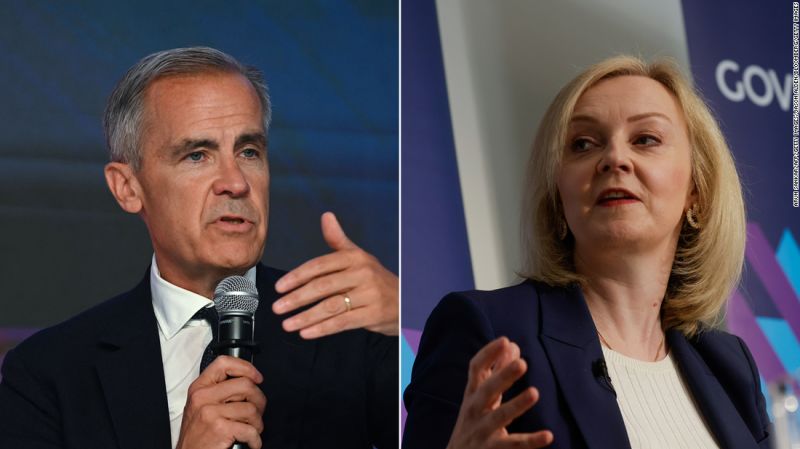 When Liz Truss was briefly Britain's prime minister a year ago, the world's sixth-largest economy came close to resembling Argentina, a country plagued by financial and economic instability.
That's according to former Bank of England Governor Mark Carney, who has accused Truss and other "extreme conservatives" of "a basic misunderstanding of what drives economies" — a confusion that he said put the United Kingdom on a path to economic oblivion.
Truss and her Brexit-backing allies have long argued that lower taxes and fewer regulations — akin to Singapore's approach — would help kickstart sorely needed growth in the UK. But her "mini" budget, which contained ill-conceived plans for unfunded tax cuts, instead sparked market panic when it was unveiled last September.
Speaking at a summit for policymakers in Montreal Saturday, Carney said that when Brexit supporters "tried to create Singapore on the Thames, the Truss government instead delivered Argentina on the Channel."
Argentina was one of the world's richest economies at the start of the 20th century, but poor policy choices led to a series of economic crises that have left the country with rampant inflation, a worthless currency and a heavily indebted government prone to default.
Britain, for its part, is battling stubbornly high inflation, feeble economic growth and a rising public debt burden, which is the costliest to service among rich economies.
When Truss and her chancellor, Kwasi Kwarteng, pushed ahead with their economic agenda, the pound crashed to a record low against the US dollar, UK bond prices collapsed and pension funds were brought to the brink of insolvency, prompting an emergency intervention by the Bank of England.
At the time, Carney, who was head of the Bank of England from 2013 to 2020, accused Truss's government of "undercutting" the nation's economic institutions.
On Saturday, without specifically mentioning Truss, he said: "Those with little experience in the private sector, life-long politicians masquerading as free marketeers, grossly undervalue the importance of mission, of institutions and of discipline to a strong economy."
Truss, the shortest-serving prime minister in British history, hit back at Carney's comments during an address Monday at the Institute for Government, a London-based think tank.
"Mark Carney is part of the 25-year economic consensus that has led to low growth across the Western world," she said.
Following a speech in which she defended her economic policies, she added that "central banks have played an important role in pumping the system full of money, keeping interest rates artificially low, essentially enabling… excessive government spending."
Truss said Britain's economic growth had been slowed down by the "burgeoning" size and scope of the state.
"Levels of tax and regulation are now too high to generate the amount of economic activity needed to keep incomes rising and government services afloat. That means that our economy is now stagnating."
— Olesya Dmitracova contributed reporting.