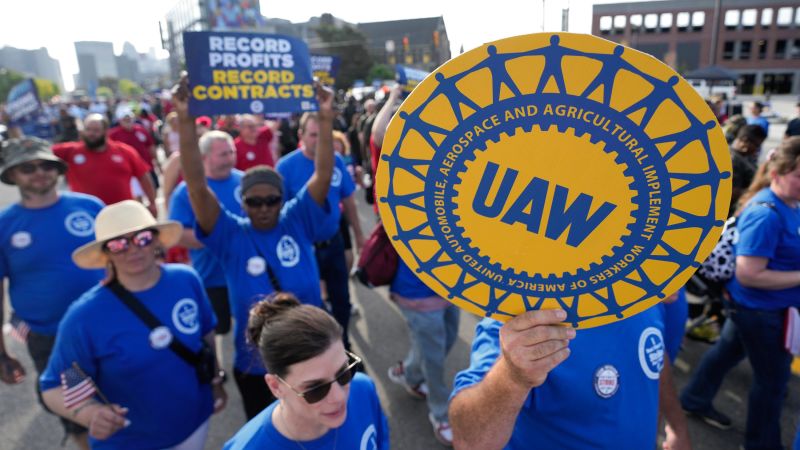 With less than a day to go before labor contracts expire at General Motors, Ford and Stellantis, the only certainty is that all 145,000 United Auto Workers at those companies will not strike on Friday. But there's a good chance at least some of them, at a mix of plants and companies, will walk out.
Those limited, targeted strikes could be enough to grind production to a halt at America's three unionized automakers.
The uncertainty and confusion underscore the high stakes, with a possible historic strike at all three major automakers, disruptions to the local and national economies, and, perhaps more than anything, a hint at the future of manufacturing jobs in America.
UAW President Shawn Fain on Wednesday evening announced plans for those targeted strikes at any company that fails to reach a labor deal with the union before contracts expire at 11:59 pm Thursday.
Fain suggested the strategy, including the possibility of ramping up strikes as negotiating continues, would give the UAW more leverage with the automakers, saying: "We have the power to keep escalating and keep taking plants out."
But it's very possible the companies will be shutting down the plants themselves, complicating the union's plans for leverage and squeezing members with the potential for more financial hardship.
'You can pretty much idle North America'

The companies operate a complex network of plants that depend on getting parts from different facilities.
Slowing or stopping the production of a few engine or transmission plants at each company could be as effective at stopping operations as a full strike at all plants, according to industry experts.
One engine or transmission location per company might be enough to shut down nearly three-quarters of the US assembly plants, said Jeff Schuster, global head of automotive for GlobalData, an industry consultant.
"Two plants per company, you can pretty much idle North America," he said.
Halting the companies' assembly lines would likely happen in less than a week that way, Schuster said.
One advantage for the union of a targeted strike is the potential to save resources and extend a possible walkout. Striking union members are eligible for $500 a week from the union's strike fund.
If all 145,000 UAW members among the three automakers were to strike at the same time, it could cost the fund more than $70 million a week, draining the $825 million fund.
With targeted strikes, it's possible that the companies will shut down operations and lay off members who are not technically on strike. That could make them eligible to receive state unemployment benefits rather than strike benefits, which could preserve the union's resources. But there are legal questions about qualifying for unemployment.
All three automakers issued statements saying they had made strong offers to the union and are still eager to reach deals that would avoid any kind of work stoppage.
"We are making progress in key areas that we believe are most important to our represented team members," said the statement from GM.
"Our focus remains on bargaining in good faith to have a tentative agreement on the table before the collective bargaining agreement expires," said the statement from Stellantis.
The companies did not respond to questions Wednesday about their plans if faced with the targeted strikes Fain described on Wednesday.
Vanishing hopes for a deal

Jim Farley, CEO of Ford, spoke about the union's announcement following an event at the Detroit Auto Show.
Farley said that when he and executive chair Bill Ford went to the negotiating table Tuesday, Fain was not in the room to hear the company's latest offer. And he said the union has not responded to Ford's latest offer. That offer includes raises of 20% over the four-and-a-half years of the contract, according to Fain's comments Wednesday night.
"We don't understand why we cannot get feedback so that we can make this deal," Farley said in Detroit. "We're here. We're ready to make a deal."
Ford has not had a strike since 1978 and has more UAW members than any other company.
On Tuesday Farley had told reporters he was still optimistic a deal could be reached to avoid a strike. Asked Wednesday if he was still optimistic, his answer was ambiguous.
"You can't negotiate successfully if you don't have a partner to negotiate with," Farley said. "So I don't know how to answer your question."
Movement at the table but maybe not enough

Fain did tell membership Wednesday that the automakers had raised their wage increase offers in recent days. In addition to Ford's 20% offer, he said GM is offering an 18% raise over four and a half years while Stellantis, which builds vehicles under the Jeep, Ram, Dodge and Chrysler brands for North America, is offering a 17.5% raise over four years.
"We are seeing movement from the companies," he said, but added there are still many issues where the companies and the unions are far apart.
"We do not yet have offers on the table that reflect the sacrifice and contributions our members have made to these companies," he said. "We're likely going to have to take action."
One sticking point is that wages are only part of the gap between the two sides. In some ways it might be the least difficult problem to solve, said Patrick Anderson, CEO of Anderson Economic Group, a Michigan research firm.
"The difference between the automakers and the unions on wages is a gap that could be closed," said Anderson. "The differences involving non-wage demands are a gulf, not a gap."
Attempting to reverse past concessions

The union is attempting to reverse deep concessions that go back as far as 2007. At the time, years of losses had left Ford nearly out of cash, and GM and Chrysler were on their way to bankruptcy and federal bailouts.
The number one concession the union wants to end is a lower tier of wages and benefits for workers hired since 2007. While top pay for those newer hires, who today make up a majority of membership, is the same as the $32.32 paid to more senior members, it takes many more years to reach that level.
The union also wants to restore traditional pension plans for those hired since 2007, as the more senior workers now receive, as well as the same retiree health care coverage. And to protect members from rising prices, it wants a return of the cost-of-living adjustments to pay that all employees lost in 2007.
Even Fain calls those demands "ambitious," but he said they're driven by record or near record profits at the automakers.
Pandemic supply chain disruptions and shortages of some parts, particularly computer chips, have led to record car prices. The average purchase price of a new car in August was nearly $48,000, according to Edmunds. That's up 30% from August of 2019.
Automakers have used their limited supply of parts to build vehicles loaded with options to maximize profits. That's produced a strong bottom line. General Motors reported record profits in 2022, and Ford posted near-record profits as well. Stellantis, a European-based automaker formed in 2021 by the merger of Fiat Chrysler and PSA Group, had 2022 profits up 26% compared to its first year of combined operations.
A strike that halts production nationwide could also be costly for the automakers at a time of strong demand by car buyers and strong competition from nonunion automakers such as Tesla and foreign brands. GM said it lost $2.9 billion during its 2019 strike.
While the automakers have done their best to build up inventory at dealerships, car buyers could have trouble finding some of the models they want and could have to wait longer for their choice of colors and options. And limited supplies could put upward pressure on some vehicle prices.