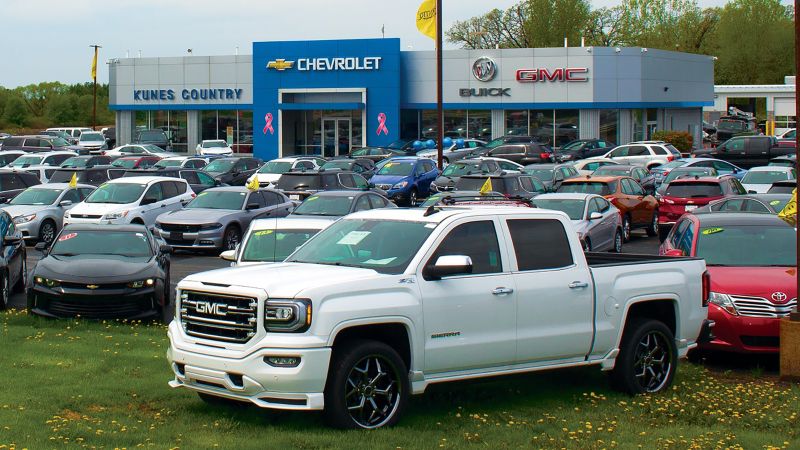 Dealerships will stay open
You will still be able to shop for cars, even at Ford, GM and Stellantis dealers. They're not going to shut down, as car dealerships are independent franchises that aren't owned by the company whose logo is on the building.
Vehicles could get more expensive
Not all automakers are facing a strike right now. Not even most of them. Toyota, BMW, Hyundai, Nissan, Tesla, Volvo and Subaru, just to name some, are still producing cars, trucks and SUVs in the United States, and their workers are not unionized.
But dealerships for the Japanese and South Korean automakers have always tended to have less vehicle inventory on-hand than those for the Michigan-based automakers. Ultimately, this could translate to pricing pressure as domestic automaker inventories start to run low and their competitors may not have the vehicles ready to pick up the demand.
Not all production will stop immediately
At plants where workers aren't out on strike, production will presumably continue. So, if you're in the market for, for instance, a Ford Bronco, a Jeep Wrangler or a GMC Canyon pickup, you should probably get to the dealership soon before inventories start to get really thin in a few weeks.
You may be waiting longer
While pickup truck inventories are well-stocked, they will run down if the strikes go on a long time. And truck buyers, being especially brand loyal, will probably just wait it out rather than shopping for competitive models like the Toyota Tundra or Nissan Frontier.
It pays to be flexible
Dealers will still have vehicles to sell for a few weeks, but, as the strike wears on, the choices available will start to dwindle. As the options dwindle you could try making a deal on one of the "ugly duckling" vehicles left hanging around on the showroom floor.
Read more