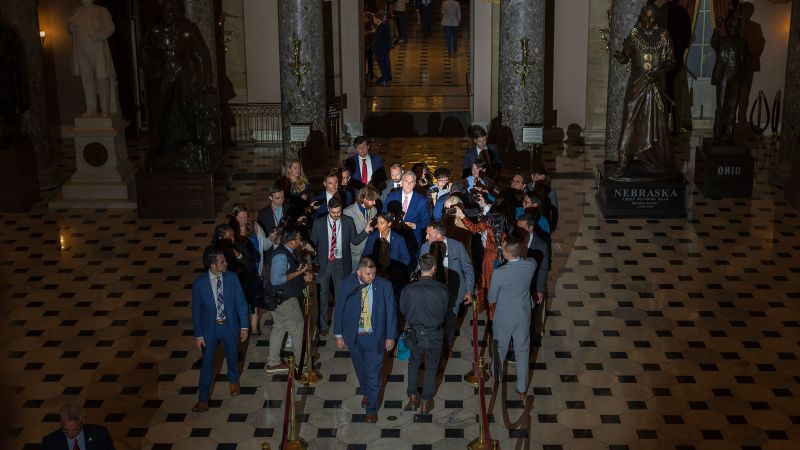 As Speaker Kevin McCarthy tries to placate his House Republican conference in the fight over spending, the White House is holding out hope that a bipartisan deal brokered days ago in the Senate can eventually overcome the standoff.
Until then, however, President Joe Biden's aides are confident that any blame for a government shutdown will land squarely on McCarthy and his fellow Republicans, according to officials familiar with the matter.
"There's no expectation that McCarthy will be able to pass something on his own" that could clear the Senate, one senior administration official said. How long a potential shutdown lasts "depends on how much pain McCarthy can endure."
Watching the chaos unfold from the other end of Pennsylvania Avenue, Biden and his aides have adopted a mostly hands-off approach, accusing McCarthy of reneging on a spending deal and listing the ways a shutdown would inflict damage on normal Americans.
McCarthy has declined to schedule a House vote on the Senate bill, which includes $12 billion in total aid for Ukraine and domestic disasters and would keep the government open until November 17. Hardline House Republicans have been seeking steep, across-the-board spending cuts to federal agencies and funding for border enforcement – and are waging a battle to remove McCarthy as speaker if they don't get it.
"I think that the speaker is making a choice between his speakership and American interests," Biden told Democratic donors in San Francisco this week, highlighting the administration's view that Republicans will ultimately suffer politically if they fail to avert a shutdown.
Behind the scenes, senior White House aides are in close contact with lawmakers and congressional aides. Top congressional Democrats have signaled their willingness to "relinquish" their votes in favor of a deal if McCarthy brings it to a vote.
Top officials such as White House legislative affairs director Shuwanza Goff and senior adviser Steve Ricchetti are in touch with lawmakers as the funding deadline draws closer, sources said, and are consistently briefing the president on the state of negotiations.
And while Biden has been in touch with some members directly, the White House is making clear that any dialogue between Biden and McCarthy remains unlikely, at least for now.
"The people that McCarthy needs to talk to is his own caucus," White House press secretary Karine Jean-Pierre told reporters when asked whether Biden would consider meeting with the speaker. "The conversation needs to happen between Speaker McCarthy and his caucus."
With funding set to end at midnight Saturday, the White House has continued to publicly hammer House Republicans to get their act together. "It is their chaos. They can fix this," Jean-Pierre told reporters Friday.
Biden and his aides have been working to ensure the blame for a shutdown is placed on what they call "extreme" Republicans, including by highlighting the effects on disaster relief, food stamps, airports and pay for active-duty troops.
More broadly, Biden's aides believe the inability of McCarthy to rally his House Republican conference around a funding plan illustrates a level of dysfunction that will benefit the president. Biden has framed his opponents as unable and unwilling to serve the public's interests.
For weeks, Biden's advisers have been mulling how involved to get in lawmakers' deliberations over funding and ultimately decided to take a hands-off approach. Their expectation: Should the GOP-led House struggle to reach consensus before October 1, Republicans would ultimately shoulder the blame for any disruption.
"Watch the GOP struggle and force them to govern or be blamed for shutdown," a Biden administration official said, summing up the strategy.
Administration officials have ample evidence on their side: Congressional Republicans have regularly caught the blame for government shutdowns over the last two decades as they sought to extract concessions on spending from Democrats and moderates.
On Friday, Biden condemned Republicans for a potential government shutdown – which would leave more than a million active-duty service members without a paycheck – calling it "an absolute dereliction of duty."
"Our service members will keep upholding their oath, showing up for work standing sentinel around the world, keeping our country secure, but they won't get paid," he said.
The president called that "a disgrace" as he urged Congress to "never lose sight of the direct impacts of decisions we make, and the impact they have on the lives and families around the world."
Biden spent much of the week traveling on the West Coast, avoiding getting entangled in the Washington wrangling.
Republicans have tried to turn blame back on the White House for the impasse, accusing Biden of ignoring a wave of migrants at the US southern border and of being absent from the talks.
"I think it would be very important to have a meeting with the president to solve that issue," McCarthy said this week, later calling on Biden to return from his trip on the West Coast to engage directly in the discussions.
Those appeals were not given much consideration inside the White House. That's a different approach from the last time a spending crisis was looming, when McCarthy called on Biden in May to cut short a trip to Asia in order to negotiate over raising the debt ceiling.
After resisting direct talks, Biden left that trip early for a meeting with McCarthy at the White House. One difference: Republicans had coalesced around a specific position, passing a bill in the House that reflected their priorities and catching the White House off guard. Negotiations escalated in the weeks that followed, resulting in a deal that set broad guardrails around federal spending for the 2024 fiscal year.
Biden is expected to remain in Washington this weekend, a relatively rare occurrence as he typically decamps for one of his Delaware homes or Camp David on Friday afternoons.
The spring deal was supposed to usher in months of in-depth appropriations work that would yield a full-year spending package and avert a government shutdown. Now, the White House says Republicans dropped the ball.
How to handle a possible shutdown was a key agenda item when White House chief of staff Jeff Zients huddled with senior advisers in the West Wing last weekend, according to people familiar with the matter. Senior officials have been meeting throughout the week to continue discussions on the issue.
Even if they don't believe they will bear the political blame, the White House itself won't be immune from the shutdown's fallout – including furloughs of nonessential staff.
During previous government shutdowns, presidents have been all but grounded. In 2013, President Barack Obama canceled a trip to Asia due to the "difficulty in moving forward with foreign travel in the face of a shutdown."
Some senior West Wing employees in recent days have been learning how to perform tasks that would typically be executed by junior aides, officials said.
Among other things, they're learning how to blast out news releases and making updates to the White House website – just in case.