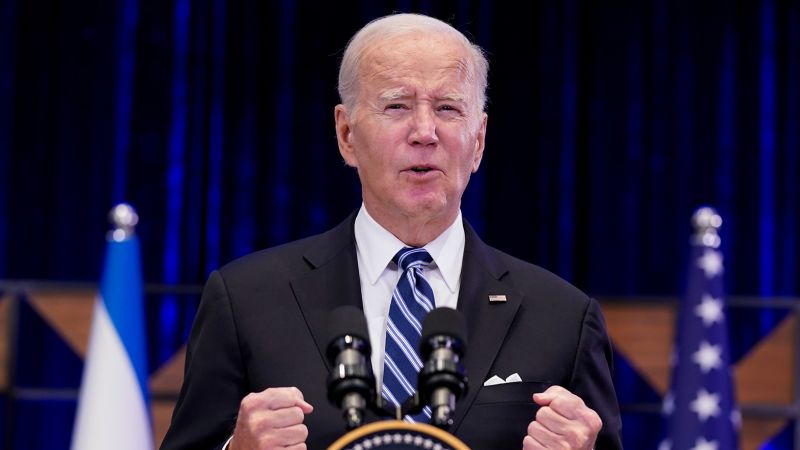 President Joe Biden plans to make a direct appeal to the American people to continue funding Ukraine and Israel amid their war efforts in an Oval Office address Thursday, according to two administration officials.
The primetime address will take place on the eve of the White House requesting north of $100 billion from Congress to deliver aid and resources to Ukraine, Israel, Taiwan, and the US border with Mexico. Biden is expected to make the argument that supporting Ukraine and Israel is a matter of US national security when the world is at an inflection point.
"He's going to make the case that the cost of inaction and the cost of walking away is much higher," according to one official.
The Biden administration in August delivered its last so-called supplemental funding request, which encapsulates unique requests beyond traditional government programs. The proposal requested $24.1 billion to aid Ukraine through the end of the year, but Congress failed to approve it during a process to greenlight short-term federal funding.
Public opinion regarding US assistance has been mixed.
In a recent CNN poll, nearly all respondents were sympathetic with the Israeli people in the wake of surprise attacks launched by Hamas, but there was no clear consensus on the right level of US involvement. One-third (35%) said the US is providing the right amount of assistance – and another 36% were unsure whether the level of US assistance is appropriate. The US has long provided security assistance to Israel, which receives roughly $4 billion annually under a 10-year memorandum of understanding. The new request would provide billions more.
By contrast, support to sustain aid to Ukraine has waned significantly since Russia's unprovoked invasion in February 2022. An August CNN poll found 55% of respondents said Congress should not pass more funding to aid Ukraine. The partisan divide has been deepening, too: Nearly three-quarters of Republicans opposed more funding for Ukraine, while 62% of Democrats supported it.
Since Russia's invasion, the White House and Congress have provided more than $75 billion in funding to Kyiv, according to the Kiel Institute for the World Economy.
Treasury Secretary Janet Yellen pledged to European leaders on Monday that the US would be able to secure support for additional aid and, in an interview with Sky News, said Washington could afford financing two war efforts at once.
"American can certainly afford to stand with Israel and to support Israel's military needs, and we also can and must support Ukraine in its struggle against Russia."
Biden's upcoming remarks, first announced Wednesday, come on the heels of his wartime visit to the Middle East, which went on even after a blast tore through a hospital in Gaza. While his planned stop in Amman, Jordan, to meet Arab leaders was canceled just as the president was preparing to depart the White House, Biden did spend hours on the ground in Tel Aviv.
Officials on Wednesday sought to downplay the cancellation, saying it was natural for President Mahmoud Abbas of the Palestinian Authority to return to the West Bank to mourn the dead. Later, Biden scoffed at the suggestion he was disappointed the meeting had been canceled.
"Disappointed? Look, I came to get something done. I got it done," he said. "Not many people thought we could get this done, and not many people want to be associated with failure."
For Biden, a trip in the formative days of a potentially drawn-out conflict amounted to the ultimate test of his confidence – built over decades – that getting in the same room can influence people and events.
The US, Egypt and Israel have all signaled readiness for aid to begin moving into Gaza, following Biden's high-profile visit.
in a meeting that stretched well past what officials had expected, Biden sought to use his decades-long relationship with Israeli Prime Minister Benjamin Netanyahu – one that has endured significant strain over the past year – to offer advice and seek commitments on the flow of humanitarian aid to Gaza.
Beforehand, officials said Biden would approach the Israeli leader with "tough questions" about the path forward and Israel's intentions as it seeks to eliminate Hamas in Gaza. Speaking later, Biden offered a glimpse of how those conversations went, or at least his side of them.
"I caution this: While you feel that rage, don't be consumed by it," Biden told his audience, a collection of Israelis and Americans.
"I know the choices are never clear or easy for the leadership," Biden went on, recalling mistakes the United States made after the September 11, 2001, terrorist attacks. "There's always cost, but it requires being deliberate, requires asking very hard questions. That requires clarity about the objectives and an honest assessment about whether the path you're on will achieve those objectives."