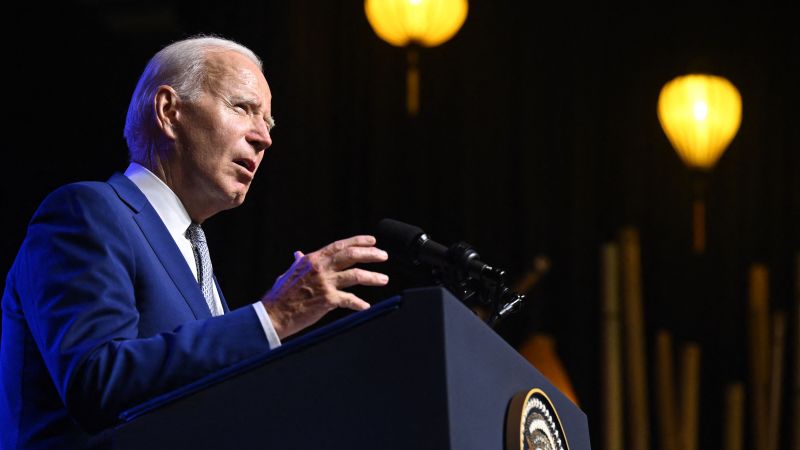 President Joe Biden is expected to deploy new attacks on Republicans in an economic speech on Thursday, just weeks ahead of a deadline to keep the government open past the end of the month.
White House senior adviser Anita Dunn pitched Biden's speech as "another major economic address today laying out the next chapter of the Bidenomics vs. MAGAnomics contrast: What's at stake for the American people in debates about the federal budget" in a memo to Democratic lawmakers and political allies Thursday.
The Biden messaging guru warned against "the devastating impact House Republicans' partisan appropriations bills – the cuts some House Republicans are now threatening to shut down the government to secure – would have on hardworking families and communities."
There is no consensus among House Republicans on the best path forward to fund the government with some in House Speaker Kevin McCarthy's right flank threatening to oust him if he brings a clean spending bill to the floor. The White House has called on Congress to pass a short-term spending bill to keep the government running while congressional leaders hash out major differences, something conservatives in McCarthy's caucus are loathe to accept.
Thursday's speech – which the president is slated to deliver at Prince George's Community College in Largo, Maryland – is the latest attempt to reframe the public's perception of Biden's handling of the economy, a metric on which he frequently receives poor marks. A majority of Americans polled – 58% – say Biden's policies have made economic conditions worse, according to a new CNN Poll conducted by SSRS released last week, up from 50% a year ago.
However, the president has made his economic story – building "from the bottom up and middle out," as he frequently says in speeches – central to his reelection effort. Changing voters minds about the economy and convincing them of its strength is among the key challenges Biden most overcome between now and November 2024.
New data could make that task a little bit harder. A new report out this week found US inflation accelerated in August for the second straight month, pushed up by rising gas prices, even as core inflation, which strips out volatile food and energy prices, continued to slow.
The speech is also the latest effort from a White House intent on turning the nation's attention toward Biden's domestic agenda as Republicans in Congress prepare to formally launch an impeachment inquiry into Biden. The president commented on the impeachment inquiry for the first time on Wednesday night, linking it to the shutdown fight.
"Well, I tell you what, I don't know quite why, but they just knew they wanted to impeach me. And now, the best I can tell, they want to impeach me because they want to shut down the government."
"So look, look, I got a job to do. Everybody always asked about impeachment. I get up every day, not a joke, not focused on impeachment. I've got a job to do. I've got to deal with the issues that affect the American people every single solitary day."
The impeachment inquiry announcement and the specter of a possible shutdown has given the White House another chance to turn the focus on the sometimes-chaotic House Republican Conference and draw a stark contrast with Biden's economic message.
The Biden administration and allies in Congress blasted the House GOP for proposing "devastating" cuts to federal programs in legislation they warned runs afoul of the bipartisan budget agreement signed into law this summer.
"Earlier this year, President Biden and congressional leaders reached a bipartisan budget agreement that set a framework to keep the government open and protect critical priorities for the American people – a deal is the deal," White House press secretary Karine Jean-Pierre told reporters Wednesday.
"The president, House Democrats, Senate Democrats and Senate Republicans have stood by that agreement with bipartisan movement in the Senate today, but speaker McCarthy and House Republicans have taken a different approach, ignoring the agreement that a majority of them voted for and advancing extreme partisan bills that break their promise and gut investments in America."
Biden's campaign has already attempted to move the needle on the issue, launching an ad titled "Got to Work" last week touting the administration's economic achievements as part of a $25 million ad blitz first reported last month by CNN.