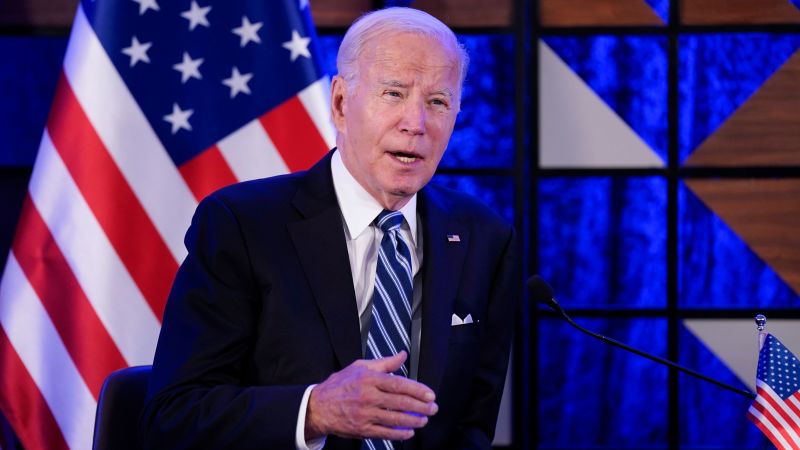 President Joe Biden left for home after seven hours in the Israeli war zone with an increasingly tense Middle East in worse shape than when he arrived.
His emergency mission in the wake of the horrific Hamas terror attacks on October 7 ended up demonstrating the limits of US leverage in a region teetering on the brink of further violence rather than defusing a deepening crisis.
Biden movingly shouldered Israel's trauma and grief and invoked Holocaust analogies in vowing to stand forever with the Jewish people. But he also pleaded with Israeli leaders not to allow the rage over the killings of "your fathers, your grandparents, sons, daughters, children, even babies" to blur the clarity over their objectives in trying to destroy Hamas.
The president drew a firm distinction between Palestinian people and their radical Hamas rulers, whom he accused of using civilians as human shields for weapons and tunnels, and bemoaned the "innocent" lives lost in Gaza after days of Israeli bombardments.
But the dire possibility of Israel's war with Hamas escalating beyond its borders loomed even larger when Biden climbed aboard Air Force One to fly home on Wednesday. Given the huge political investment of American prestige and leverage involved in a sudden presidential trip, it's fair therefore to raise the question of what exactly Biden's trip delivered.
Hospital blast overshadowed Biden's trip from the start

The trip never had a chance after a Tuesday blast at a Gaza hospital that Palestinian officials say killed hundreds sparked protests in multiple Arab nations. It was exactly the kind of incident that the president had hoped to prevent by traveling to the region, but his high-stakes trip came too late. Biden sided with Israeli claims that the explosion was caused by a misfiring Islamic Jihad rocket launched toward Israel – an assessment he said was backed up by US intelligence on the incident. But questions over the origins of the blast did little to defuse the fury that it triggered across the Arab world.
The tragedy prompted the cancellation of a critical onward leg of Biden's visit to Amman, where he had been due to meet Jordan's King Abdullah II, the Egyptian president and the leader of the Palestinian Authority.
Instead of hosting a presidential summit, Amman on Wednesday was rocked by a second night of huge protests that crystalized anger in Arab nations over the Israeli pounding of Gaza. Demonstrations also erupted in Tunisia, Iraq, Iran, in the occupied West Bank and Lebanon. The US State Department advised Americans not to visit Lebanon, and the rising public unrest about the situation in Gaza appeared to harden the attitudes of key regional powers. For instance, Turkish President Recep Tayyip Erdogan called on "all humanity to take action to stop this unprecedented brutality in Gaza" in a post on X, calling the blast at the hospital the "latest example of Israel's attacks devoid of the most basic human values."
The meeting in Amman was going to be vital to Biden's effort to balance his unequivocal support for Israel – after the killing of more than 1,400 civilians by Hamas and the taking of more than 200 hostages – with an effort to engage Arab leaders he needs to help contain the conflict.
The fact that the king, Egyptian President Abdel Fattah el-Sisi and Palestinian Authority leader Mahmoud Abbas were willing to snub the president of the United States – a key ally and aid donor – doesn't say much for Washington's leverage at this moment or hopes that Washington can save a regional peace initiative.
Biden's jarring 'other team' remark

Biden may have exacerbated regional suspicions of the US role when he said the hospital explosion appeared to have been caused by the "other team." This was a reminder of how Biden often creates tonally awkward moments that play into Republican claims that, at the age of 80, he may struggle to fulfill his role in a possible second term. The phrase also came across as flippant given the unspeakable horror that unfolded in the hospital in Gaza City, which was packed even before the blast because of Israel's ongoing airstrikes as they go after Hamas. And more importantly, it also likely further eroded Biden's capacity to perform a complex straddle vital to easing tensions in the region by operating as a third party between Israel and the US' Arab allies.
Biden endorsed Israel's claim that the Islamic Jihad militant group was behind the strike, noting that he was working off assessments based on US Defense Department data. The National Security Council also said it believes Israel "was not responsible" for the attack. Islamic Jihad has denied involvement.
The president's reputation is also on the line over aid to Gazan civilians. He appealed to the Israeli cabinet to allow life-saving humanitarian assistance into the enclave from Egypt on the condition that it should go to civilians and not Hamas fighters.
"As they probably told you, I was very blunt with the Israelis," Biden told reporters on Air Force One on his way home. "Israel has been badly victimized, but the truth is if they have an opportunity to relieve the suffering of people who have nowhere to go, that's what they should do."
"If they don't," he continued, "they'll be held accountable in ways that may be unfair."
Biden also said he had spoken to the Egyptian president for over an hour on Air Force One and that Sisi had agreed to open the Rafah crossing into Gaza to 20 trucks carrying humanitarian aid.
The president said the road has to be fixed before the trucks could pass and that he expects them to be rolling Friday. The crossing would only open for aid, Biden said, not for evacuations.
Biden's veiled warnings to Israel

Not everything that happens on a presidential trip is visible. Private meetings with foreign leaders often yield understandings that influence future events. So immediate indications are not always a useful barometer over the effectiveness of such travel. But however much White House officials tried to downplay expectations, there was a clear imperative for Biden's mission to tamp down tensions – a goal that was not achieved.
Biden's speech to the Israeli people, however, was an eloquent statement of support to an ally traumatized by a terror attack. And politically, Israeli Prime Minister Benjamin Netanyahu, who has been weakened by the crisis, is now in the president's debt so he may be more susceptible to US pressure. Calls for mercy for Palestinian civilians might get a better hearing among the angry and grief-stricken Israeli public given Biden's willingness to travel to the country in a dark hour.
Ivo Daalder, a former US ambassador to NATO, told CNN's Anderson Cooper that Biden's visit had been worthwhile in demonstrating that Israel was not alone. But Daalder also noted Biden's allusions to how decisions born from anger and grief after the September 11 attacks in 2001 had led America down some dubious roads.
"I think he did use the visit to engage Prime Minister Netanyahu and the war cabinet in some very serious conversations about the strategy that Israel has embarked upon," Daalder said. "I think the president was sharing some doubt that, in fact, the current effort by Israel is moving in the right direction."
Biden also sent a warning to Israeli enemies other than Hamas – like Iran and Lebanon-based militant group Hezbollah – that the US was prepared to do everything necessary to defend its ally. Biden's presence bolstered the message sent by two aircraft carrier battle groups he has deployed to the area.
"My message to any state or any other hostile actor thinking about attacking Israel remains the same as it was a week ago: don't – don't – don't," Biden said.
But by failing to make any immediate breakthroughs, Biden's trip also showed the limits of US leverage in a grave geopolitical situation and therefore suggested, worryingly, that it may not be possible to stop events spinning out of control.