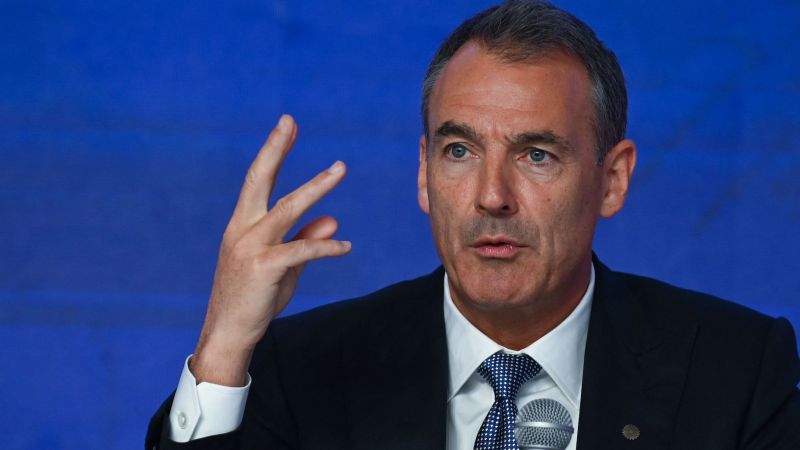 BP CEO Bernard Looney has resigned after admitting that he had not been "fully transparent" about "historical relationships with colleagues," according to a statement from the oil giant on Tuesday.
Murray Auchincloss, the company's CFO, will act as CEO on an interim basis.
"In May 2022, the Board received and reviewed allegations, with the support of external legal counsel, relating to Mr Looney's conduct in respect of personal relationships with company colleagues. The information came from an anonymous source," the statement said. During that review, Looney disclosed "a small number of historical relationships with colleagues prior to becoming CEO," but no breach of the company's code of conduct was found.
Further allegations of a similar nature were received recently, said BP, and the company began an investigation, which is ongoing.
"Mr Looney has today informed the Company that he now accepts that he was not fully transparent in his previous disclosures," said the statement. "He did not provide details of all relationships and accepts he was obligated to make more complete disclosure."
Looney, 53, served just under four years at the helm of (BP) but began work at the London-based oil and gas company in 1991 at the age of 21. Looney spent the entirety of his career with BP and was promoted to chief executive officer in July 2020 where he oversaw efforts to transition into an integrated energy company with a focus on reducing emissions.
Shares of the stock were trading less than 1% lower on Tuesday afternoon.
A green transition

Looney came into the role with big plans to achieve zero net emissions by 2050 and spend billions in renewable power.
"Engaging companies with the most carbon to cut is vital to meeting climate goals," wrote Looney in a 2021 CNN opinion piece with Christiana Figueres, the former executive secretary of the United Nations Framework Convention on Climate Change. "They need to be part of the transition to lower and no-carbon solutions if there is to be any chance of meeting the promise of the Paris Agreement. More and more companies are looking to play their part, and the world's expectations that they will do so are high."
Under his watch, BP became the only major oil company with goals to reduce oil and gas output this decade. Shareholders weren't too happy with the decision, and BP shares fell behind competitors like Shell (SHEL), Chevron (CVX) and Exxon Mobil (XOM).
Recently, Looney backtracked on some of those goals and increased spending on crude oil and natural gasses.
BP missed on profit expectations last quarter but increased its dividend by 10% and announced plans to buy back another $1.5 billion in shares. Shares of the stock are up about 12.6% so far this year.