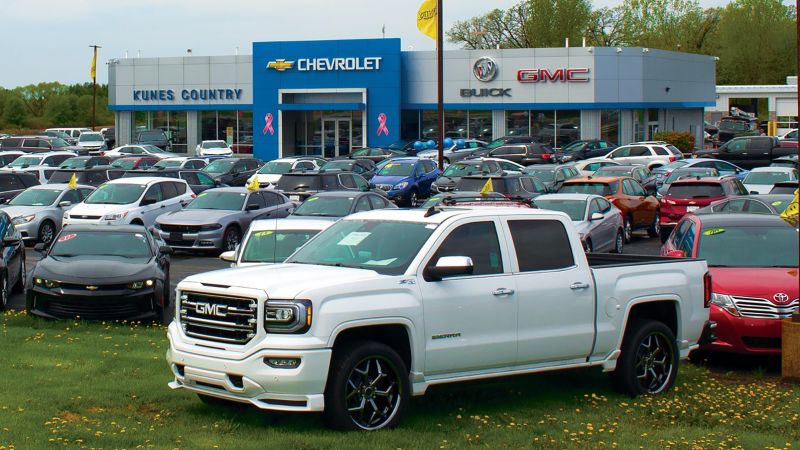 Now that the United Auto Workers union has started a strike, the US auto market is about to be thrown into turmoil all over again.
Auto sales hadn't entirely recovered from the pandemic, but car shopping in the United States could change once more.
Dealerships will stay open

You will still be able to shop for cars, even at Ford, GM and Stellantis dealers. They're not going to shut down, as car dealerships are independent franchises that aren't owned by the company whose logo is on the building.
What's more, they will still have cars to sell for a while. Most of those dealers have vehicles on hand to sell for a few weeks yet, and the current strike plans will initially impact only some of their product lines, said Jonathan Smoke, chief economist for Cox Automotive. The strike's impact will be nothing like the Covid pandemic and the computer chip shortages that largely shut down the entire US auto industry in recent years, he said.
Besides, new car dealers also sell used cars and, even if the flow of new cars suddenly stops entirely, they will continue to do so. They also service cars, and their service operations will continue, as well, although parts supplies could be hampered.
The auto manufacturing crises of recent years have left auto dealers better prepared to deal with disruptions, said Scott Kunes, chief operating officer of Kunes Auto and RV Group, which owns more than 40 dealerships in the Midwest.
"We already started to take some action a few weeks ago, when it looked like the strike was was was pretty imminent," Kunes said. "We started to stock up on used vehicle inventory, especially in the domestic makes, and some of the hotter models."
His dealers also took steps get more new vehicles onto their lots.
Vehicles could get more expensive

Not all automakers are facing a strike right now. Not even most of them. Toyota, BMW, Hyundai, Nissan, Tesla, Volvo and Subaru, just to name some, are still producing cars, trucks and SUVs in the United States, and their workers are not unionized.
But dealerships for the Japanese and South Korean automakers currently have always tended to have less vehicle inventory on-hand than those for the Michigan-based automakers, Kunes said. Ultimately, this could translate to pricing pressure as domestic automaker inventories start to run low and their competitors may not have the vehicles ready to pick up the demand.
If the strike drags on a long time, said Tyson Jominy, an industry analyst with JD Power, prices will start to rise again. They probably won't reach the levels reached during the computer chip shortages but, in the worst case, it could come close.
At plants where workers aren't out on strike, production can continue for a while, or at least until all the components on hand have been used up. This includes GM, Ford and Stellantis factories in Canada and Mexico, which could keep operating longer.
But, before long, production at these factories will be impacted by a lack of major components coming from US factories that have been shut down, said Thomas Goldsby, professor of supply chain management at the University of Tennessee.
These companies also import a few of their models from European and Asian factories that aren't impacted at all by strikes in the US, such as GM's Chevrolet Trailblazer, made in South Korea, and Stellantis's Italian-built Dodge Hornet.
You may be waiting longer

In the wake of Covid-related manufacturing slowdowns, more car buyers had turned to factory-ordering their new vehicles rather than just picking from whatever was already on dealer's lots. That's good for consumers who can get vehicles precisely suited to their wants and needs. Carmakers like it, too, because any company would rather make products that are already sold before they leave the assembly line. But if you want to do that now – or if you already did order a vehicle that hasn't been built yet – you could be waiting longer.
While pickup truck inventories are well-stocked, said Jominy, they will run down if the strikes go on a long time. And truck buyers, being especially brand loyal, will probably just wait it out rather than shopping for competitive models like the Toyota Tundra or Nissan Frontier.
It pays to be flexible

Before the strikes started, auto dealerships had reasonably healthy inventories of new vehicles, according to Michelle Krebs, an analyst with AutoTrader. That's good, especially for dealerships affiliated with these automakers. That means they'll still have vehicles to sell for a few weeks, but, as the strike wears on, the choices available will start to dwindle. As the options dwindle you could try making a deal on one of the "ugly duckling" vehicles left hanging around on the showroom floor.
Or maybe it's just not exactly the color you wanted but, hey, close enough.