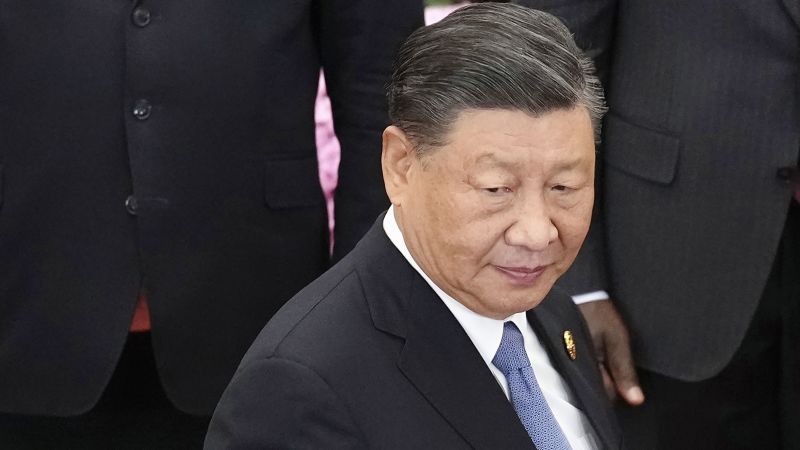 A two-state solution to establish an independent Palestine is the "fundamental way out" of the Israel-Hamas conflict, Xi Jinping said Thursday in the Chinese leader's first public comments on the war since it broke out nearly two weeks ago.
"The top priority now is a ceasefire as soon as possible, to avoid the conflict from expanding or even spiraling out of control and causing a serious humanitarian crisis," Xi was quoted as saying by China's state-broadcaster CCTV.
Xi, who made the comments in a meeting with Egyptian Prime Minister Mostafa Madbouly in Beijing, said China is willing to work with Egypt and Arab nations to "promote an comprehensive, just and lasting solution to the Palestinian issue," according to CCTV.
The Egyptian leader was in Beijing to attend the Belt and Road Forum, a high-profile event marking a decade of Xi's ambitious and controversial global infrastructure initiative.
Xi also praised Egypt for playing an "important role" in cooling tensions, adding that China supports its efforts to let in humanitarian aid to Gaza, CCTV reported.
On Wednesday, Egypt agreed to allow humanitarian aid into Gaza through the Rafah border crossing, in a deal brokered by US President Joe Biden and his Egyptian counterpart Abdel Fattah el-Sisi in a phone call.
Biden struck the deal during his 7-hour visit to Israel Wednesday – a high-stakes diplomatic mission to show staunch support for the American ally while urging restraint in its response in Gaza.
But it is not yet clear when the aid convoy will be allowed to enter Gaza and the initial deal for 20 trucks is a fraction of the 100 trucks a day the World Health Organization says is needed.
The conflict, which began after Hamas launched a brutal and coordinated terror attack on Israel on October 7 that killed some 1,400 people, has served as a stark showing of the deepening divisions between world powers.
Israel's subsequent bombardment and siege of Gaza has killed some 3,500 Palestinians, including hundreds of children, according to local health authorities.
Hours before Biden landed in Israel, Russia's Vladimir Putin arrived in Beijing for the Belt and Road Forum. The diplomatically isolated leader was received as a guest of honor, seated next to Xi and speaking directly after him at the opening ceremony ahead of three hours of bilateral talks.
During their meeting, the two leaders discussed the conflict in the Middle East, which Putin said was a "common threat" that brought Russia and China closer together.
China and Russia have both called for a ceasefire in the spiraling conflict and have declined to explicitly condemn Hamas – cutting a stark contrast to the outpouring of support for Israel from the US and leaders across Europe.
Beijing's refusal to condemn Hamas has prompted anger and a deep sense of disappointment from Israel – as well as criticism from US officials. China has also stayed clear of condemning Putin's invasion of Ukraine, causing anger in many European capitals.
As Israel's war escalates, Beijing has come out more strongly in support for the Palestinians. Last weekend, Chinese Foreign Minister Wang Yi accused Israel's actions of going "beyond the scope of self-defence."
Nevertheless, China has sought to present itself as a neutral mediator in the conflict.
The Chinese Foreign Ministry has said it is sending Middle East Envoy Zhai Jun to the region this week to promote peace talks and push for a ceasefire.
China has deep economic interests in both Russia and the Middle East, which it wants to safeguard at all cost, in particular the importation of oil and gas.