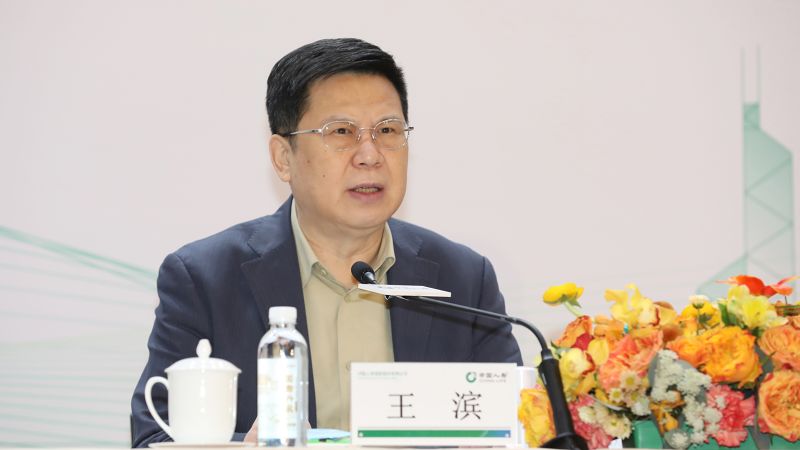 Editor's Note: Sign up for CNN's Meanwhile in China newsletter, which explores what you need to know about the country's rise and how it impacts the world.
Wang Bin, the former chairman of one of China's biggest life insurers, will spend the rest of his life in jail after a court found him guilty of corruption.
Wang, 64, was given a death sentence, suspended for two years, at the end of which he will serve a life sentence with no possibility of commutation or parole, according to a ruling posted Tuesday by an intermediate court in the city of Jinan, in China's eastern Shandong province.
He was found guilty of taking about 325 million yuan ($44.6 million) worth of bribes and concealing overseas deposits of 56.4 million yuan ($7.8 million), according to the court ruling.
Wang was accused of taking the bribes between 1997 and 2021, when he headed a number of state-owned financial institutions, including China Life Insurance, China's Bank of Communications and China Taiping Insurance. He allegedly concealed the illicit money in bank accounts in Hong Kong, the ruling said.
"The amount of bribes Wang Bin accepted was particularly huge, the circumstances of the crime were particularly serious and the social impact was particularly bad," the ruling said.
He is the latest top executive to become ensnared in President Xi Jinping's anti-corruption crackdown on the country's $56 trillion financial sector. The sentence came more than a year after Wang, who was also the top Communist Party official at China Life, was investigated by the party's top anti-graft agency.
He was one of more than a dozen big names targeted by Beijing's purge.
The list also includes Li Xiaopeng, the former chairman of financial conglomerate China Everbright Group and Liu Liange, the former chairman of Bank of China, the country's fourth largest lender.
Bao Fan, a star investment banker, went missing in February and is believed to have been caught up in the dragnet.
Analysts said the crackdown on the financial industry, which came months after Xi secured a historic third term in October 2022, was mainly aimed at consolidating his power.
They believe Xi needs to centralize control over the sprawling financial industry in order to deal with China's deepening economic woes and to prepare for a potential "financial war" with the United States.