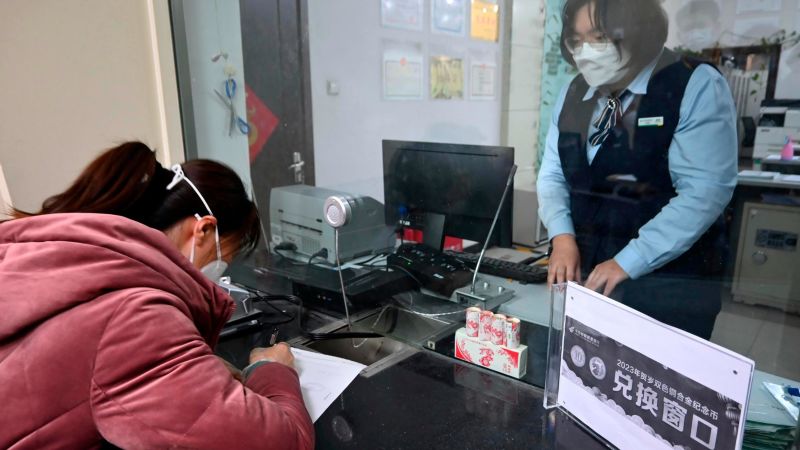 Editor's Note: Sign up for CNN's Meanwhile in China newsletter which explores what you need to know about the country's rise and how it impacts the world.
Fears that Evergrande's debt woes are spreading into the wider financial industry have sparked a run on a regional bank in northern China, multiple state media outlets have reported.
Depositors lined up at the bank in Cangzhou, in Hebei province, to withdraw their money, according to photos and videos circulated online this week, prompting an appeal for calm by officials.
Police in Cangzhou have arrested "many people" suspected of spreading rumors that the bank was suffering a cash crunch because of its exposure to Evergrande, Yicai, a state-owned media outlet, reported on Wednesday, citing an officer deployed at the bank.
Posts on Chinese social media reviewed by CNN claimed that the Bank of Cangzhou had lent billions of yuan in loans to Evergrande, the indebted property giant that defaulted on its debt in 2021 and is struggling to survive.
Last month, Evergrande said its founder and chairman Xu Jiayin had been detained on suspicion of crimes, sparking fears that the company's multi billion-dollar restructuring plan might be in peril, which could lead to a forced liquidation of the firm and huge losses for its creditors.
The bank has a statement from the city government posted at its entrance, assuring the public that their deposits are safe, Yicai said.
"[We urge] financial consumers to make rational judgments and to avoid losing interest on your deposits due to rumors," according to a photo of the statement posted by the media outlet.
The statement appeared to be signed and stamped by the Cangzhou government on Monday. The bank's operations are "sound" and its depositors are protected by the national deposit insurance scheme, it said.
It was unclear how many depositors took part in the bank run or how much they withdrew.
Established in 1998, Bank of Cangzhou is majority controlled by the city's treasury department and has branches across the prefecture, which is located about 100 miles from Beijing. The lender has about 3,000 employees and its total assets stood at 246.5 billion yuan ($34 billion) at the end of September.
CNN has reached out to the bank, the police and the city government for comment.
Bank says Evergrande risk 'controllable'

Bank runs are not common in China, where the financial system is tightly controlled by the government and backed by state credit.
But such incidents have occurred at a number of smaller lenders in recent years, as a real estate crisis and the fallout from the Covid-19 pandemic have led to a rise in bad debts.
Last spring, thousands of depositors protested after their accounts were frozen at six rural banks in the central province of Henan. Weeks after the peaceful demonstrations were violently crushed by local officials, the provincial authorities blamed the scandal on financial fraud, arrested more than 200 suspects and promised to pay depositors back.
On Saturday, Bank of Cangzhou denied it had any liquidity issues.
"The loan data mentioned in the 'detailed list of bank loans owned by Evergrande' is seriously inaccurate," the bank said in a statement, referring to a document circulating online purporting to show the amount of money the developer owes to banks.
The bank said it had only 346 million yuan ($47.4 million) in outstanding loans to Evergrande and its affiliates as of last Friday, adding it had "sufficient" land and commercial storefronts as collateral.
"The overall risk is controllable and will not have a significant impact on the bank's operations, management and asset quality," it said.
China ups stakes in big banks

The crisis in China's real estate sector has affected stock market sentiment and the wider economy.
On Wednesday, the Chinese government moved to increase its stakes in the country's four biggest banks, fueling expectations that it could ramp up efforts to boost confidence in the financial system.
Central Huijin Investment, an arm of China's sovereign wealth fund, bought tens of millions of shares in Bank of China, Agricultural Bank of China, China Construction Bank and Industrial and Commercial Bank of China, according to separate stock exchange filings made by the banks.
The investment firm plans to further increase its stakes over the next six months, the filings said.
Shares in the four banks surged on Thursday, leading a broader rally in the sector. The best performer has been China Construction Bank, which was up 5.6% in Hong Kong and 2.7% in Shanghai.
— CNN's Martha Zhou contributed reporting.