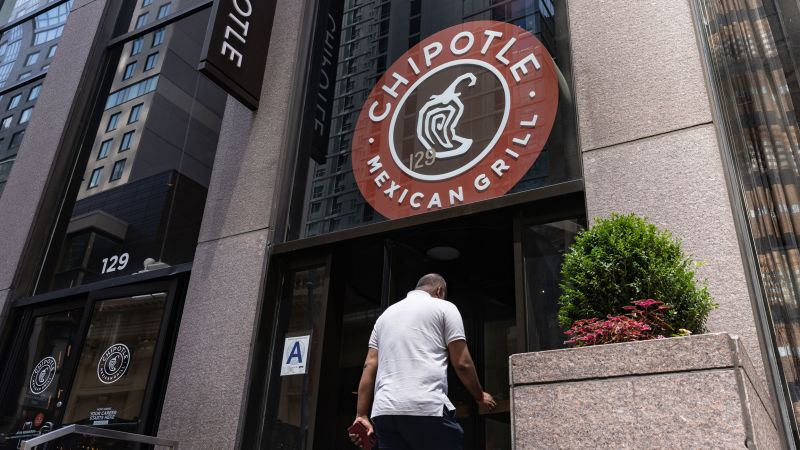 First, it was Girl Scout cookies. Now, inflation is hitting Chipotle's burritos and tacos.
"For the first time in over a year, we will be taking a modest price increase to offset inflation," Laurie Schalow, Chipotle's chief corporate affairs officer, said in a statement sent to CNN. The company declined to share more details.
Chipotle has been raising its prices over the past few years, citing higher costs. In June of 2021, Chipotle said it was raising prices about 3.5% to 4%. And in October of last year, it said prices were up about 13% compared to the year before. The fast casual chain is set to report third-quarter financial results on October 26.
in recent years, food companies have been hiking prices, and closely monitoring how consumers react. So far at Chipotle, the increased prices haven't scared people off — clearing the way for more expensive burritos.
"We're not seeing any weakness in the lower-income consumer," Chipotle CEO Brian Niccol said during an analyst call in July, adding that the brand's foot traffic trends have been healthy. Chipotle's total revenue grew 13.6%, hitting $2.5 billion, in the quarter ending June 30. Sales at restaurants open at least 13 months jumped 7.4%.
"We've proven time and time again that the brand is very strong and the value proposition is very strong, and we have that pricing power to use," Niccol said during the call. Pricing, he said, is "a lever that we will pull as kind of the last thing." The company said its labor and some food costs have increased.
Even companies that have seen customers pull back due to the higher prices reported higher sales, because those higher prices offset volume declines.
PepsiCo, for example, reported that in the third quarter net sales rose nearly 7% to $23.45 billion. The snack and beverage company said it increased prices globally by 11% on average, helping nudge revenue higher than analysts' expectations. In that time, PepsiCo's volume fell 2.5%.
Food inflation overall has been easing, but prices are still above what they were last year.
In the year through August, not adjusted for seasonal swings, grocery prices were up 3%, according to the latest Consumer Price Index data from the Bureau of Labor Statistics. Menu prices were up about 6.5% in that period.
— CNN's Jordan Valinsky contributed to this report.