House Speaker Kevin McCarthy's announcement of an impeachment inquiry into President Joe Biden has done little to quell his troubles in the spending showdown with House conservatives, setting up a potential clash with his right flank that could force the speaker to choose between keeping the government open and keeping his job.
"It looks like conservatives have separated the two issues," Rep. Richard Hudson, a North Carolina Republican and the leader of the GOP's campaign arm, told CNN.
Just a day after Republicans returned to Washington after a six-week recess there is no consensus among House Republicans on the best path forward to fund the government with some in McCarthy's right flank threatening they could oust him if he brings a clean spending bill to the floor. Even a standalone defense spending bill hangs in the balance as some members have threatened to vote against a procedural step to bring it to the floor this week.
"The margins are thin," Rep. Steve Womack, an Arkansas Republican and member of the House Appropriations Committee, said. "We've got work to do."
It's an inflection point that has been months in the making, but will face a critical deadline at the end of the month when the government runs out of money and McCarthy may be forced to decide between bringing a short-term spending bill to the floor that can pass the Democratic-controlled Senate and pass it with a large number of Democratic votes or advance something that may unite House conservatives but would be dead on arrival in the Senate.
Some Senate Republicans had believed opening an impeachment inquiry could give McCarthy some political cover to cut a deal to keep the government funded even in the short term.
"It gives them additional tools to gather data, but it also keeps his folks basically together. He needs them together to do appropriations. He needs them together to do the (annual National Defense Authorization Act legislation) and so forth and as long as he is moving them, and they feel as though he is listening to their concerns, maybe he can get some of those items out and get it to the point where we can work with him in the Senate," said Sen. Mike Rounds of South Dakota.
In the House, that is not at all how it has played out.
"I really think they are independent of each other," Oklahoma Republican Rep. Stephanie Bice said. "I think the inquiry is something some of the members think is the next best step. Impeachment is a serious issue and none of us take that lightly. The appropriations discussion, I think is different. Many of our members want to see spending cuts. They are passionate about making sure we are funding certain things and not funding others and that is where I think the fight comes in right now."
Veteran appropriator Rep. Tom Cole, also from Oklahoma, said opening an impeachment inquiry has only a "marginal" impact on McCarthy's ability to earn some goodwill with conservatives in the conference, but that, "I don't think it is it in itself going to shake things lose."
Conservatives were quick to make it clear they aren't going to give in on spending and pass a short term stopgap measure continuing funding, called a "continuing resolution" or CR, just because McCarthy has ramped up the investigations into President Joe Biden and his son Hunter.
"I'm a hell no on a clean CR, and there are many people who agree," Rep. Lauren Boebert, a conservative from Colorado, told CNN.
"I think Speaker McCarthy has a path to choose. Does he pass Republican legislation that advances our policies and cuts spending with a Republican majority, Republican votes, or does he pass legislation with Democrat votes that lets down the American people?" Rep. Bob Good of Virginia, told CNN.
The uncertainty over how to fund the government was the focus of a private GOP conference meeting Tuesday morning with the speaker pitching his members that they need to stay united if they are going to have the best possible hand in negotiations with the Senate. At the moment, it is not entirely clear what will unite a disparate conference even as some swing state Republicans are pleading with their leaders to pass a continuing resolution that keeps government funded past September 30.
"There are some folks challenging (McCarthy), but there are 180 to 200 of us maybe more that will support him for 15 more votes or 50 more votes," Rep. Don Bacon, a Republican from a Nebraska swing district, told CNN. "I don't think we should cater to the threats all the time. Let's do the right thing. We already have an agreement with the President that the far majority of the conference supported. We should live within that agreement."
House Republican leadership was hoping to put a series of standalone spending bills on the floor over the next two weeks to try and build consensus and unite the conference, but it's been a gamble. Already this week, leadership is scrambling to pass a defense spending bill with one member of the House Freedom Caucus Rep. Ralph Norman of South Carolina voting against the bill in the Rules Committee and another Rep. Dan Bishop of North Carolina telling CNN he would vote against the rule on the floor. Both the debate and the scheduled votes were pulled minutes before the chamber was due to gavel in Wednesday.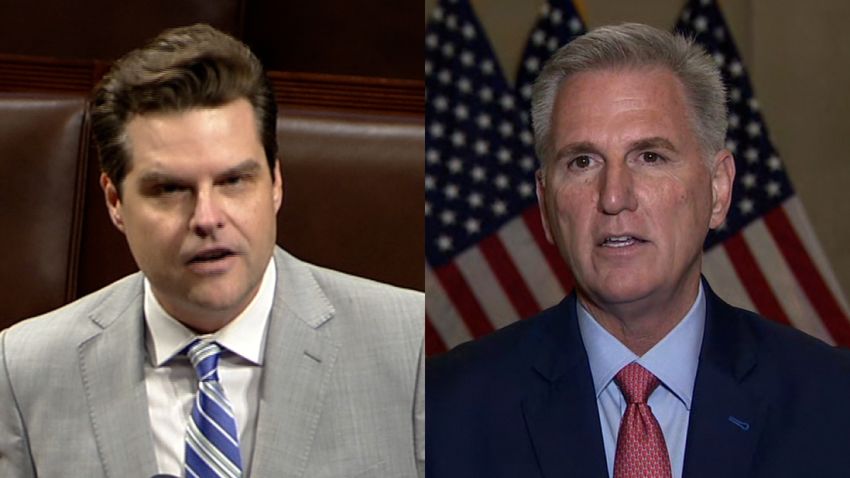 'Out of compliance': Gaetz calls out McCarthy from House floor