College campuses across the United States have been at a fever pitch in the past week over statements from students, professors and administrators related to Hamas' attack on Israel and the ensuing war in Gaza.
Students have protested and issued calls to action. Wealthy donors have pledged to pull funding from universities, citing mealy mouthed statements from administrators. And a handful of faculty members have been disciplined while vocal students have faced backlash for taking sides.
Political debate and protest have long roiled college campuses on any number of topics. But the current debate on the Israel-Gaza war is so emotionally fraught because it's part of a much broader history, experts on college campus speech told CNN, and the intensity of the backlash to their protected free speech shows what happens on campus does not always stay on campus.
"We're seeing that this is incredibly controversial because of the history of the conflict and the passions that history sparks on both sides of the issue," said Michelle Deutchman, the executive director of the University of California National Center for Free Speech and Civic Engagement.
"I think we're seeing how when you have such deeply entrenched feelings and opinions, it becomes difficult to engage without creating pressure for anyone who disagrees with a particular side."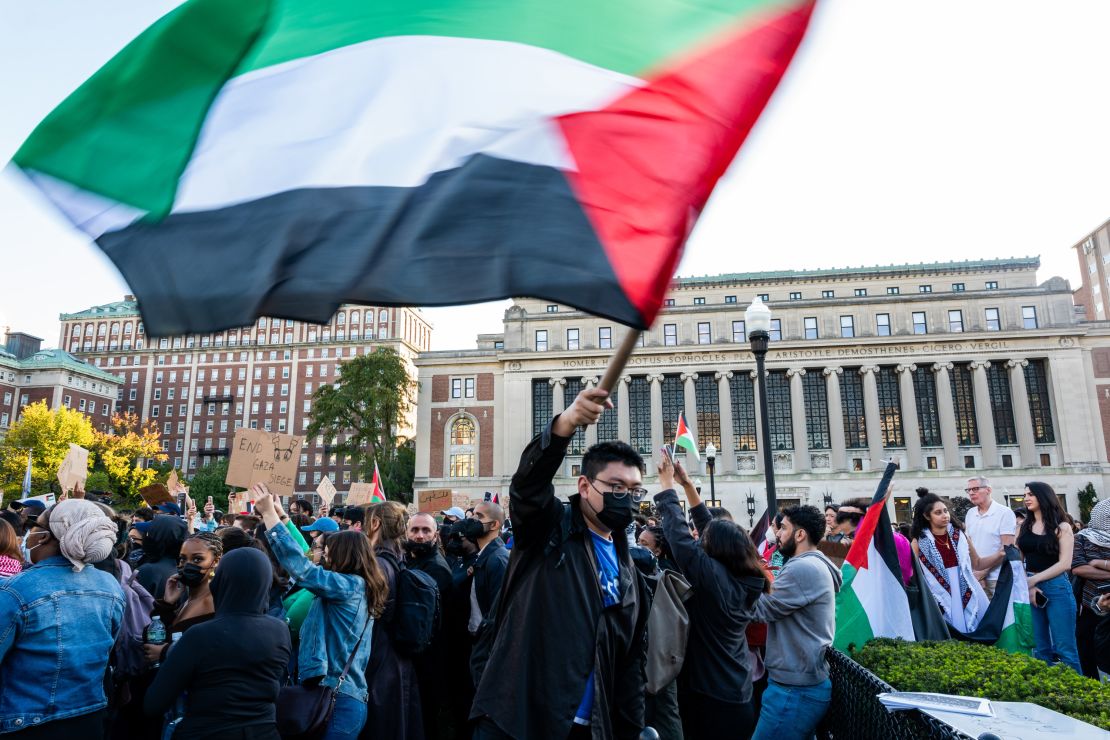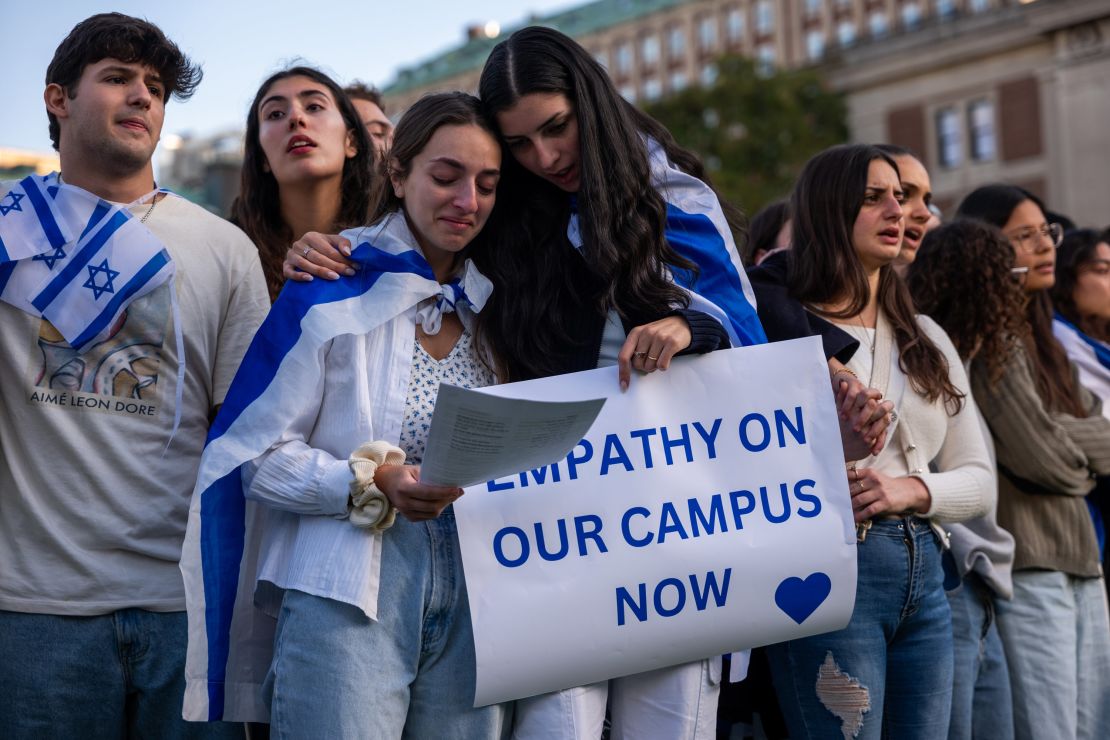 The Israeli-Palestinian conflict garners intense feelings, and the debate can and has spilled over into incivility and unreasonableness. Even so, debate on such fraught topics is exactly what college campuses are all about, according to Jon Fansmith of the American Council on Education, a membership organization consisting of more than 1,700 colleges and universities.
"It's not unusual, not even uncommon, for there to be hard-fought arguments on campuses and corresponding debates on what are the appropriate limits on freedom of speech," Fansmith, the senior vice president of government relations and national engagement, told CNN. "Most people understand and really do expect of higher education … that college campuses are places where you go that you'll be challenged by new ideas and where you'll have the opportunity to challenge those viewpoints."
The goal for university administrators is that, no matter what happens in the outside world, the campus still has a culture of cooperation, said Eboo Patel, the founder of Interfaith America, a nonprofit that seeks to bridge religious divides and works with over 600 university campuses.
"Colleges are places where people are encouraged to have strong identities and they're encouraged to voice their views, but they have to be even more fundamentally institutions of civility and cooperation and institutions of learning," Patel said.
Is the nature of those institutions at risk in this political crisis? Here's a look at some of the ongoing debates and backlash on universities among students, faculty, administrators and alumni.
Opinion: Why student protests against Israel are so painful, polarizing and complicated
Harvard and UPenn donors revolt

Perhaps nowhere has the issue been more public than at the elite Ivy League institutions Harvard and the University of Pennsylvania.
For Harvard, the fierce debate began with a statement from a coalition of student groups shortly after Hamas militants attacked Israelis on October 7.
"We, the undersigned student organizations, hold the Israeli regime entirely responsible for all unfolding violence," the statement from the Harvard Palestine Solidarity Groups said. The statement said millions of Palestinians in Gaza have been "forced to live in an open-air prison" and called on Harvard to "take action to stop the ongoing annihilation of Palestinians."
The statement spurred backlash from a number of powerful alumni and business leaders, including billionaire hedge fund CEO Bill Ackman, who called for those who signed the letter to be identified and blacklisted from employment.
Meanwhile, former Harvard president Larry Summers said he felt "alienated" from his alma mater for its initial lack of response to Hamas' attacks or to the student groups' statement.
"In nearly 50 years of Harvard affiliation, I have never been as disillusioned and alienated as I am today," Summers said in a series of posts on X.
Three days after the attack, Harvard President Claudine Gay released the university's first response to the attacks, saying, "I condemn the terrorist atrocities perpetrated by Hamas."
"Let me also state, on this matter as on others, that while our students have the right to speak for themselves, no student group — not even 30 student groups — speaks for Harvard University or its leadership," she said.
Gay then released a second statement two days afterward, acknowledging the "volatile situation on our campus." She said the university "rejects terrorism," "rejects hate" and "rejects the harassment or intimidation of individuals based on their beliefs."
In pictures: The deadly clashes in Israel and Gaza
The statement did little to calm the backlash. Israeli billionaire Idan Ofer and his wife, Batia, quit a Harvard executive board in protest of how university leaders have responded. In addition, a nonprofit founded by former Victoria's Secret billionaire Les Wexner and his wife, Abigail, broke off ties with Harvard, alleging the school has been "tiptoeing" over Hamas' terror attacks.
"We are stunned and sickened by the dismal failure of Harvard's leadership to take a clear and unequivocal stand against the barbaric murders of innocent Israeli civilians," the Wexner Foundation's leaders wrote in a Monday letter to the Harvard board of overseers.
Further, a conservative nonprofit organized a "doxxing truck" – a billboard truck that drove near Harvard's campus and displayed the names and photos of students whose organizations signed the statement blaming Israel.
According to the Harvard Crimson student newspaper, at least 10 of the original 34 groups that signed the statement have withdrawn their endorsements as of Tuesday.
At UPenn, too, the Israel-Gaza conflict has inflamed existing tensions that began with the Palestine Writes Literature Festival last month. The university acknowledged the event included speakers with a history of making antisemitic remarks, and UPenn leaders issued a statement ahead of the festival condemning antisemitism broadly, though not the festival specifically.
UPenn President Liz Magill later conceded the statement on the festival was not sufficient.
"While we did communicate, we should have moved faster to share our position strongly and more broadly with the Penn community," Magill said in a statement.
Billionaire CEO Marc Rowan, who runs the private equity giant Apollo Global Management, called on the school's leaders to resign and for donors to close their checkbooks over what he said was a failure to condemn antisemitism and hate. In addition, billionaire Ronald Lauder, a powerful financial backer of UPenn, threatened to cut off donations if the school doesn't do more to fight antisemitism, CNN has learned.
Venture capitalist David Magerman similarly cut off support to the university, saying he was "deeply ashamed of my association" with UPenn.
Further, UPenn alumnus and former US Ambassador Jon Huntsman blasted the university.
"The University's silence in the face of reprehensible and historic Hamas evil against the people of Israel (when the only response should be outright condemnation) is a new low," Huntsman wrote to Magill in a letter obtained by CNN.
Faculty disciplined for statements

A number of students and faculty at other universities have faced personal backlash for their positions.
At New York University, there has been blowback against a statement released by the president of the NYU Student Bar Association saying Israel "bears full responsibility for this tremendous loss of life."
That statement had immediate consequences, with law firm Winston & Strawn promptly pulling a job offer from the NYU student, who previously served as a summer associate at the firm.
"These comments are profoundly in conflict with Winston & Strawn's values as a firm. Accordingly, the Firm has rescinded the law student's offer of employment," the law firm said in a post on X. "Winston stands in solidarity with Israel's right to exist in peace and condemns Hamas and the violence and destruction it has ignited in the strongest terms possible."
The student, Ryna Workman, issued a statement Monday acknowledging the backlash, saying the intent was to express support for the Palestinian people.
"My message came across as insensitive to the suffering of Israelis during a time of crisis and that is not what I intended," Workman wrote.
At Stanford University, an instructor has been removed from teaching duties as the school investigates reports that during a discussion on the conflict, the instructor downplayed the Holocaust and singled out students "based on their backgrounds and identities."
And in a video circulating on social media, a Cornell professor said while he abhorred violence and the targeting of civilians, he was initially "exhilarated" by Hamas' attacks on Israel, which he called a "shifting of the balance of power."
Professor Russell Rickford's remarks were "reprehensible" and demonstrate "no regard whatsoever for humanity," Cornell University leaders said Tuesday afternoon in a statement to CNN.
"The university is taking this incident seriously and is currently reviewing it consistent with our procedures."
Rickford did not immediately respond to a CNN request for comment. In a statement to The Cornell Daily Sun, published Tuesday, he is quoted as saying his comments referred to "those first few hours, when (Hamas) broke through the apartheid wall, that it seemed to be a symbol of resistance, and indeed a new phase of resistance in the Palestinian struggle."
Finally, an Emory University assistant professor was placed on leave by the college after the school said she posted "antisemitic comments" on social media, the professor confirmed to CNN. When reached by phone on Wednesday morning, Dr. Abeer AbouYabis declined to make any further comment.
According to a source with knowledge of the investigation into AbouYabis, one of the social media posts included a photo of Adolf Hitler as well as a quote from the dictator. CNN was unable to independently verify the contents of her social media posts, as her social media accounts are private.
According to a now-removed Emory University profile, AbouYabis is a physician at the Emory Winship Cancer Institute.
"We are aware of the recent antisemitic comments made on a private social media account by one of our assistant professors," the university said in a statement on Tuesday. "We condemn such comments in the strongest possible terms and have immediately placed this individual on administrative leave pending an internal investigation."
CNN's Matt Egan, Nicki Brown, Nick Valencia and Jessica Xing contributed to this report.