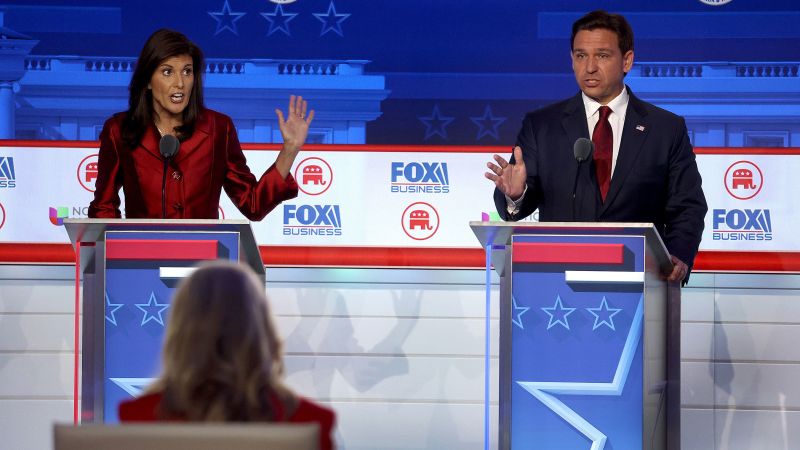 The intensifying rivalry between Florida Gov. Ron DeSantis and former South Carolina Gov. Nikki Haley to lay claim to the mantle of Donald Trump's top challenger, playing out for weeks in closed-door meetings with donors, burst into the open amid the fallout from the deadly Hamas attack on Israel.
DeSantis in recent days has all but accused Haley of inviting Palestinian refugees to the United States – a position she has not advocated – while dismissing her experience as US ambassador to the United Nations, which he called "a worthless organization." Haley's team accused DeSantis of lying about her record because his White House bid is "sputtering."
"We know we're running for president, and he's trying to say whatever he can," Haley told Fox News on Tuesday.
Gone are the days when DeSantis had the luxury of ignoring Haley in the Republican presidential race. The unusually heated back-and-forth over foreign policy – a topic seldom at the forefront of the primary until this month – has become the biggest flashpoint yet.
Less than three months before the Iowa caucuses open the voting in the Republican presidential race, a furious scramble is underway to emerge as the top alternative to Trump, the commanding front-runner, with DeSantis and Haley locked in the fiercest competition – for donors, voters and party activists.
The behind-the-scenes jockeying came to a head last week in Dallas, where a group of prospective donors summoned the campaigns of both DeSantis and Haley to make a case for financial support down the stretch. DeSantis' team contended he is their best hope to stop Trump from winning the GOP presidential nomination. Haley allies said DeSantis was old news, while she was on the rise.
DeSantis' actions of late suggest he views Haley as an emerging threat – if not for the nomination then at the very least to his chances of consolidating support before Iowa. He is increasingly confronted by chatter surrounding Haley, including from local reporters in New Hampshire and South Carolina – two states where she is polling ahead of him.
Early on, DeSantis regularly sidestepped questions about Haley's competing aspirations for the GOP nomination as he was laser-focused on dethroning Trump. And before Monday, DeSantis and his campaign hadn't posted once about Haley on X, the social media site formerly known as Twitter.
But starting Monday, his rapid response team's X account mentioned Haley six times in 24 hours, and DeSantis has stepped up his criticism of her in recent radio and television appearances.
The subject of those attacks stems from the debate over Palestinian refugees caught in Israel's war with Hamas. DeSantis, who cast all Palestinians as antisemitic, said the US shouldn't welcome any refugees from Gaza.
Asked during a Sunday appearance on CNN about DeSantis' characterization of Palestinians, Haley said, "America has always been sympathetic to the fact that you can separate civilians from terrorists." She said half of Palestinians don't want to live under Hamas' rule.
On Monday on Fox News Radio, DeSantis accused Haley of catering to "elites," and his campaign on X mischaracterized her response as "openness to admitting Gaza refugees to the US" – something she has said she opposes. DeSantis himself could not identify anyone pushing for the US to take in Palestinian refugees, telling CBS News on Sunday, "I think some on the far left have said this."
But that hasn't stopped Never Back Down, a DeSantis-allied super PAC, from featuring Haley's remarks in a new ad airing in Iowa and New Hampshire, as well as on national television and streaming services. SFA Inc., a super PAC backing Haley, accused Never Back Down of misrepresenting her record out of desperation.
Haley, who has leaned on her background as Trump's UN ambassador during this period of international tumult, told Fox News on Tuesday that "Hamas-sympathizing countries should take these Gazans now."
DeSantis, who draws from his experience serving in the Navy during the Iraq War, said Haley had "flipped." Asked about DeSantis' criticism of her, Haley told Fox, "I've always said we shouldn't take any Gazan refugees in the US."
Unfolding duel

A feverish chase is on between DeSantis and Haley to win over high-level donors.
Haley is capitalizing on her strong performances in the first two primary debates, trying to entice some of the biggest Republican contributors to take a leap of faith and invest in her candidacy. In closed-door meetings last week in Park City, Utah, and Dallas, she made a case for herself and against DeSantis.
"It's time to get in the game," Haley implored donors in Utah, according to an attendee at the Republican summit at the Stein Eriksen Lodge, where many prominent contributors gathered with Utah Sen. Mitt Romney in an ongoing quest to find the strongest candidate to challenge Trump.
In a win for the former South Carolina governor, Keith Rabois, a top Florida contributor who has previously expressed admiration for DeSantis, is now committed to helping Haley, CNN learned. He sent invitations for a $10,000-a-person fundraiser to benefit her campaign at his Miami home this week. She also recently picked up the endorsement of former Rep. Will Hurd after the Texas Republican suspended his presidential campaign. Meanwhile, longtime conservative columnist George Will urged South Carolina Sen. Tim Scott to drop out of the GOP presidential race and get behind Haley – even as Will's wife advises Scott's bid.
In public and private conversations, Haley's advisers have been bluntly arguing that momentum is on her side and her candidacy offers the best chance to consolidate the anyone-but-Trump sentiment inside the GOP.
But DeSantis remains ahead of Haley in most national surveys and, critically, in Iowa. In Dallas, DeSantis' team argued that he remained best positioned to take on Trump in Iowa, where the Florida governor is on a path to visit all 99 counties and has built out a political operation in the mold of 2016 caucuses winner Sen. Ted Cruz. The DeSantis campaign also shared internal polling that showed Haley voters would scatter among the remaining candidates if she dropped out, but that wouldn't be the case were the governor to drop out.
"If I wasn't in the picture, most of those voters who are going to caucus for me would go to Trump – they would not go to Haley," DeSantis said later, summarizing the pitch during a campaign stop in New Hampshire.
"People can support who they want, but let's just not kid ourselves," DeSantis said. "The nominee for the GOP is either going to be Donald Trump or it's going to be me. There's not a path for anybody else."
And while Haley's standing has been on the rise, based on a series of polls and the latest fundraising reports, she still has considerable ground to make up. It was only last week that she opened her first Iowa campaign office and began bolstering her staff on the ground. DeSantis has campaign chairs in every Iowa county.
Those fundraising reports, though, also showed that DeSantis is burning through cash at a fast rate and has $1 million in unpaid bills, a warning that the financial troubles from the summer – when his campaign overspent and shed staff – may not be fully behind him. Haley, meanwhile, has spent more conservatively and has more money available for the primary race than DeSantis.
Haley also hired two top Republican strategists with deep Iowa experience, including Hooff Cooksey, the campaign manager for Iowa Gov. Kim Reynolds' successful reelection effort, and Troy Bishop, the field director for Iowa Sen. Charles Grassley's winning 2022 campaign. She is hiring more staff this month, aides said, but she still has fewer people on the ground than DeSantis and his affiliated super PAC.
Both DeSantis and Haley will travel to Iowa again this weekend as their campaigns circle each other in the Hawkeye State.
Bob Vander Plaats, who leads an influential Christian group in Iowa and is seen as especially close to DeSantis, told CNN that the Florida governor "has been doing everything right to win an Iowa caucus."
Still, Vander Plaats said Haley "definitely has the time and the lane," and momentum can be a powerful factor for Iowans.
"The infrastructure will take you far, but it will only take you so far," Vander Plaats said. "You have to rely on the organic nature of the caucus as well."
As the DeSantis campaign has failed to live up to its lofty expectations, Haley has exceeded hers, with the fight between a current Southern governor and a former one now fully joined. Both candidates are already preparing for a critical face-to-face meeting on November 8, when Republican contenders gather in Miami for their third debate.
It's not just donors and voters who are watching the duel unfold.
New Hampshire Gov. Chris Sununu, who has said he intends to make an endorsement in the Republican presidential race, and Iowa's Reynolds, who has not ruled out doing so, are closely studying the trajectory of DeSantis and Haley, aides told CNN, in their respective search to find a Plan B to Trump.
While DeSantis has made clear that his path has all but come down to trying to beat Trump in Iowa, Haley is playing more of a long game. Her advisers say a strong showing in Iowa, followed by a New Hampshire surprise, would set her up favorably when the race reaches her native South Carolina, home to the first Southern primary.
"I like her more than any of the other candidates," said Tom Boyer, a retired math tutor from New Hampshire, who came to see Haley at a recent event. "I just like the way she presents herself and speaks to the people. I'm hoping she does well."