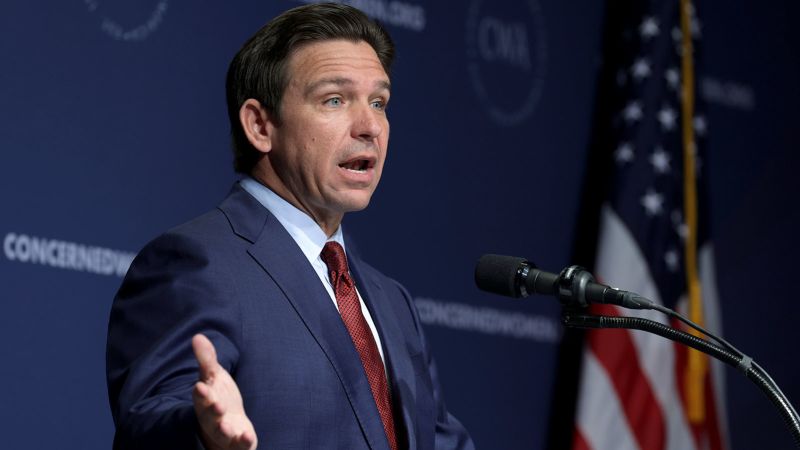 Nick Iarossi, a lobbyist and longtime supporter of Gov. Ron DeSantis, approached the Florida Republican in July with a frank suggestion: Talk more about yourself.
More specifically, talk more about your military service.
"I literally said, 'Why haven't you told anybody,'" Iarossi said. "He kind of laughed about it and said, 'Well, I don't like talking about myself.' That was his immediate reaction."
"I said, 'Well, you need to talk about yourself because people need to know this, because this says a lot about you.'"
DeSantis appears to have listened to Iarossi and other allies who have encouraged him to spend more time talking about his military service, a part of his biography they see as a key differentiator as he competes for the 2024 Republican presidential nomination. On the campaign trail these days, DeSantis rarely leaves an event without letting potential voters know about his time in the military. He brought up his deployment to Iraq three times during the first GOP presidential primary debate. His service as a Navy JAG officer was featured in a summer ad that aired in Iowa and New Hampshire and nationally on Fox News and Newsmax.
"I understand the importance of putting service above self," DeSantis said in an address Friday to the Concerned Women for America Summit in Washington, DC.
In a crowded GOP primary field, DeSantis is the only veteran running. Like other parts of his biography – his young family, his middle class roots – his allies see his military background as something that separates him from the pack, especially the front-runner, former President Donald Trump, who received a draft deferment during the Vietnam War for bone spurs.
Other candidates can relate to the experience of being the family member of someone in the military. Former South Carolina Gov. Nikki Haley's husband has deployed with the National Guard and former Vice President Mike Pence's son is a Marine. President Joe Biden often talks about the service of his late son, Beau, who served in Afghanistan.
But only DeSantis has worn a uniform.
Retired Capt. Dan Bean, who served as DeSantis' commander during the governor's time in the US Naval Reserves, said it's "absolutely critical that he talk about it now."
"I think if you're going to put the armed forces into danger, you need to understand what you're doing, you need to understand what you're asking them to do," said Bean, who has actively campaigned for DeSantis in the 2024 GOP primary. "And so you're not asking someone to do something you haven't done yourself."
In a closed-door meeting with donors last month, top advisers to Never Back Down, a pro-DeSantis super PAC, acknowledged that many voters remained unaware of the Florida Republican's military background, according to audio of the remarks first reported by CNN.
"We feel like Americans are yearning for somebody that has military experience and somebody that would be shaped by that with the way they deal with foreign policy. And that's an incredible differentiation he has with the rest of the field," one source familiar with the campaign's thinking told CNN.
To that end, the DeSantis campaign and Never Back Down are leaning into that messaging, airing ads focused on the Florida governor's time as a JAG officer in the US Navy.
"When our country was under attack, Ron DeSantis fought back," a narrator in one campaign ad says, as footage of the September 11, 2001, attacks plays on screen. "He joined the Navy, became a JAG officer, volunteered to serve in Iraq, deployed with Navy Seal Team One and earned a bronze star."
DeSantis served in Guantanamo Bay and Iraq

DeSantis was in Harvard Law School when he first considered joining the military as an alternative to a legal career in the private sector, he wrote in his recent autobiography, "The Courage to be Free." Recruiters recommended against enlistment, he said in his book, but floated the idea of joining a specialty program that combined a law degree with service. He ultimately earned a commission with the US Navy as a JAG officer.
"One recruiter told me that the assumption was that the Iraq campaign would be over relatively quickly, and that there would be a need for military JAGs to lead prosecutions in military commissions of incarcerated terrorists at the Guantanamo Bay Naval Base," he wrote.
On the campaign trail, DeSantis says his decision was influenced by the September 11, 2001, terrorist attacks. DeSantis had recently graduated from Yale University and was teaching history at a private boarding school in Rome, Georgia, when the World Trade Center towers fell.
"I was like, you know, as an American, I've got to do my part however small," DeSantis told supporters at a campaign event in Gilbert, South Carolina, in June.
DeSantis likened his early JAG career to the character played by Kevin Bacon in "A Few Good Men."
"Though I never got to put anyone like Colonel Nathan R. Jessup (Jack Nicholson's character) on the stand," he wrote in his book.
Even as DeSantis speaks more frequently about his military service, much remains unknown about his time wearing the country's uniform. His military experience is covered in just a handful of pages of his book. Lately, he often leaves unmentioned that he was a JAG officer, telling crowds that he was deployed "alongside" or "attached to" Navy SEALs in Iraq.
The extent of his service is also masked by the inherent opacity that surrounds the military, particularly in the places he served. Most of what has been gleaned about his military record to date comes from a small batch of US Department of Defense service records, his book and details provided by his current and past campaigns.
In 2006, DeSantis was stationed at the Joint Force Guantanamo Bay Detention Facility which held detainees in the War on Terror following the 9/11 attacks. It was a part of his service record that he referenced regularly in his first race for US Congress in 2012 at a time when President Barack Obama faced persistent GOP criticism for his promise to close the controversial prison.
"While in the Navy, he supported operations at the Guantanamo Bay detention facility, which is home to some of the world's most ruthless terrorists," DeSantis' first campaign website said.
In his recent book, though, DeSantis touches on that time in a single sentence, referring to it as a "temporary-duty-travel stints."
Before launching his campaign for president, DeSantis faced questions about his role at Guantanamo Bay. He had a terse exchange during a news conference in Israel when asked whether he authorized the force-feeding of prisoners there, allegations he has firmly denied.
"I was a junior officer. I didn't have authority to authorize anything," DeSantis told Piers Morgan in an interview earlier this year.
In 2007, DeSantis deployed to Fallujah in Iraq, where he served alongside Seal Team One. The deployment came during the troop surge orchestrated under President George W. Bush. DeSantis wrote that his role was to "provide counsel" to the SEAL commander about the rules of engagement on the battlefield. He said he saw his job was to help SEALs accomplish their mission, not impede them.
"I rejected the posture some judge advocates in the military take by simply trying to shoot down any proposed operations or reading the (rules of engagement) so broadly that it paralyzes individual operators," he wrote.
Bean, DeSantis former commander, said these were often "life and death decisions."
"You're talking about what the rules of engagement are, trying to keep your folks out of trouble," Bean said. "Trying to keep your folks from getting killed."
DeSantis returned to the United States in 2008 and served as a special assistant to the US attorney in the Middle District of Florida. He was honorably discharged from active duty in 2010 and served in the Naval Reserves until 2019, when he was sworn in as Florida's 46th governor.
"It was a great experience, and I had a lot of admiration for the Navy as an institution, but it felt like the right time," wrote of his decision to leave.
Using his biography to set himself apart

DeSantis has leaned on his military experience in past campaigns to introduce himself to voters.
Emblazoned on his first campaign website in 2012 were the words: "Veteran. Citizen. Not a politician."
When he campaigned for governor in 2018, he sent his resume to Florida voters, noting his Fallujah deployment and that he earned a Bronze Star. Pictures of DeSantis in his Navy whites and in military fatigues reached voters' mailboxes over and over.
It's unclear why DeSantis has not again put that experience front and center during his presidential campaign. But he is known to be a deeply private person who is reluctant to share details about his personal life. For years, DeSantis didn't publicly talk about the unexpected death of his younger sister in 2015, nor has he willingly spoken about his churchgoing habits or his childhood.
Bean hypothesized the Florida governor doesn't want to be seen as bragging about himself
"I think he's reticent to do that," said Bean.
While DeSantis saw his national political star rise by taking on cultural clashes in Florida, voters are now hearing more about his biography. If elected, DeSantis would be the first veteran to occupy the Oval Office since President George H. W. Bush.
Kristin Davison, the chief operating officer of Never Back Down, told donors last month that when DeSantis shares his background, voters "actually left Trump and came to him."
On the trail, DeSantis is continuing to talk about his service more, recalling his time in Iraq or acknowledging the meaning of his service.
"I would have made so much more money but to be able to serve alongside other patriots, you know, to wear the uniform of your country, you know, that's something that money can't buy, you know," he said at a June stop at a VFW in Reno, Nevada.
Iarossi, the Florida lobbyist, said details like that "provide a level of authenticity."
"Those biographical facts," Iarossi said, "lend credibility to his message and to his story."