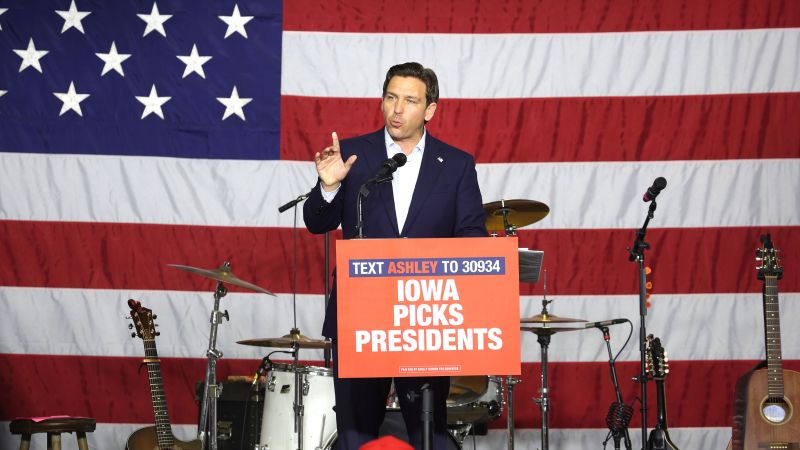 Florida Gov. Ron DeSantis criticized Donald Trump for claiming he doesn't know who gave Dr. Anthony Fauci a presidential commendation that the former president awarded him.
"It literally says President Trump awards commendation. Is this the immaculate commendation or something like that? Did this just happen out of thin air?" DeSantis said in a radio interview with Jimmy Failla on "FOX Across America."
It was DeSantis' latest attack on Trump over Covid-19 management – a key issue to the Florida governor's own presidential pitch. The governor has argued that Trump, as president, ceded control to Fauci, the long-time top federal infectious disease expert.
On January 19, 2021, Trump awarded Fauci and 51 other people who served on the Operation Warp Speed task force during the Covid-19 pandemic presidential commendations.
"Give me a break, people need to take responsibility for their actions. They need to they need to own what they did. And here's the thing that's important: Looking forward, you know, with me, all those mistakes will never be repeated again," DeSantis continued.
In an interview with Megyn Kelly, Trump was asked to answer criticism surrounding his response to the pandemic, including why he awarded Fauci, head of the National Institute of Allergy and Infectious Diseases, with a presidential commendation.
Trump told Kelly: "I don't know who gave him the commendation. I really don't know who gave him the commendation. Someone probably handed him a commendation."
Asked several times if he "would like a do over" on certain situations during the pandemic, such as making Fauci "a star," Trump alluded to how the president does not have direct power to fire civil servants under federal law.
"I'm not one that blames a system, that if you're civil service or if you have some other protection that you can't get fired, because I've done things that are a lot worse than that," Trump said.
"I overrode many of the things he did," Trump also said of Fauci.
DeSantis, who has put Covid-19 management at the forefront of his campaign, took aim at that claim during his radio interview.
"Donald Trump, he's basically saying he did everything was right. And I think that means you should understand he would do the same thing all over again, if put in that position, and that would be disastrous for our country," DeSantis said.
On the campaign trail, DeSantis has regularly criticized Trump for elevating Fauci during the pandemic, calling the presidential commendation award a "gut punch" and arguing he should have been fired.
"Clearly, Dr. Fauci should have been fired. He caused a lot of damage. And not only was he not fired, Donald Trump gave Fauci a presidential commendation, on January 19, 2021, his last day in office," DeSantis said at an event in Coralville, Iowa in August. "I think that that was a gut punch."
DeSantis' administration on Wednesday advised people younger than 65 against getting the new Covid-19 shots from Pfizer/BioNTech and Moderna, contradicting federal health officials' guidance.
CNN's Kate Sullivan contributed to this story.