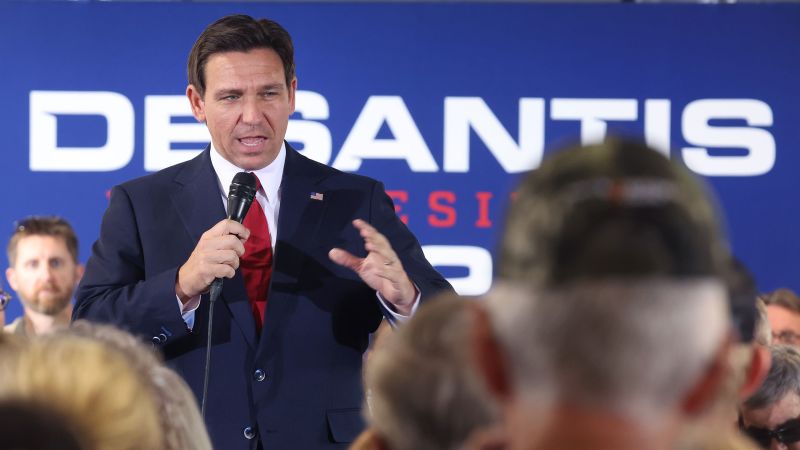 Florida Gov. Ron DeSantis on Wednesday said that he would not dine with White nationalist and Holocaust denier Nick Fuentes as former President Donald Trump did last year, but avoided directly criticizing his GOP rival for doing so.
When asked how he feels about Republicans associating with Fuentes, DeSantis told CNN's John Berman, "I reject all conspiracy theories of that nature. I think that we just have so much garbage in our society right now."
Pressed again on whether he thinks Republicans should be eating with Fuentes, DeSantis said, "I would not do that."
Last year, Trump hosted Fuentes, a White nationalist with well-known antisemitic views, at his Mar-a-Lago estate along with rapper Kanye West, just a week after he launched his latest White House bid. He was criticized for the dinner, including by soon-to-be 2024 Republican rivals Mike Pence and Asa Hutchinson. Trump later denied knowing who Fuentes was when he came to Mar-a-Lago.
On Wednesday, DeSantis condemned a statement by Fuentes over the weekend saying Israel's intelligence failure is "a little suspicious in light of how the Likud government will benefit politically from this crisis."
"That is totally outrageous," DeSantis told Berman. "This garbage out there you hear things people are saying that the babies really somehow weren't killed, that this is all just manufactured. I understand, there's conspiracy theories that can go on, but we've got to put that garbage aside, and we've got to stand with Israel."
"We have to condemn the antisemitism that has motivated these attacks and that has motivated attacks around the world," DeSantis added.
DeSantis also indicated that he would support a clean aid bill for Israel in the wake of Hamas' surprise attack over the weekend and Israel's ensuing war declaration, rather than tying it to other issues, such as Ukraine aid or border security, as some Republicans and Democrats have suggested.
"What I would just simply do, is you want to help Israel, let's just do it and don't try to leverage other things, but that's how Congress operates, I'll let them do that," DeSantis said. "This is an hour that calls for strong support."
"Congress has been in disarray. They haven't been producing and I think they need to get their act together," DeSantis added.
Weighing in on President Joe Biden's speech – in which the Democrat condemned "pure, unadulterated evil" in the Middle East – DeSantis said, "I think that those words were appreciated." But he continued to characterize the president as "missing in action" over the weekend. At the same time, he called for "unanimity" across the political aisle in support of Israel.
"Let's have unanimity between both parties all across this country, that we're going to stand with Israel, not just today, not just tomorrow, but in the weeks and months ahead," DeSantis said.
Asked how he would bring home Americans being held hostage by Hamas, DeSantis said, "We would use all available resources to rescue Americans. This is our job and our duty as the president of the United States, and we would do that, and we would work very closely with the Israelis to get that job done."
DeSantis also called on Biden to "reverse" his policies at the southern border to protect against potential threats.
"We are vulnerable when you have all these military-age men coming in. Do you think that our enemies have not been looking at that weakness?" he said. "We know people from Russia have come, we know China and other parts of the Middle East. That is not good for the security of this country."
In a Tuesday interview on "The Howie Carr Show," DeSantis said Steve Scalise and Jim Jordan were both good guys, but he indicated he would likely support Jordan for House speaker if he were still in Congress.
DeSantis told Berman, however, it's less about the speaker and more about who can deliver results.
"I like both guys. I'm friends with both of them. I voted for Jim in the past. You know, when I'm back there and my former days, but here's the thing: The important thing is to end the chaos and start delivering results," DeSantis said.
"If Jim can do that, great. If Steve can do that, great. But they need to get their act together because people are watching," he said.