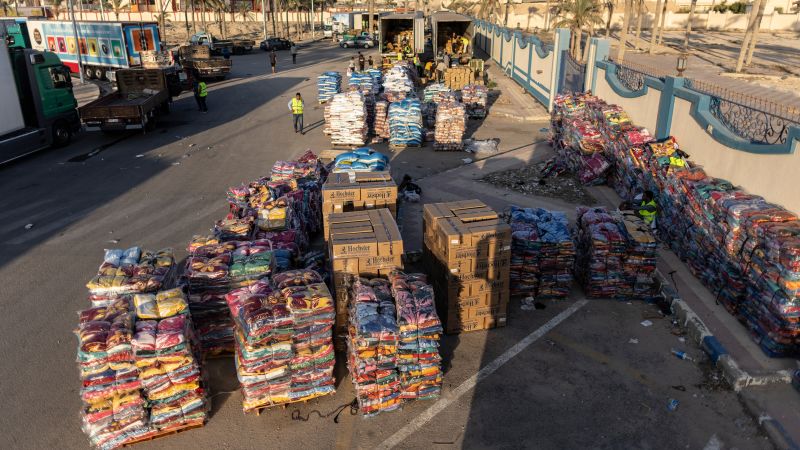 Egypt has agreed to allow aid trucks into Gaza as anger rises globally over Israel's siege of the isolated enclave in response to the brutal, coordinated Hamas attacks nearly two weeks ago.
The relentless bombardment of Gaza by Israel has sparked growing protests across the Middle East and heightened fears that the war could spiral into a wider regional conflict.
Speaking on his way back from a visit to Israel, United States President Joe Biden said his Egyptian counterpart Abdel Fattah el-Sisi had agreed to open the Rafah crossing into Gaza for humanitarian aid – the only one not controlled by Israel.
Up to 20 trucks from an aid convoy waiting for days at the closed border gate would be allowed into Gaza, said Biden. The roads near the crossing, pocked with craters from Israeli airstrikes, will have to be fixed before the trucks can pass, Biden said. He added that work could be done over eight hours on Thursday before the first aid deliveries on Friday.
"We're negotiating with the parties to make sure that we can get humanitarian goods going in and right now we're in the process of those negotiations. We're trying to get them in as soon as can," UN deputy spokesperson Farhan Haq told CNN on Wednesday.
It's also not clear how much of an impact the initial delivery will make for Gazan civilians caught up in a humanitarian catastrophe that the World Health Organization says is spiraling out of control and impacting hundreds of thousands of people.
Biden said the crossing would only be open for aid, not for evacuations – leaving an uncertain fate for the 2.2 million Palestinians with no way out of Gaza, including foreign nationals and dual citizens.
Calls for aid have grown increasingly desperate over the past week as Palestinians in Gaza fled south, heeding Israel's warnings to evacuate from the north – though many soon found that nowhere was safe in the densely-packed strip of land.
As near constant airstrikes pound the area, overwhelmed hospitals are running out of medicine and fuel to keep the lights on as stretched medics struggle to save lives.
UN agencies have warned that stores are less than a week away from running out of food and that Gaza's last seawater desalination plant has shut down, bringing the risk of further deaths, dehydration and waterborne diseases.
In pictures: The deadly clashes in Israel and Gaza
Dire conditions worsening

Israel has maintained an air, land and sea blockade on Gaza for nearly 17 years, meaning the strip has been almost totally isolated from the rest of the world. Conditions were already dire before the war – and are rapidly worsening after Israel cut off supplies to Gaza following the attack by Hamas, the Islamist militant group that controls the strip.
That murder and kidnapping rampage killed an estimated 1,400 people in Israel, mostly civilians, in what has been described as the worst massacre of Jews since the Holocaust. Hamas has also seized some 150 hostages.
In the days since nearly 3,500 people have been killed in Gaza, according to Palestinian health officials, with hundreds of women and children among the dead.
Public fury had already been building, particularly in Arab nations. But it then erupted after a deadly blast tore through Al-Ahli Baptist Hospital in Gaza on Tuesday, which Gaza authorities said killed hundreds of civilians.
Palestinian officials have accused Israel of hitting the hospital, a claim Israel denies.
Israel on Wednesday laid out evidence that it said shows a rocket misfire by militant group Islamic Jihad.
Biden backed that explanation on Wednesday, citing US intelligence. A spokesperson for the National Security Council later said that analysis of overhead imagery, intercepts and open-source information suggested that Israel is "not responsible."
Islamic Jihad – a rival group to Hamas – has denied responsibility.
Still, several Arab countries issued statements condemning Israel and accusing its military of bombing the hospital, with thousands of protesters shouting anti-Israel slogans gathering in Lebanon, Iraq, Jordan, Kuwait, Egypt, and Tunisia.
Other countries and international organizations, including the United Nations, have expressed horror at the loss of life and urged caution in attributing blame until the circumstances become clear.
The blast, which took place hours before Biden was set to leave the White House for his trip to the Middle East, set off a furious scramble inside his administration – and caused the postponement of a highly anticipated summit with Arab leaders in Jordan.
But Biden said his conversation with Egypt's Sisi, which took place during a refueling stop, was a success. "Look, I came to get something done, I got it done," he told CNN.
He wouldn't go into details about attempts to get Americans and other civilians out of Gaza, but said he was "hopeful" about efforts to do so.
With anti-Israel protests rising across the Middle East there are fears other fronts could open up, particularly on Israel's northern border with Lebanon where the Iran-backed militia dominates and has increasingly clashed with Israel's military over the last week.
Israel Defense Forces spokesperson Lt. Col. Jonathan Conricus told CNN on Thursday that there was a "significant escalation" by Hezbollah, saying the group had fired numerous anti-tank missiles from Lebanon and had tried unsuccessfully to infiltrate into Israel.
"What some Hezbollah is doing now is dragging Lebanon into a conflict that it has no business to be in, and it surely won't benefit from," Conricus said.
CNN's Kayla Tausche, Nikki Carvajal, Rob Picheta, MJ Lee, Natasha Bertrand, Helen Regan, Tara John, Mohammed Tawfeeq, Heather Law and Stephen Collinson contributed to this report.