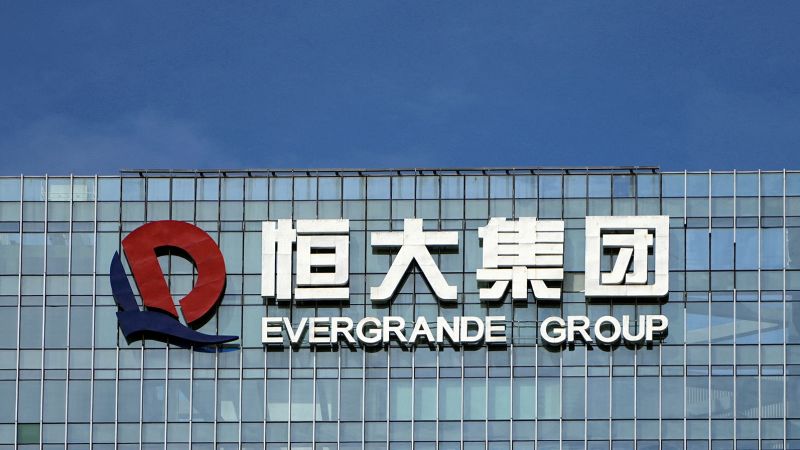 Editor's Note: Sign up for CNN's Meanwhile in China newsletter which explores what you need to know about the country's rise and how it impacts the world.
Evergrande's plan to restructure its massive debts is in trouble because of a regulatory probe into its main subsidiary, the embattled Chinese developer said Sunday.
The company said in a statement that it is "unable to meet the qualifications" for issuing new notes, which refer to short or medium-term securities, because Hengda Real Estate Group was being investigated.
Last month, Hengda — Evergrande's flagship unit in mainland China — said it was being probed by the securities regulator because of suspected violations of requirements to disclose information to investors.
If the restructuring fails and Evergrande is unable to reach a new deal with its creditors, it could face liquidation, where its assets are sold and it stops all operations.
Evergrande shares plummeted on Monday, closing more than 21% lower in Hong Kong and dragging down the stocks of other Chinese property developers.
Previously China's second biggest real estate company, Evergrande defaulted on its financial obligations to creditors at the end of 2021, igniting a crisis in the property sector that continues to weigh on the wider economy. A former Chinese official said recently that China has enough vacant properties to house more than its entire population of 1.4 billion.
Since defaulting, Evergrande has been trying to implement a government-supervised debt restructuring. In March, the company — which had total liabilities of $328 billion at the end of June — unveiled a multi-billion dollar plan to make peace with its international creditors and recently filed for bankruptcy protection in the United States as part of the process.
Sunday's announcement from Evergrande came just days after it canceled key meetings with creditors to restructure its offshore debt, citing disappointing sales of properties in the past few months.
Chinese officials and investors are hoping that the long-awaited restructuring will help restore confidence in China's real estate industry, which once accounted for as much as a third of GDP.
The issuance of new securities a key part of that restructuring plan, involving more than $19 billion in debts held by overseas investors.
According to the plan, Evergrande offered two main options for its international overseas creditors: either swap their bonds for new notes with maturities of between 10 and 12 years, or convert them into different combinations of equity-linked instruments and new notes with a shorter maturity.
These options now appear to be off the table because the company is unable to issue new debt because of the investigation into Hengda by China Securities Regulatory Commission (CSRC), the financial regulator.
Hengda said it would "actively cooperate" with the investigation and "strictly fulfill" its information disclosure obligations.
Earlier in September, Chinese police detained some staff of Evergrande's wealth management unit in the city of Shenzhen after the unit failed to repay investors. It's the first criminal probe launched against Evergrande since it was hit by the debt crisis nearly two years ago.
Last Monday, Evergrande said the detentions would not affect the company's operations. But, late last week it acknowledged that the company's proposed debt restructuring had hit a snag for a different reason.
On Friday, Evergrande announced in an exchange filing that it would cancel so-called "scheme meetings" with its overseas creditors, which were originally scheduled for this week, saying sales of its properties have "not been as expected."
The company also said it was necessary to reassess the terms of the restructuring plan to meet the company's "objective situation" and "the demand of the creditors."
Its restructuring plan was largely supported by overseas investors, the company said in March. But it still needed to hold a series of votes during the scheme meetings to seek formal approval.
In an update in April, Evergrande admitted that the plan was still short of support from a key group of creditors. Since then, the meetings have been rescheduled multiple times.