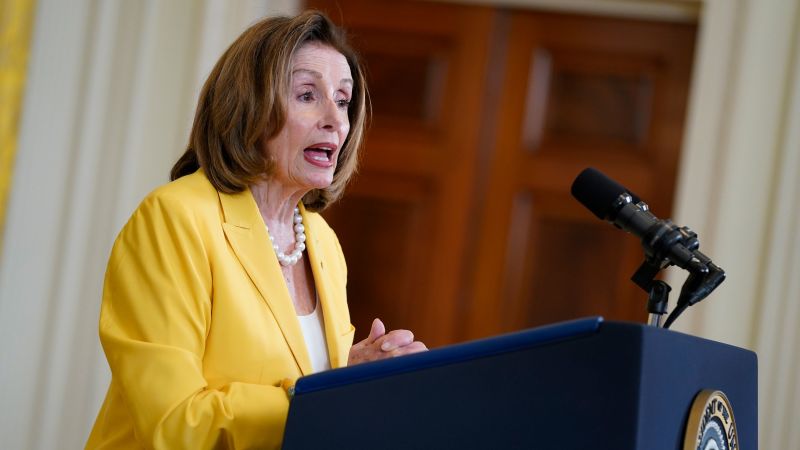 Former House Speaker Nancy Pelosi on Wednesday defended her approach to the first impeachment of then-President Donald Trump in 2019, in her first public comments on the Republican effort to launch an inquiry into President Joe Biden.
Pelosi, in an exclusive interview with CNN's Anderson Cooper, denied having changed precedent in the chamber, as Republican House Speaker Kevin McCarthy has claimed in recent days to justify his strategy.
"He is saying Nancy didn't bring a bill to the floor. We did," Pelosi insisted to Cooper in an interview on "AC360."
McCarthy, facing increasing pressure from his right flank to move ahead with an inquiry into Biden, announced Tuesday he was calling on his committees to open a formal impeachment inquiry into the president, even as they have yet to prove allegations he directly profited from his son's foreign business deals.
As CNN previously reported, the speaker's announcement "directing" a House committee to open a formal inquiry into Biden meant there would be no floor vote to formally authorize the effort, according to a GOP source. Skipping an impeachment inquiry vote would mark a departure from McCarthy's previous comments on the matter, but the speaker earlier Wednesday placed the blame squarely on his predecessor.
"Nancy Pelosi changed the precedent of this House on September 24th. … Why would it have to be different today?" he told CNN's Manu Raju.
Pelosi shot back Wednesday, telling Cooper: "No, it's completely not true. We had a few weeks where we had to make our case and I assigned six committee chairs to get the information and the rest and that then prepared us to bring the bill to the floor. They've had what nine months of collecting information, they have nothing."
The House did hold a vote to launch the first impeachment inquiry into Trump, but about a month into probe. Pelosi announced a formal impeachment inquiry on September 24, 2019, but the House did not vote on the matter until October 31.
McCarthy, Pelosi said, likely does not have the votes to put an impeachment inquiry on the floor and so reversed course after he telling Breitbart News he would do so through a floor vote and not by a declaration.
Pelosi – who Biden called "the most consequential Speaker of the House of Representatives in our history," in a statement last year – offered a full-throated endorsement of the president's reelection bid, even as some have raised concerns over his age and vitality.
At 80, Biden would be the oldest person elected to the presidency if he wins reelection next year. A CNN poll released last week found three-quarters of Americans are concerned Biden's age might negatively affect his current level of physical and mental competence and his ability to serve another full term if reelected.
The president's defenders – including the 83-year-old Pelosi – have brushed off concerns about his age and the White House has frequently pointed to his energy levels on grueling international trips such as last week's as proof that his age is not an issue.
Pressed on whether she believes Biden remains the best candidate to beat Trump and the 2024 Republican field, Pelosi said, "I think so," adding that Biden "has great experience and wisdom," as well as "a vision for the country that is about fairness and justice and addressing the kitchen table issues of America's working families."
And she rebuffed calls, including most recently from Washington Post columnist David Ignatius, for Biden to withdraw from the 2024 race, telling Cooper, "I travel a bit in those circles of Democrats nationally and politically, and while there may be some concerns, everybody's for him overwhelmingly – everybody is for him."
Asked whether she thinks there is a chance the president would withdraw from the race, Pelosi said, "I hope not."
Still, the longtime Democratic congresswoman offered a slightly less robust endorsement of Vice President Kamala Harris as Biden's running mate. Asked whether Harris remains the best person for the job, Pelosi told Cooper, "He [Biden] thinks so, and that's what matters."
"And by the way, she's very politically astute, I don't think people give her enough credit," Pelosi added of Harris. "She's, of course, values-based, consistent with the president's values and the rest, and people don't understand – she's politically astute, why would she be vice president if she were not?"