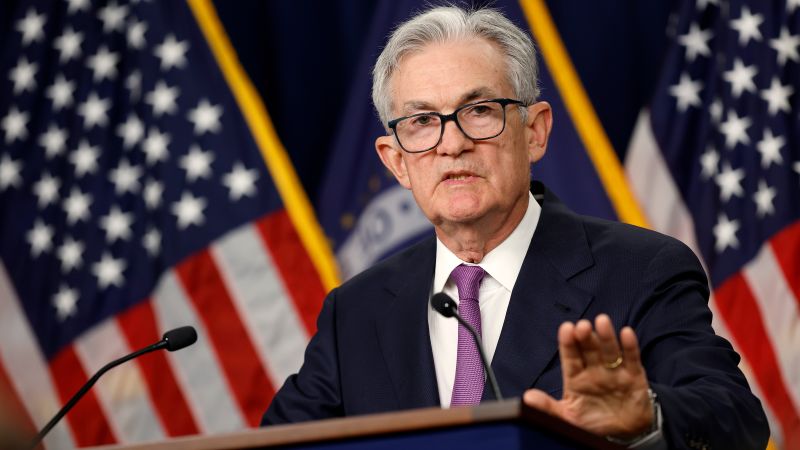 Federal Reserve Chair Jerome Powell is set to deliver remarks during a moderated discussion hosted by the Economic Club of New York at 12 pm ET on Thursday.
The Fed chief's comments could provide some clarity on the central bank's strategy on interest rates moving forward, and could move markets if he were to signal that he agrees with recent Fed speakers who have said the central bank is likely done raising rates.
Recent public remarks from Fed officials, along with minutes from the Fed's September policy meeting, have indicated that the central bank's decisions now seem to be based on doing just enough to defeat inflation while not doing so much that its actions trigger higher unemployment.
Fed Vice Chair Philip Jefferson, who holds an influential role at the US central bank, first laid out that strategy earlier this month, saying that the Fed should "balance the risk of not having tightened enough, against the risk of policy being too restrictive."
Treasury yields have soared recently on expectations that the Fed will keep rates higher for longer, which could slow the economy. The yield on the benchmark 10-year US Treasury note reached its highest level since 2007 on Wednesday, while 30-year Treasury yields breached the 5% mark.
Financial markets are overwhelmingly pricing in another Fed pause on rate hikes for the October 31-November 1 meeting, but the chances of an additional pause in December are much lower, at around 61%, according to the CME FedWatch Tool.
The economic landscape

US inflation has slowed markedly from its four-decade peak last summer as the Fed raised short-term rates at its most aggressive pace since the 1980s. The closely watched Consumer Price Index rose 3.7% in September from a year earlier, up from June's 3% annual rate, mostly due to rising gas prices, but still down from the 9.1% rate in June 2022. That's a welcome development for the Fed, but officials aren't quite yet ready to declare victory.
The Fed's preferred inflation gauge has shown a similar deceleration, with the Personal Consumption Expenditures price index rising 3.9% for the 12 months ended in August, the lowest annual increase that index has seen in two years. Inflation is still above the Fed's 2% target, and officials have said they need to see further evidence of the economy cooling.
"If we continue to see a cooling labor market and inflation heading back to our target, we can hold interest rates steady and let the effects of policy continue to work," San Francisco Fed President Mary Daly said earlier this month. "Importantly, even if we hold rates where they are today, policy will grow increasingly restrictive as inflation — and inflation expectations — fall."
However, the US job market remains on strong footing. Employers added a robust 336,000 jobs in September, while the unemployment rate held at a low 3.8% that month. Meanwhile, a separate report showed that job openings unexpectedly surged to 9.6 million in August.
Economic headwinds

In addition to soaring Treasury yields cooling the economy, dwindling savings accounts, fatigue from high inflation, the resumption of student loan payments this month and even the uncertainty around ongoing labor strikes could ultimately break the US consumer.
New concerns have surfaced around the war between Israel and Hamas, which could roil energy markets if the conflict escalates to disrupt the broader, oil-rich Middle East. Traders will be listening closely to Powell's address Thursday to learn the extent to which he believes the conflict in the Middle East could impact the US economy and inflation.
For now, most economists agree the US economy will likely be spared a downturn this year. Bets of a 2023 US recession have collapsed and gross domestic product, the broadest measure of economy output, was likely robust in the July-through-September period, based on strong economic data in recent months. The Commerce Department reports third-quarter GDP next week. On top of a strong labor market, retail sales rose in September for the sixth-straight month while US industrial production rose in September to its highest level in nearly five years.
One theme of the US economy this year has been resilience, but that sturdiness will certainly be put to the test in the coming months.