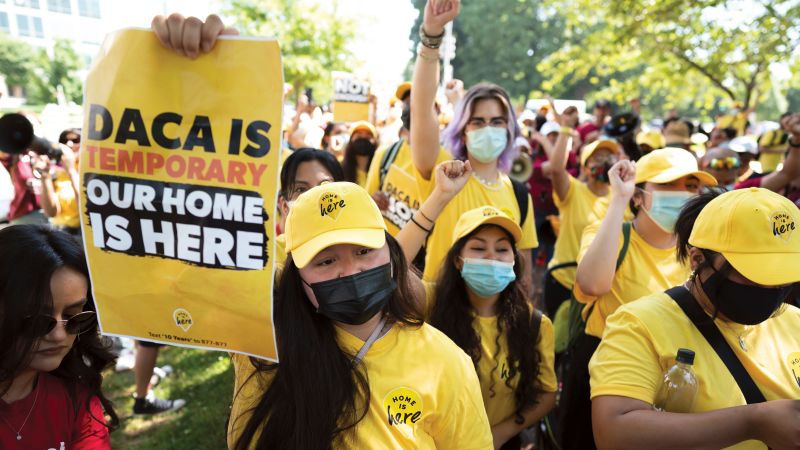 A federal judge in Texas ruled Wednesday that a regulation intended to preserve the Obama-era Deferred Action for Childhood Arrivals program is unlawful, delivering a major blow to the Biden administration.
Last year, the administration moved to preserve the program – which protects undocumented immigrants who were brought to the US as children – and released a rule to codify the policy into a federal regulation.
But in a Wednesday filing, Judge Andrew Hanen, of the Southern District of Texas, maintained that DACA is unlawful and argued the rule violated the Administrative Procedure Act, a law that governs how agencies make regulations. The order doesn't impact current beneficiaries of the program.
"To be clear, neither this order nor the accompanying supplemental injunction requires the (Department of Homeland Security) or the Department of Justice to take any immigration, deportation, or criminal action against any DACA recipient, applicant, or any other individual that would otherwise not be taken," Hanen wrote.
The Department of Justice declined to comment. CNN has reached out to Department of Homeland Security.
DACA, created in 2012, was intended to provide temporary reprieve to undocumented immigrants who were brought to the United States as children, a group often described as "Dreamers," and allow them to live and work in the US. Many of them are now adults. There were 578,680 immigrants enrolled in DACA as of the end of March, according to government data.
The Biden administration released a rule last year to "preserve and fortify" DACA, largely maintaining the criteria for the program. In January, nine Republican-led states asked Hanen to block the rule.
Hanen's ruling comes after a federal appeals court largely upheld his previous ruling finding DACA unlawful. That ruling blocked the government from approving new applications for the program but allowed it to continue for current enrollees while the case was litigated. That remains the case today.
In his Wednesday ruling, Hanen cited the ongoing legal fight over the program and put the onus on Congress.
"Litigation revolving around the legality of DACA, in one form or another, has existed for nearly a decade. While sympathetic to the predicament of DACA recipients and their families, this Court has expressed its concerns about the legality of the program for some time. The solution for these deficiencies lies with the legislature, not the executive or judicial branches," Hanen wrote.
Immigrant advocates have repeatedly urged Congress to provide protections to DACA recipients, but those attempts have fallen short.
Democrats and Republicans have been sympathetic to the hundreds of thousands of undocumented immigrants who were brought to the US as children, many of whom were under the age of 10. But the give and take between Democrats and Republicans over "Dreamers" has made it difficult to achieve a bipartisan compromise.
This story has been updated with additional details.