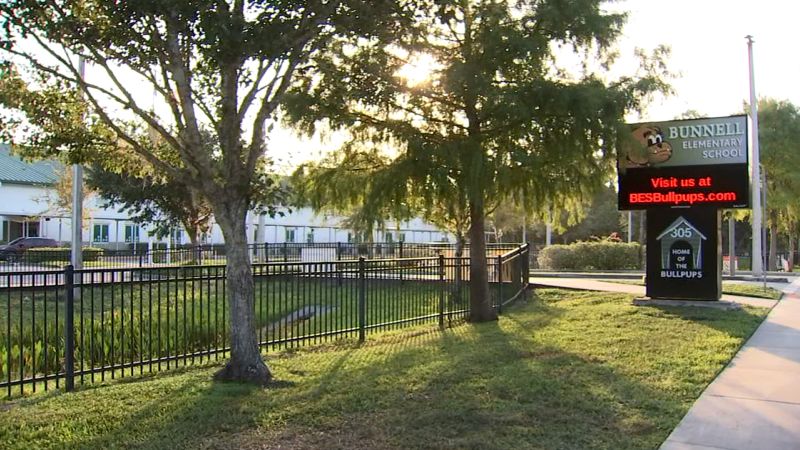 A Flagler County Public Schools teacher who led an assembly last month that singled out Black fourth- and fifth-grade students at a Florida elementary school, telling them to improve their school performance, has resigned, according to a school district spokesperson.
Anthony Hines submitted his resignation letter last week, according to spokesperson Jason Wheeler, who shared the letter with CNN on Monday.
"I appreciate the opportunity to work in Flagler County Schools," Hines said in the letter to superintendent LaShakia Moore.
The resignation came one day after Bunnell Elementary School Principal Donell Evensen informed Moore that she was resigning.
Hines said he didn't think through the nature of the assembly, which was supposed to set goals and incentivize the children.
"I'm devastated," Hines, who is African American, told CNN on Monday. "I've had a hard time. I've been teaching for 28 years and I'm just devastated."
During the assembly, a 2023-2024 school year goals and objectives PowerPoint presentation was used that read, in part, "AA have underperform (sic) on standardized assessment for the last past 3 years," Cheryl Massaro, Flagler County School Board chair, told CNN in an email last month.
Massaro said the abbreviation "AA" stood for African Americans.
News of the assembly sparked outrage among parents in the district, who were upset that only Black children had been required to attend the meeting, regardless of their academic performance.
In August, school district officials said the principal and a teacher – now identified as Hines – were on paid administrative leave.
"We do a lot of things to help our students because many are coming from a meager environment," Hines said.
The intent of the August 18 assembly was misconstrued and the goal was to speak with kids in an intimate setting to generate excitement over the goal of building good grades and test scores, according to Hines.
"We had a good time in the assembly. I kid you not, but I didn't think it through and I take full responsibility for that," he said. "There are violations that were broken. I could have handled it better.
"I was not aware of what you can do and can't do."
Hines said he did not want to cause any more problems with the school and submitted his resignation to prevent any further "negative light" on the school.
"They are dear to my heart," he said. "And we just didn't think it through."
The investigation into the incident was closed Thursday, according to Wilson. It will not be available for public viewing until 10 days after the closing date.
CNN's Melissa Alonso and Kate Conerly contributed to this report.