Longtime Boston Red Sox pitcher Tim Wakefield died Sunday morning at age 57, the team announced in a news release.
No cause of death was provided, though the team issued a statement earlier this week acknowledging that the former pitcher was battling a "disease," and requesting privacy for the Wakefield family.
"Our hearts are broken with the loss of Tim Wakefield," the Red Sox posted on X on Sunday. "Wake embodied true goodness; a devoted husband, father, and teammate, beloved broadcaster, and the ultimate community leader. He gave so much to the game and all of Red Sox Nation."
Wakefield was drafted out of college as a first baseman but when his career stalled he turned to a rarely thrown pitch to make the majors. He became a right-handed starting pitcher famous for being one of the few big leaguers to feature a knuckleball and in his career he won 200 games,
Wakefield played two seasons with the Pittsburgh Pirates before beginning a 17-year stint with the Red Sox. He won a pair of World Series championships with the Red Sox, including their win in 2004 after a historic rally in the American League Championship Series and their subsequent MLB title in 2007.
He was the recipient of the 2010 Roberto Clemente Award recognizing "extraordinary character, community involvement, philanthropy and positive contributions, both on and off the field."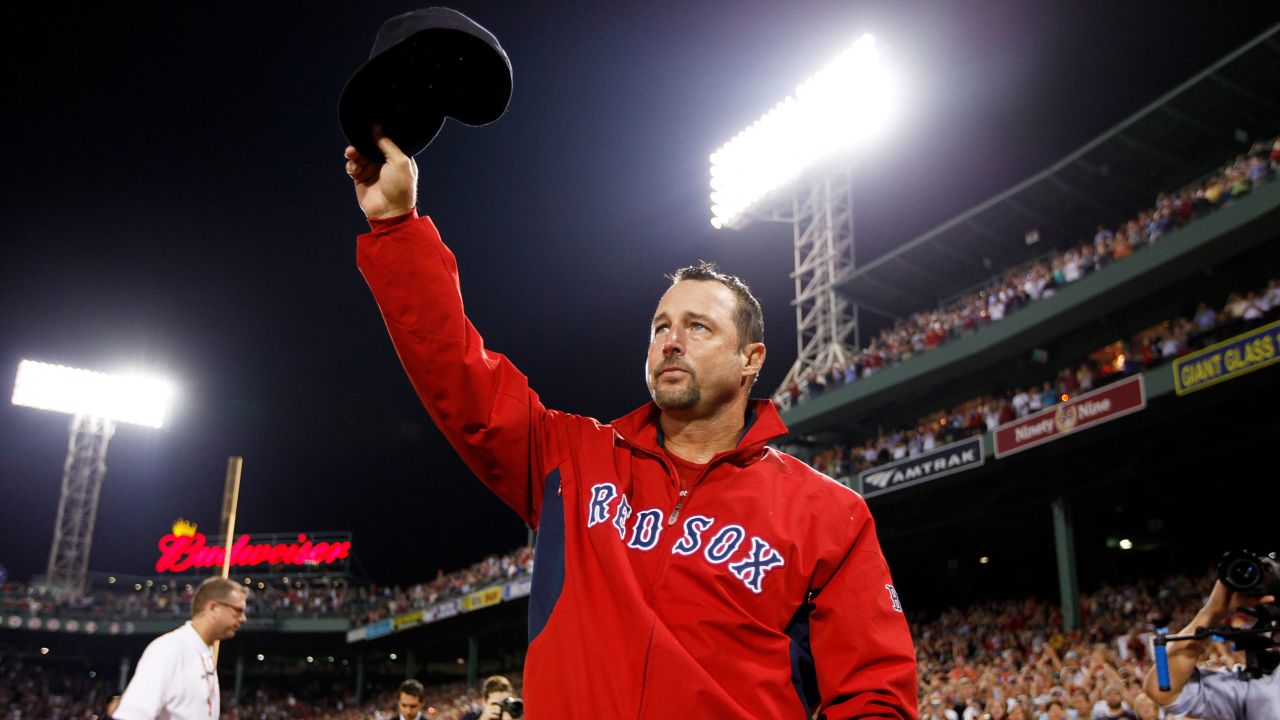 Following his 19-year career, Wakefield remained involved with the Red Sox organization, spending a total of 29 years with the club as a player, special assistant and broadcaster. Wakefield also served as the honorary chairman of the Red Sox Foundation.
"Tim's kindness and indomitable spirit were as legendary as his knuckleball," said Red Sox owner John Henry. "He not only captivated us on the field but was the rare athlete whose legacy extended beyond the record books to the countless lives he touched with his warmth and genuine spirit. He had a remarkable ability to uplift, inspire, and connect with others in a way that showed us the true definition of greatness. He embodied the very best of what it means to be a member of the Boston Red Sox and his loss is felt deeply by all of us."
MLB commissioner Rob Manfred called Wakefield one of the most unique pitchers of his generation.
"On behalf of Major League Baseball, I extend my deepest condolences to Tim's family, his friends and teammates across the game, and Red Sox fans everywhere," Manfred said in a statement. "We will continue to support our partners at Stand Up To Cancer in the memory of Tim and all those who are in the fight against this disease."
The Pirates said of Wakefield, "He was a great man who will be dearly missed. Our thoughts and prayers are with his family at this difficult time."
Wakefield's medical condition was not publicly known until Curt Schilling, a former teammate on the Red Sox, shared it on his podcast. Schilling was immediately and widely criticized for doing so, and the Red Sox released a statement clarifying that the information was "shared… without [the Wakefield family's] permission."
Wakefield is survived by his wife, Stacy, and their children, Trevor and Brianna.