Editor's Note: Sign up for CNN's Meanwhile in China newsletter which explores what you need to know about the country's rise and how it impacts the world.
Beijing is once again trying to have it both ways.
It has spent over a year tiptoeing over Russia's war in Ukraine. The Asian superpower has refused to condemn the invasion and instead provided much-needed diplomatic and economic support for Moscow.
Now, as Israel's war against Palestinian militant group Hamas threatens to spiral into a broader conflict that could shatter stability in the Middle East, China has called for a ceasefire while criticizing Israel's actions. It has also noticeably not condemned Hamas for carrying out what has been called the worst single day massacre of Jews since the Holocaust, while voicing its support for a two-state solution for Palestine and Israel.
The stance is in keeping with China's decades-long support for Palestinian statehood, but also underscores sharp divisions between China and the United States, which has staunchly backed Israel's right to retaliate against Hamas. It also highlights China's deep economic interests in both Russia and the Middle East, which it wants to safeguard at all cost.
The world's second largest economy depends on Russia and the Middle East for much of its energy needs. They are also an important part of Beijing's Belt and Road initiative: an ambitious yet controversial undertaking to boost connectivity and trade across the world with Chinese money and know-how in infrastructure development.
Both these factors will continue to play a huge role in how Beijing responds to the geopolitical fault lines, analysts said.
"China has also been eager to highlight, through whatever means, solidarity with major oil-producing nations and limit any fallout that could further destabilize the origin, disrupt oil supplies and drive up energy prices," said Eswar Prasad, a professor at Cornell University and a former head of the IMF's China division.
Hello, old friend

China is the world's largest oil importer and buys 71% of its oil consumption from foreign countries.
It has boosted oil purchases from Russia since the latter's invasion of Ukraine, as refiners cashed in on discounted supplies amid Western sanctions on Moscow. Russia is now China's biggest supplier of crude oil, ahead of Saudi Arabia.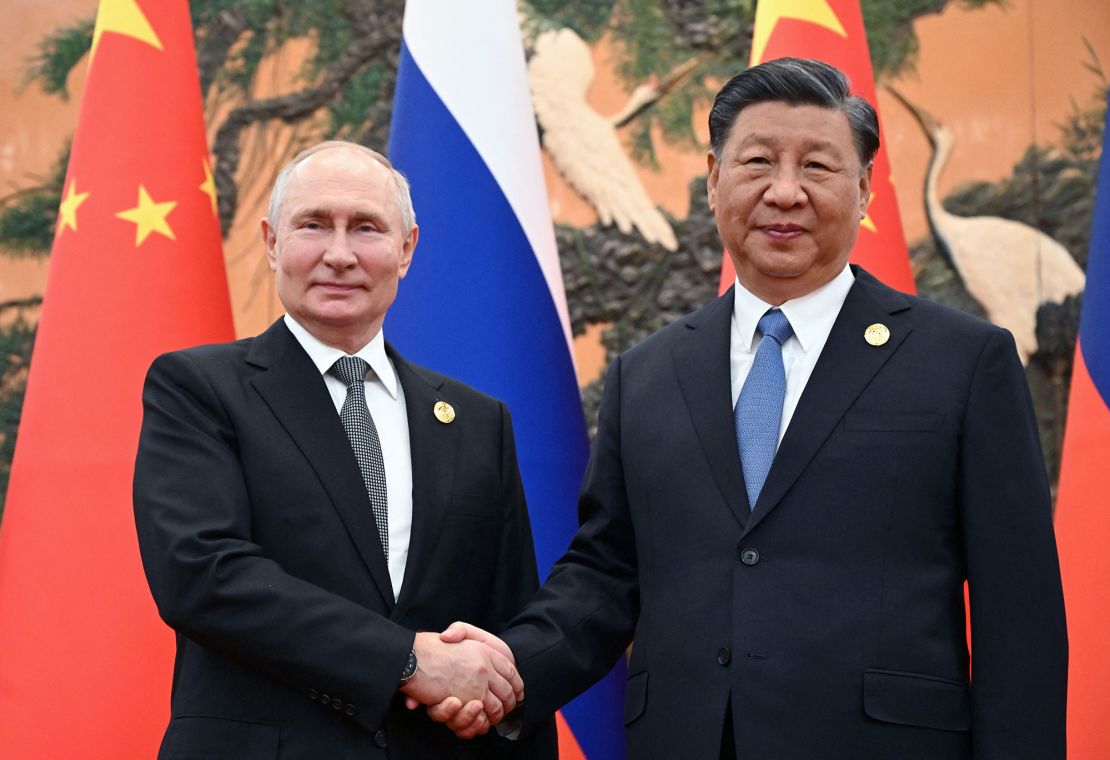 Xi welcomed Russia's diplomatically isolated leader Vladimir Putin to Beijing this week. Putin, called an "old friend" by Xi during their meetings, was a guest of honor at a summit marking the 10th anniversary of the Belt and Road Initiative, of which Russia is a big participant.
According to a study by Shanghai's Fudan University, after Pakistan, Russia has received the highest amount of energy investments between 2013 and 2021 from China under the initiative.
Both China and Russia — who have ramped up their shared rhetoric about the need to reshape a world order they see as led by the United States — have called for a ceasefire and criticized Israel's actions, with China's Foreign Minister Wang Yi last weekend saying they have "gone beyond the scope of self-defense."
"Both countries cultivate close ties with Iran and consider US involvement in regional affairs to be one of the reasons behind instability in the Middle East," said Jean-Loup Samaan, senior research fellow at the Middle East Institute of the National University of Singapore.
Hamas and Iran are longtime allies, but Tehran, which has commended the Islamist group's Oct 7 operation that killed some 1,400 people in Israel, has denied involvement. Meanwhile, anti-Israel protests have broken out across the Middle East following a deadly hospital blast in Gaza and days of airstrikes by Israeli fighter jets that have killed nearly 3,500 people.
It's unclear who is responsible for the blast. Israel has laid out evidence that it said shows a misfire by militant group Islamic Jihad caused the blast, and US President Joe Biden on Wednesday backed that explanation, citing US intelligence. Islamic Jihad has denied responsibility.
Oil, oil, oil

The region plays a key economic role in China's growth. The Middle East contributes more than half of the country's oil imports or a little more than one third of the country's total oil consumption.
"For every three barrels of crude oil that China consumes, more than one comes from the Middle East," China's national oil and gas producer said in March.
Saudi Arabia has long been China's largest crude supplier, accounting for 17% of its oil imports in 2022, before being overtaken by Russia in the first two months of this year, according to Chinese customs.
The gas trade is strong as well. Qatar is China's second largest supplier of liquified natural gas, making up a quarter of the country's imports. Last year, LNG imports from the Middle East nation soared 75% from a year earlier, Chinese customs statistics showed.
China has also forged closer economic ties with Iran, which has been sanctioned by the United States since 2018 for its nuclear ambitions and military aggression.
Chinese purchases of sanctioned Iranian oil reached 1.2 million barrels per day in the first half of September, just shy of August's record, according to recent data from tanker tracking firm Vortexa.
Energy security has become a key priority for China, which is facing significant economic challenges. Xi has emphasized the importance of energy supply and security as crucial for national development.
Over the last year, Beijing has increased its energy investment in the Middle East. In April, China Petroleum & Chemical Co (Sinopec), the world's largest oil refining and gas conglomerate, bought a stake in a Qatari gas field, marking China's first equity investment in the Gulf state's gas production.
Last November, QatarEnergy signed a 27-year supply agreement with Sinopec for 4 million metric tons of LNG every year, according to the Chinese refiner.
The Middle East is also a cornerstone in the Belt and Road Initiative. Chinese investment in Arab and Middle Eastern countries rose by 360% in 2021 compared to 2020, according to a study by Fudan University published last year. China's engagement in construction projects in the region rose by 116% during the same period.
Stability needed

If the war between Israel and Hamas engulfs other nations, it could hurt China badly, analysts said.
"China and the US share maintaining regional stability as a strategic goal," said Ahmed Aboudouh, an associate fellow with the Middle East program at Chatham House, a global think tank based in London.
"Regional conflagration means long instability and long instability means no business for China in the Middle East," he added.
"Of course, China doesn't want to see its economic interests bleed."
On Saturday, China's Foreign Minister Wang Yi and US Secretary of State Antony Blinken spoke by phone, according to both sides.
Blinken discussed the importance of maintaining stability in the region and discouraging other parties from entering the conflict, a statement from the US Department of State said.
China called for the convening of an international peace conference "as soon as possible," a statement from Wang's ministry said.
"China's economic interests in the region are primarily focused on energy supplies from the Gulf and to a lesser extent, business deals made in several countries in the field of digital connectivity and infrastructures," said Samaan.
"Those interests would get hurt if the conflict escalates with Iran and challenges the stability of maritime waters in the Persian Gulf," he said.
"In a sense, they [China] actually gain from the US involvement."