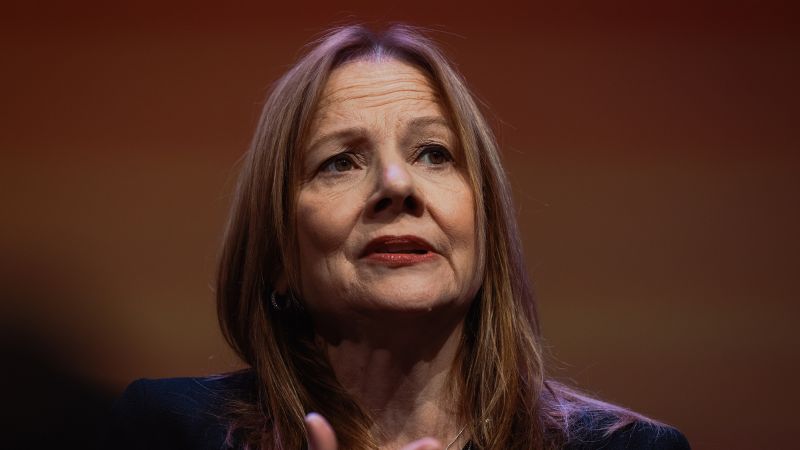 General Motors CEO Mary Barra said she's "frustrated" with the autoworker strike that began overnight, and said that her company has a "very compelling offer" for the union.
"I think we have an offer that resonates with our people," Barra told CNN's Vanessa Yurkevich, saying that the offer includes pay raises up to 21%, job security and healthcare. "Our team is ready to be at the table… and we need UAW leadership to get back to the table so we can get these issues resolved and get people back to work."
But Barra pushed back against the union's charge that the workers are looking for a fair pay increase which would nearly mirror her pay increases in recent years, pointing to profit sharing for employees which has hit record levels the past the few years. She also said that the union's demands should be "realistic," and not total more than $100 billion, which is more than double of GM's market cap.
"If you're asking for more than the company made, I think that's not a good position," Barra pointedly said. "I think we're in a good position to get this done."
Early Friday, the United Auto Workers union went on strike against General Motors, Ford and Stellantis, the first time in its history that it has struck all three of America's unionized automakers at the same time.
Workers walked out of three plants – one each from the Big Three automakers – in Missouri, Michigan and Ohio. Picketers were met with cheers from sign-waving union members.
The UAW referred to its targeted strike of three plants as a "Stand Up Strike," which it called a strategic "new approach" to walking off the job.
In all, fewer than 13,000 of the UAW's 145,000 members walked off the job, which is less extensive than had been expected only two days ago, when it appeared that all 145,000 UAW members at the three companies could be hitting the picket lines. That would have been the nation's largest strike of active workers in 25 years.
The strike came after the automakers scoffed at the union's ambitious demands for increased wages, benefits and job protections for its members. With all three automakers reporting record or near-record profits, the union was trying to recapture many benefits they had been forced to give up more than a decade ago when the companies were cash starved and on the brink of bankruptcy.
CNN's Chris Isidore and Vanessa Yurkevich contributed to this report