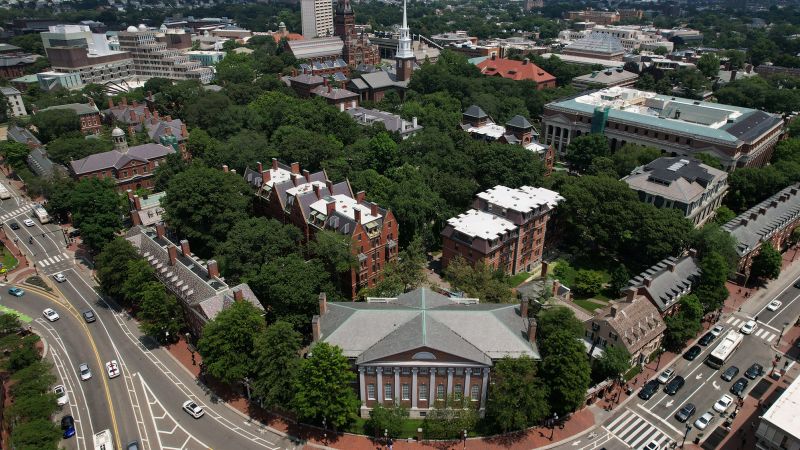 Billionaire hedge fund CEO Bill Ackman and several other business leaders are demanding Harvard University release the names of students whose organizations signed on to a letter blaming solely Israel for the deadly attacks by Hamas.
The CEOs want the students blacklisted. But some of those students have since distanced themselves from the letter.
"One should not be able to hide behind a corporate shield when issuing statements supporting the actions of terrorists," Ackman said in a post on X, formerly known as Twitter.
If the members support the letter, the names of the signatories "should be made public so their views are publicly known," Ackman said. The CEO of Pershing Square Capital Management said he wanted to ensure his company and others don't "inadvertently hire" any students belonging to Harvard groups that signed the letter.
Following a backlash to the statement, some of the student groups have since withdrawn their endorsements.
Multiple other business leaders, including the CEOs of shopping club FabFitFun, health tech startup EasyHealth and Dovehill Capital Management supported the call from Ackman to name the students.
"I would like to know so I know never to hire these people," Jonathan Neman, CEO of restaurant chain Sweetgreen, said on X.
Neither Neman nor Ackman responded to requests for comment.
Others warn that naming the students whose groups backed the statement could put the students in harms way and did not account for differences of opinion within the student groups.
Meds.com CEO Stephen Sullivan wrote that people should be "angry at the administration and teachers" but cautioned against putting college students' names on a list, according to Forbes.
Harvard University did not immediately respond to a request for comment. But Harvard President Claudine Gay issued a statement Tuesday saying "no student group – not even 30 student groups – speaks for Harvard University or its leadership."
Harvard student groups' statement

The controversy comes in response to a joint statement released by a coalition of Harvard student groups following the attacks by Hamas that have killed more than 1,000 Israelis and at least 14 American citizens.
"We, the undersigned student organizations, hold the Israeli regime entirely responsible for all unfolding violence," the statement from the Harvard Palestine Solidarity Groups said.
The statement said millions of Palestinians in Gaza have been "forced to live in an open-air prison" and called on Harvard to "take action to stop the ongoing annihilation of Palestinians."
A footnote at the bottom of the statement said the names of the "original signing organizations have been concealed at this time."
Jake Wurzak, the CEO of Dovehill Capital Management, said he believed the students who signed the letter should be named.
"Free Speech is paramount. Words have meaning and students shouldn't be allowed to hide behind an institution," Wurzak said on X.
Some students withdraw their signatures

According to the Harvard Crimson student newspaper, at least five of the original 34 signatories have withdrawn their endorsements as of Tuesday night.
For example, the Harvard Undergraduate Nepali Student Association said on Instagram "we regret" that the decision to co-sign the statement has been "interpreted as a tacit support for the recent violent attacks in Israel."
"To ensure that our stance on the condemnation of violence by Hamas and support for a just peace remains clear, we retract our signatures from the statement," the Nepali student group said.
Act on a Dream, a student group supporting immigrants, told the Crimson the group signed the statement as a "result of miscommunication and a lack of due diligence in sharing the statement with the entirety of the board."
Others responded to Ackman saying students weren't aware of the letter's content or that groups they belong to were signing the statement.
"No need for this level of harassment," Mohini Tangri, a Harvard Law School student, said on X in response to Ackman. Tangri said many student members had "no say" in whether their organized signed the letter.
Another Harvard student, Danielle Mikaelian, said she resigned from the board of a group that signed the statement on Israel and didn't have a chance to read it until it was too late.
"I am sorry for the pain this caused. My organization did not have a formal process and I didn't even see the statement until we had signed on," Mikaelian posted on X.
Real-life consequences for anti-Israel statement

Separately, there has been a backlash against a statement released by the president of the NYU Student Bar Association saying Israel "bears full responsibility for this tremendous loss of life."
That statement had immediate consequences, with law firm Winston & Strawn promptly pulling a job offer to the NYU student who previously served as a summer associate at the firm.
"These comments are profoundly in conflict with Winston & Strawn's values as a firm. Accordingly, the Firm has rescinded the law student's offer of employment," the law firm said in a post on X. "Winston stands in solidarity with Israel's right to exist in peace and condemns Hamas and the violence and destruction it has ignited in the strongest terms possible."
'Morally unconscionable'

Famed economist and former Harvard president Larry Summers said Monday on X he was "sickened" by the "morally unconscionable" Harvard student statement blaming the violence on Israel and the response from the university's leadership.
"In nearly 50 years of @Harvard affiliation, I have never been as disillusioned and alienated as I am today," wrote Summers, who served as Treasury secretary under former President Bill Clinton.
After criticism from Summers and others, Harvard President Claudine Gay said there should be "no doubt that I condemn the terrorist atrocities perpetrated by Hamas."
"Such inhumanity is abhorrent, whatever one's individual views of the origins of longstanding conflicts in the region," Gay said.
Jeffrey Sonnenfeld, dean for leadership studies at the Yale School of Management, told CNN on Wednesday that Jews have many centuries of "being blamed as victims."
"Villains cannot be celebrated as heroes," Sonnenfeld said in an email. "Anyone who does so cannot hide as cowards behind the shields of association titles any more than Nazi stormtroopers were allowed anonymity. Our society is founded on personal accountability."
The Anti-Defamation League, in response to a "surge of antisemitism around the world" following the attacks on Israel, called on CEOs on Wednesday to speak out against hate and sign a pledge to fight antisemitism.
The ADL said signatories include Accenture, Adidas and the NBA.
"If you're a CEO with Jewish investors and shareholders, with Jewish employees, with Jewish friends and families – this is as easy as it gets. Just stand with them," ADL CEO Jonathan Greenblatt told CNBC on Wednesday.
CNN's Kristina Sgueglia and Sabrina Shulman contributed to this report.