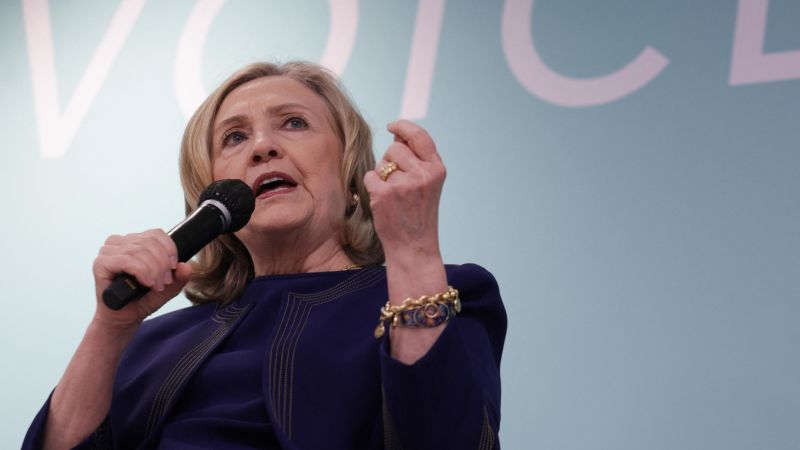 Former Secretary of State Hillary Clinton on Tuesday will make her first public appearance at the White House in more than six years, participating in her first open press event at the executive mansion since former President Donald Trump defeated her in the 2016 election.
She'll join the current first lady Dr. Jill Biden to celebrate the 2023 Praemium Imperiale Laureates, a global prize awarded annually by the Japan Art Association for lifetime achievement in the arts.
"I am thrilled to introduce the recipients of the 34th Praemium Imperiale Prize and serve as the international advisor for this esteemed celebration of art and culture," said Clinton in a statement.
The former first lady and her husband, former President Bill Clinton, were the first family to celebrate the Praemium Imperiale Laureates at the White House in 1994.
But what feels like a lifetime has passed since that 1994 ceremony. Clinton spent eight years as the first lady in the White House before being elected to the US Senate during her husband's final year in office. She was confirmed as secretary of state under former President Barack Obama and became the first woman to win the Democratic Party's presidential nomination in 2016.
After her bruising 2016 loss to Trump, denying her the opportunity to shatter the last glass ceiling, Clinton stayed away from the White House for his four years in office. But she continued to heavily critique her rival throughout his tenure as president and does so now as he runs for another term in office while facing multiple criminal indictments.
"Well, it's hard to believe, I don't feel any satisfaction," Clinton said in an interview on MSNBC after a grand jury in Georgia indicted Trump in an alleged multi-layered conspiracy to overturn Georgia's 2020 presidential election. "I feel great, you know, just great profound sadness that we have a former president who has been indicted for so many charges that went right to the heart of whether or not our democracy would survive."
She added, "The only satisfaction may be that the system is working. That all of the efforts by Donald Trump, his allies, and his enablers to try to silence the truth to try to undermine democracy have been brought into the light and justice is being pursued."
The former secretary of state made her first return under the Biden administration in July 2021 when she attended a dinner for outgoing German Chancellor Angela Merkel. However, that event was closed to reporters.
Her husband made his return to the building earlier this year in February for an event marking the 30th anniversary of the Family and Medical Leave Act, but Hillary Clinton did not attend.
Clinton's return could mark the first of many appearances at the White House or campaign trail. Clinton, an ardent supporter of the president, could be called on to motivate women and other key Democratic voters as Joe Biden vies for a second term in office.