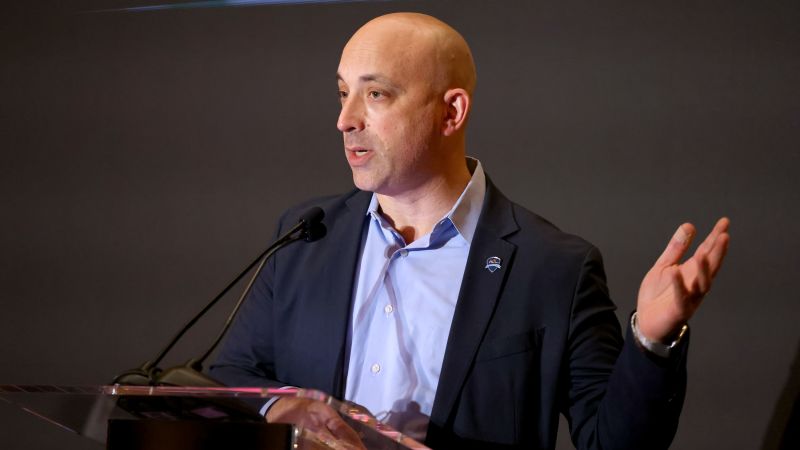 Anti-Defamation League CEO Jonathan Greenblatt slammed Corporate America's response to the terror attacks on Israel as "disappointing at best, disastrous at worst."
"We have arguably the most vibrant commercial sector on the planet. That's why it's so troubling that in a moment where the issues are clear, the responses are so muddled," Greenblatt told CNN in an interview on Wednesday.
The leader of the ADL suggested the same companies that "leapt at the opportunity to speak out" following the death of George Floyd and the anti-Asian hate crimes are now reluctant to do so.
"In a world in which they are butchering babies, and they are raping women and talking about destroying the Zionist entity, for some reason most CEOs are 'sitting it out.' Most CEOs think it's too political," Greenblatt said.
The Israeli Defense Forces told CNN Wednesday that women, children, toddlers and elderly were "brutally butchered" by Hamas fighters in Kfar Aza, an Israeli kibbutz. CNN cannot independently verify those claims.
Hamas has denied that its militants beheaded children or attacked women. The militant group's spokesman and senior official Izzat al-Risheq on Wednesday described the accusation as "fabricated and baseless allegations."
A workplace pledge to fight antisemitism

In light of the attacks on Israel and what it described as surging antisemitism around the world, the ADL on Wednesday relaunched a campaign to get CEOs to sign a workplace pledge to fight antisemitism. The group says more than two dozen major corporations and brands have signed the pledge.
"History will judge them. Where were you when your Jewish employees needed you?" Greenblatt said of the CEOs. "For companies that have Jewish employees, Jewish customers, Jewish investors, Jewish shareholders or simply have a modicum of a conscience, this one should be easy."
Over the weekend and on Monday some CEOs and leading business groups did speak out.
Greenblatt credited JPMorgan Chase CEO Jamie Dimon, Hewlett Packard Enterprise CEO Antonio Neri and other executives who condemned the terror attacks and pledged solidarity with the people of Israel.
"We stand with our employees, their families and the people of Israel during this time of great suffering and loss," Dimon told employees on Sunday in a memo obtained by CNN.
Some leading business groups including the US Chamber of Commerce and the Business Roundtable have done the same.
"New York City's business community is reacting with the same grief and anger at these senseless acts of terrorism that we felt in response to the 9/11 attacks on the World Trade Center. For New Yorkers, this is personal," Kathryn Wylde, the president and CEO of the Partnership for New York City, told CNN in a statement on Monday.
A plea for more companies to sign

But Greenblatt argued more companies should have the "courage to put their name on a statement" and shouldn't "hide behind" statements from umbrella groups.
"In America, your Jewish employees are dealing with something that is qualitatively and quantitatively different than any time in living memory. Against this backdrop, I would think every corporate leader and every public person should be rushing to say something," Greenblatt said.
The ADL leader quoted Martin Luther King, Jr., "In the end, we will remember not the words of our enemies, but the silence of our friends."
The corporate pledge, first launched by the ADL in June, calls for companies to address antisemitism in their diversity, equity and inclusion (DEI) strategies, support Jewish employees through resource groups or other programs, implement religious accommodation policies and use corporate messaging platforms to speak out against hate overall and against Jews in particular.
Companies that have signed the pledge over the past few months include Accenture, Adidas, American Eagle, NASCAR, the NBA and New York Life, the group said.
"Speaking out doesn't require them to take a stand on the Israeli-Palestinian conflict or require them to sit for a seminar at a university on Middle Eastern politics," Greenblatt said. "It just requires them to say torturing and murdering people because of their nationality is wrong."
The ADL leader worries the attacks in Israel will lead to a spike in antisemitism in the United States. He pointed to reports that acts of antisemitism have spiked in France, the United Kingdom and elsewhere in recent days.
"This is not just some far-off conflict – though that would be enough for CEOs to speak out," Greenblatt said. "This will have reverberations here at home."