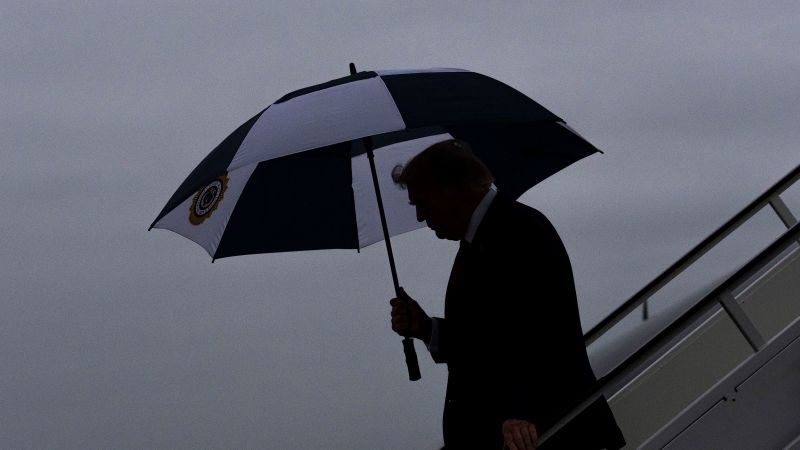 Republicans opposed to Donald Trump are having to come to terms with an uncomfortable truth: Time is running out to deny him the party's presidential nomination and thus far almost nothing has worked.
That fact has been glaringly apparent from polling, primary debate performances and, most recently, a new memo from a political action committee focused on stopping the former president.
The memo, from the Club for Growth-aligned Win It Back PAC, said that despite the group spending around $6 million and churning out upward of 40 ads to undercut Trump's support in the early-nominating states of Iowa and South Carolina, almost all of those attacks had failed to land. The type of attack, the memo found, that did work was when self-identified former Trump supporters expressed concern over his ability to beat President Joe Biden or fatigue over "the distractions he creates and the polarization of the country."
In essence, the Win It Back PAC memo illustrated that all the money and time spent on attacking Trump – or avoiding attacking him in hopes of snatching up his supporters if Trump somehow exited the race – had been wasted. Trump's rivals and the party at large are having to face the fact that the window to oust him from his front-runner status is closing in a very real way.
"The problem if you're trying to take Trump out of the primary, you're kind of running out of time," said Adam Brandon, the president of the conservative advocacy group FreedomWorks. "I think people are operating under the old rules. You go to a place like California, it's now winner-take-all. … This thing could be over on March 5."
(Under current California GOP rules, a candidate who wins a majority of the vote in the state's March 5 primary would be awarded all of its delegates.)
Officials with Kansas billionaire Charles Koch's network, which is committed to supporting a Trump alternative, said internal research shows that focusing on Trump's electability resonates with the primary voters they hope to peel away from the former president's camp.
Earlier this year, the deep-pocketed network – whose political spending in the past has rivaled that of the Republican National Committee – announced plans to back a rival to Trump in the 2024 primary.
"We continue to find that a major portion of Trump's current supporters are seriously concerned about his ability to beat Joe Biden, his baggage and how it impacts other races, and are open to an alternative candidate who can win," Americans for Prosperity Action spokesman Bill Riggs said in an email to CNN.
The Koch-aligned group has spent about $11 million to date on TV and digital advertising and mailers that target both Trump and Biden.
"Our ads are focused on persuading those soft Trump voters, not people who are never voting for Trump or already voting for Biden," Riggs added. "We all agree America can't risk another four years of the Biden administration – Republican voters just need to see someone step up and show they can be that new leader."
Riggs said no decision has been made yet on an endorsement in the primary.
Discussions of some kind of major late-primary shift have ramped up recently. A few influential donors have looked more seriously at pushing Virginia Gov. Glenn Youngkin to jump into the Republican race after the state's legislative elections this November. Youngkin and his team have delicately responded to 2024 speculation, saying the governor's main focus right now is on the state elections. Their responses are unlikely to temper the calls to nudge him in the race.
David Kochel, a longtime Iowa Republican strategist who ran Mitt Romney's 2008 and 2012 campaigns in the state, said a late Youngkin entry would be "plausible" and get a hard look from donors who are worried the field hasn't sorted itself out yet.
"There's a little bit of a 'the grass is greener somewhere else' effect here," he said. "Youngkin looks like he's fresh and new, he won in a really difficult environment in a tough state with a unique approach, and he hasn't been tainted by the messiness of this campaign."
One advantage Youngkin would have is that Iowa voters tend to break late for their candidates as caucusgoers watch the political process play out, Kochel said.
"You'd be adding one more person to the mix, and it would be complicating the race that much more, but at a time when I think everybody's trying to sort this out and figure out who's the strongest to take on Trump," Kochel said. "If (Youngkin) wants to be part of that conversation, he is going to have to decide pretty soon. But he'd certainly get a lot of attention."
A late-entrant Youngkin, however, would be playing catch-up on key fronts in the 2024 race: forming a formidable campaign and matching the rest of the field's national fundraising network; ballot access and filing deadlines. For example, the early-voting states of Nevada and South Carolina have filing deadlines before the Virginia elections.
Those facts are apparent to other Republicans in the campaign sphere, who are also skeptical that Youngkin's mild-mannered approach to politics could break out in a primary where future voters haven't been attracted to moderation in politicking or policy proposals.
"Give me a break. You can't wait until November 15 and miss all these filing deadlines," a veteran GOP fundraiser said of Youngkin. "He had a window to get in, he could've been the fresh face in June, and that's when he should've done it. Now it's cocktail party chatter, but it's not realistic."
Whether Youngkin enters the field or not, the primary race has not unfolded in the way anti-Trump Republicans had hoped. The rest of the field has largely refrained from focusing their criticism against Trump, with only a few candidates – including former South Carolina Gov. Nikki Haley, former New Jersey Gov. Chris Christie, former Vice President Mike Pence and Florida Gov. Ron DeSantis – directly calling out the former president at the Republican debates so far. Discussion of the many indictments facing Trump has been largely absent from the stage.
Even more worrying for Republicans opposed to Trump: While his lead in the primary has increased over time, candidates like DeSantis and Pence, who have premised their campaigns on being conservative Trump alternatives, have struggled to gain enough traction to move away from the rest of the field or trigger any kind of worry from the former president or his supporters. Thus far, Trump backers have stuck with him and have refused to seriously consider any other candidate, even when those candidates forcefully contrast their governing records with Trump's.
"It's not about the divisions within the party, it's about having a pitch to where the Republican Party is now, which is more populist, and honestly, more entertainment-focused," a Republican strategist said.