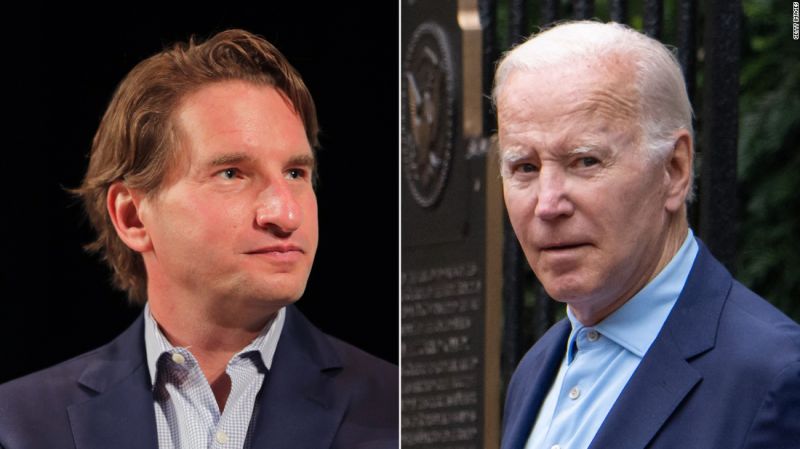 Democratic Rep. Dean Phillips of Minnesota is leaving his position in House Democratic leadership over his party's support of President Joe Biden's 2024 reelection bid.
"My convictions relative to the 2024 presidential race are incongruent with the majority of my caucus, and I felt it appropriate to step aside from elected leadership," Phillips said in a statement Sunday.
"I celebrate Leader (Hakeem) Jeffries for his remarkable and principled leadership, and extend gratitude to my outstanding friends and colleagues for having created space and place for my perspectives," added Philips, who had been a co-chair of the House Democratic Policy and Communications Committee. "I'll continue to abide by my convictions, place people over politics, and support our shared mission to deliver security, opportunity, and prosperity for all Americans. Onward!"
A moderate Democrat, Phillips has said for months he does not think Biden should run for reelection, and CNN previously reported he's eyed his own White House bid. Phillips told CNN's Jake Tapper in August there are "ample, well-prepared, competent people of great characters" who could challenge Biden in the Democratic primary.
His exit from the leadership role comes amid growing scrutiny of the president's age. At 80 years old, Biden is the oldest president in American history, and if reelected, he would be 86 when ending his second term.
CNN polling conducted by SSRS in late August found roughly three-quarters of Americans say they're seriously concerned that Biden's age might negatively affect his current level of physical and mental competence (73%), and his ability to serve out another full term if reelected (76%), with a smaller 68% majority seriously concerned about his ability to understand the next generation's concerns (that stands at 72% among those younger than 65, but just 57% of those 65 or older feel the same).
Biden, however, has shrugged off concerns about his age as his reelection bid ramps up.
"(The American electorate is) going to see a race, and they're going to judge whether or not I have it or don't have it. I respect them taking a hard look at it," he said during an April press conference when pressed on concerns about his age.
"I take a hard look at it as well – I took a hard look at it before I decided to run, and I feel good, I feel excited about the prospects."