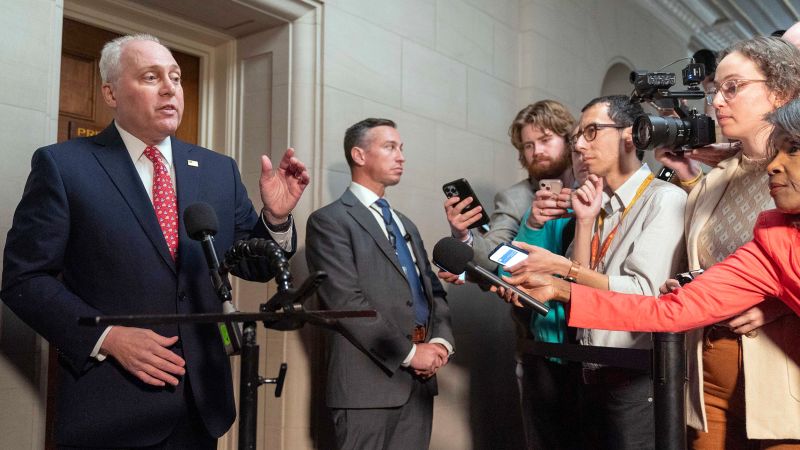 House Republicans are set to meet behind closed doors Wednesday to pick a nominee to be the next speaker – but it remains unclear whether any candidate will have enough the support to win the gavel following Kevin McCarthy's abrupt ouster.
As of now, neither House Majority Leader Steve Scalise nor Rep. Jim Jordan – the two declared GOP candidates in the race – have locked down 217 votes, the necessary number to be elected speaker by a majority vote of the full chamber. The uncertain vote math has raised questions over how and when the GOP majority will be able to elect a new speaker, particularly as infighting continues to roil House Republican ranks.
Until a speaker is elected, the House remains effectively paralyzed following McCarthy's ouster, an unprecedented situation that has taken on new urgency amid Israel's war against Hamas. Raising the stakes further, the longer it takes Republicans to elect a new speaker, the less time lawmakers will have to try to avert a government shutdown with a funding deadline looming in mid-November.
Following a candidate forum Tuesday evening, Rep. Mike Garcia, a California Republican, said he thinks it's "50/50" on whether the GOP will be able to elect a speaker Wednesday.
Asked whether anyone could get 217 votes, he said: "I think that's a great question right now."
GOP Rep. Thomas Massie of Kentucky rated the odds even lower. "I'd put it at 2%," he said when asked by a reporter what the chances are there will be a new House speaker by Wednesday.
After his removal as speaker in a historic vote last week, McCarthy announced he would not run again for the post. But allies of the former speaker could still nominate him during Wednesday's closed-door meeting, though McCarthy has said he has told members not to do so.
Currently, a candidate needs only a simple majority of the conference – or 111 votes – to win the GOP nomination for speaker, a much lower threshold than the 217 votes needed to win the gavel on the House floor.
A number of Republicans now say that threshold is too low because it does not ensure that the nominee will be able to win the floor vote for speaker.
As a result, there has been a push to raise the threshold to secure the GOP nomination from a majority of House Republicans to a majority of the full House in a bid to avoid a protracted floor fight like the one in January when it took 15 rounds of voting for McCarthy to win the gavel.
House Republicans are expected to vote on whether to raise that threshold during Wednesday's meeting.
Here's how the meeting is expected to unfold:
Republican members will gather behind closed doors Wednesday morning.

First, they will vote on whether to change conference rules to raise the threshold to nominate a speaker and any other changes.

Then, members will stand up to formally nominate a candidate and give a short speech.

There will be a secret ballot and members can write in candidates. Results are counted by hand.

If there are more than two candidates, the candidate with the lowest number of votes gets knocked out. Republicans would then vote on the top two.
It's not clear when the House will hold a vote of the full chamber to elect a new speaker. It could happen as soon as Wednesday – though only if Republicans pick a nominee for their conference first.
The timing of the House floor vote is technically up to Speaker Pro Tempore Patrick McHenry, who is serving in the top leadership spot on an interim basis. However, he is expected to defer to whoever the GOP nominee is, and the timing of the vote will be their call.
CNN's Jeremy Herb and Sam Fossum contributed to this report.