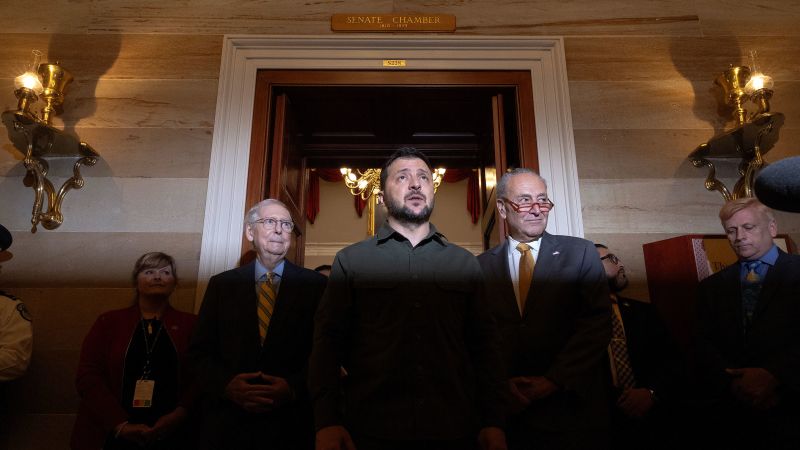 Democrats welcomed Ukrainian President Volodymyr Zelensky to Capitol Hill earlier Thursday, while Republicans were far more split. The divide between the two parties is not surprising given the polling data on Zelensky specifically and Russia's war in Ukraine more broadly.
Republicans, it turns out, have become far more dovish on that conflict and in how they view the United States' role in the world more generally.
It may be hard to imagine now but Zelensky was once admired on both sides of the political aisle. At the beginning of the war, Zelensky sported a 77% favorability rating among Democrats and a 61% favorability rating among Republicans, according to a March 2022 Quinnipiac University poll. Just 6% of Republicans and 2% of Democrats viewed him unfavorably.
Since then, however, the tone from Republican leaders has soured. Whether these officials are guiding their voters or merely following them, the poll numbers have shifted significantly.
A July 2023 Gallup poll found that Zelensky's favorability rating with Republicans had declined to 51%. His unfavorability rating, meanwhile, had skyrocketed to 41%. This meant his net favorability with Republicans went from +55 points to +10 points in a little over a year.
Democratic leaders have been far more supportive of the Ukrainian leader, which could be why their voters have largely stayed that way too. Zelensky's favorability rating among Democrats was 75% in July, according to the Gallup poll – similar to the 77% in 2022, per Quinnipiac. While his unfavorability rating had ticked up, it still remained low at 11%.
The views toward Zelensky are emblematic of how Americans feel about the US involvement in the Ukraine-Russia conflict as a whole.
Back in early 2022, an Ipsos KnowledgePanel survey showed that 7% of Republicans and 6% of Democrats believed the US should be doing less. Majorities on both sides thought the US should be doing more or the same as they were doing.
Flash forward to today, it's a whole new world.
According to an August 2023 Fox News poll, a clear majority of Republicans (56%) agree that American should be doing less for Ukraine to help that country in its conflict with Russia. That's a nearly 50-point rise from where we were at the beginning of the war. Just 41% believe we should be doing more or the same amount, which is a 27-point drop from a little over a year ago.
The Democratic numbers have stayed mostly steady, just like on the question about Zelensky specifically. Most Democrats (83%) argue we should be doing more or the same amount to help Ukraine, which isn't much different from the 76% who wanted more or the same American involvement in the war in 2022. A small minority (14%) of Democrats say America should be doing less.
Republicans' less charitable views toward Zelensky and American involvement in his nation's war with Russia are not a sign of them taking Russia's side. In fact, Russia's favorability rating among Republicans – and Democrats – has declined significantly from a few years ago.
Just 6% of both Republicans and Democrats hold a favorable view of Russia in 2023, per Gallup polling, which is down from 25% and 16%, respectively, in 2021. Overall, 9% of Americans hold a favorable view of Russia – the lowest measure since 1989, when Gallup first asked about favorability ratings for the Soviet Union.
What's really going on here is that Republicans' dovish turn toward the Ukraine-Russia conflict isn't happening in a vacuum. It's part of a larger yearning of some Republicans wanting to move the country off the world stage, according to Gallup.
In 2023, 61% of Republicans want America to take a leading or major role in world affairs. That's the lowest level this century and a big dip from the 87% who felt that way 20 years ago.
Democrats, on the other hand, have remained mostly steady over that stretch. In both the 2003 and 2023 Gallup polling, 75% of Democrats agreed that America should take a leading or major role in world affairs.
This trendline may come as a bit of surprise given how hawkish Republicans were at the beginning of this century. In some ways, though, they could be following the long historical arc. For example, Republicans were more likely than Democrats to say that the Korean War was "useless," according to a 1951 Gallup poll.
The truth is that coalitions in politics change and change again. I wouldn't be surprised if Democrats and Republicans trade worldviews again 20 years from now.