It's been almost 18 years since American teenager Natalee Holloway vanished during a high school graduation trip to Aruba.
Now, the prime suspect in her disappearance has arrived in the US to face justice in a related case after he was transferred from Peru to Birmingham, Alabama, in the company of a team of FBI special agents. He maintains his innocence, and no one has faced trial or is currently charged in her death.
Here's how the story has unfolded:
May 30, 2005: Natalee Holloway, 18, of suburban Birmingham, Alabama, is seen leaving a bar with three young men: two brothers and Joran van der Sloot, then 17.
June 9, 2005: Van der Sloot and brothers Satish and Depak Kalpoe are arrested in Aruba in connection with Holloway's disappearance.
June 23, 2005: Van der Sloot's father, an Aruban judge, is arrested.
June 26, 2005: A judge orders the release of van der Sloot's father after finding "no sufficient suspicion for guilt," his attorney said.
July 2005: The Kalpoes are released.
August 26, 2005: With Joran van der Sloot still in custody, the Kalpoes are rearrested in Aruba on suspicion they acted "together with other people" in raping and killing Holloway, the prosecutor's office says without elaborating on the evidence. Defense attorneys maintain the three are innocent.
September 3, 2005: Van der Sloot and the Kalpoe brothers are again released but remain under investigation.
November 21, 2007: Van der Sloot, at school in the Netherlands, and the Kalpoe brothers, in Aruba, are rearrested and charged based on new evidence for "involvement in the voluntary manslaughter of Natalee Holloway or causing serious bodily harm to Natalee Holloway, resulting in her death," Aruban prosecutors say without describing the new evidence.
December 1, 2007: The Kalpoe brothers are released. Prosecutors cite the judge's reasoning a day earlier that while "the new evidence, together with the existing evidence in this case, produce serious grounds for the suspicion of some kind of aiding and abetting, of covering up the traces of a crime committed or of the disposing of a corpse," people accused of those crimes do not qualify for pretrial detention under Aruban law.
December 7, 2007: An Aruban judge orders van der Sloot's release, pending any potential trial, with a prosecutor saying the judge cited a lack of evidence that Holloway died from a violent crime or that van der Sloot was involved in such a crime.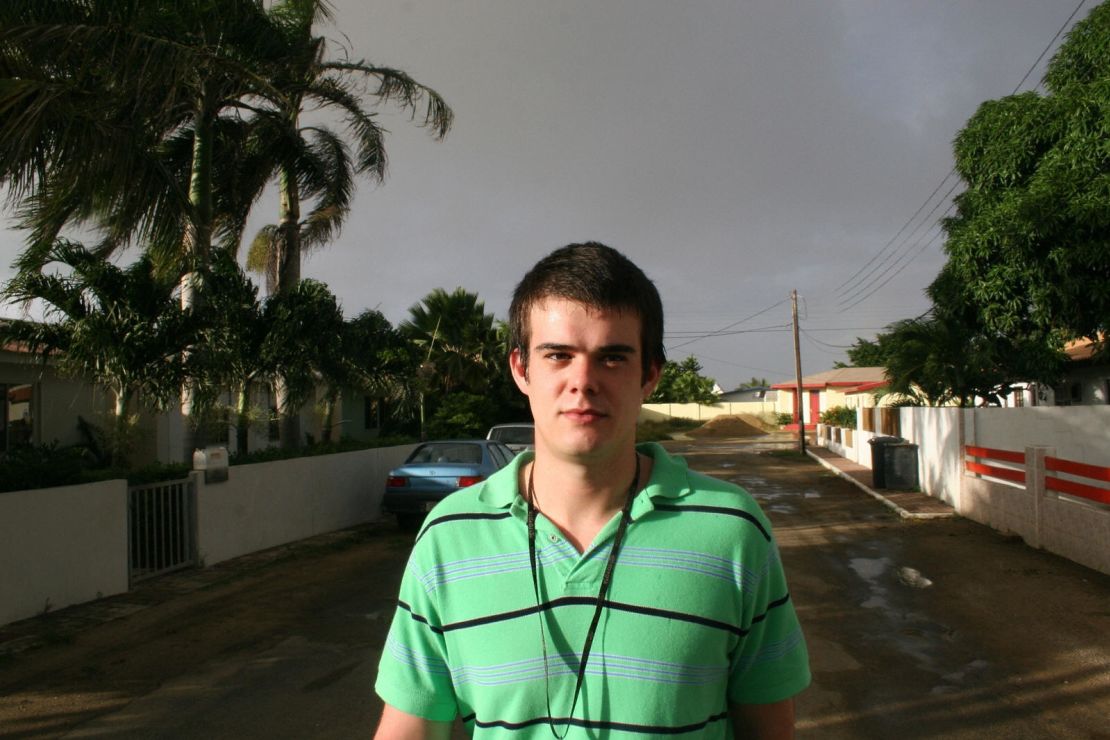 December 18, 2007: Charges are dropped against all three men for lack of sufficient evidence, Aruban prosecutors say.
March 29 to May 17, 2010: Van der Sloot offers to tell Holloway's mother, Beth Holloway, where her daughter's body is and the circumstances of her death in exchange for $25,000 up front and $225,000 later, a federal grand jury indictment later alleges.
May 10, 2010: Holloway wires $15,000 to a bank account of van der Sloot's in the Netherlands and, through an attorney, gives him $10,000 in person, the indictment states. Van der Sloot shows the attorney, John Kelly, a location where he says are hidden – but the information is false, it states.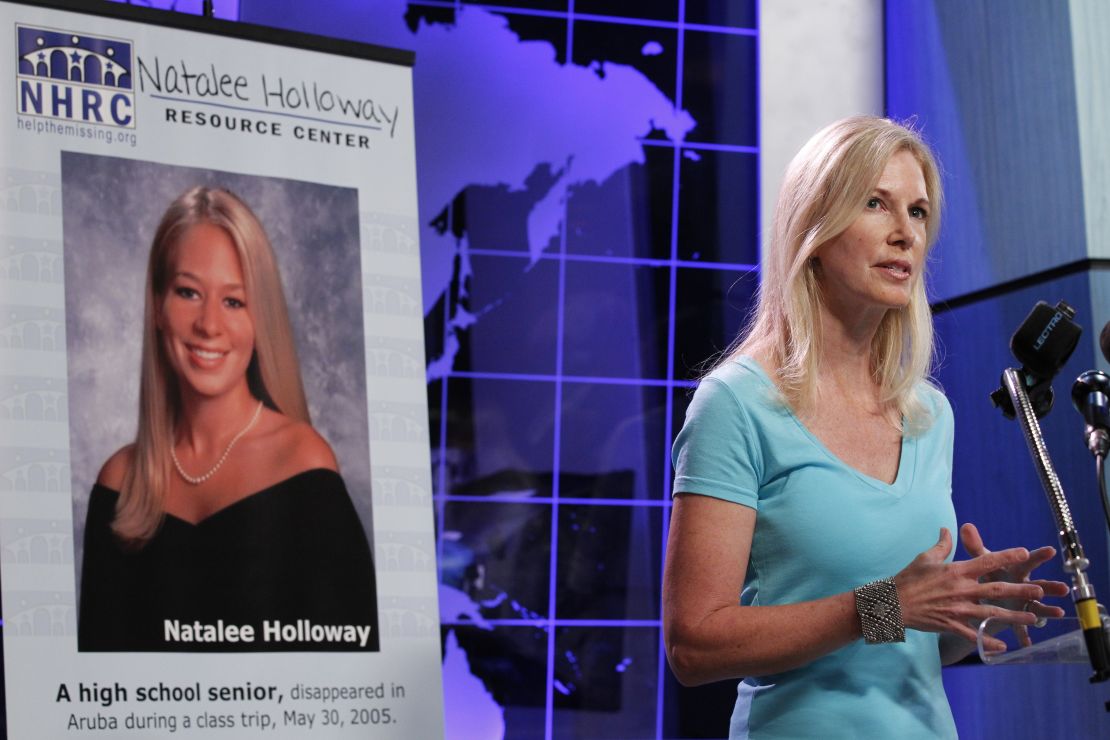 May 30, 2010: Van der Sloot kills Stephany Flores, 21, in his Lima hotel room after she finds something related to the Holloway case on his computer during a visit, investigators say. It was five years to the day after Holloway was last seen. Van der Sloot takes money and bank cards from Flores' wallet and flees to Chile, police say.
June 3, 2010: Van der Sloot is arrested in Chile, where officials will send him back to Peru, Interpol confirms.
June 30, 2010: A federal grand jury in Alabama indicts van der Sloot on charges of extortion and wire fraud over the claims related to Beth Holloway and the location of her daughter's remains.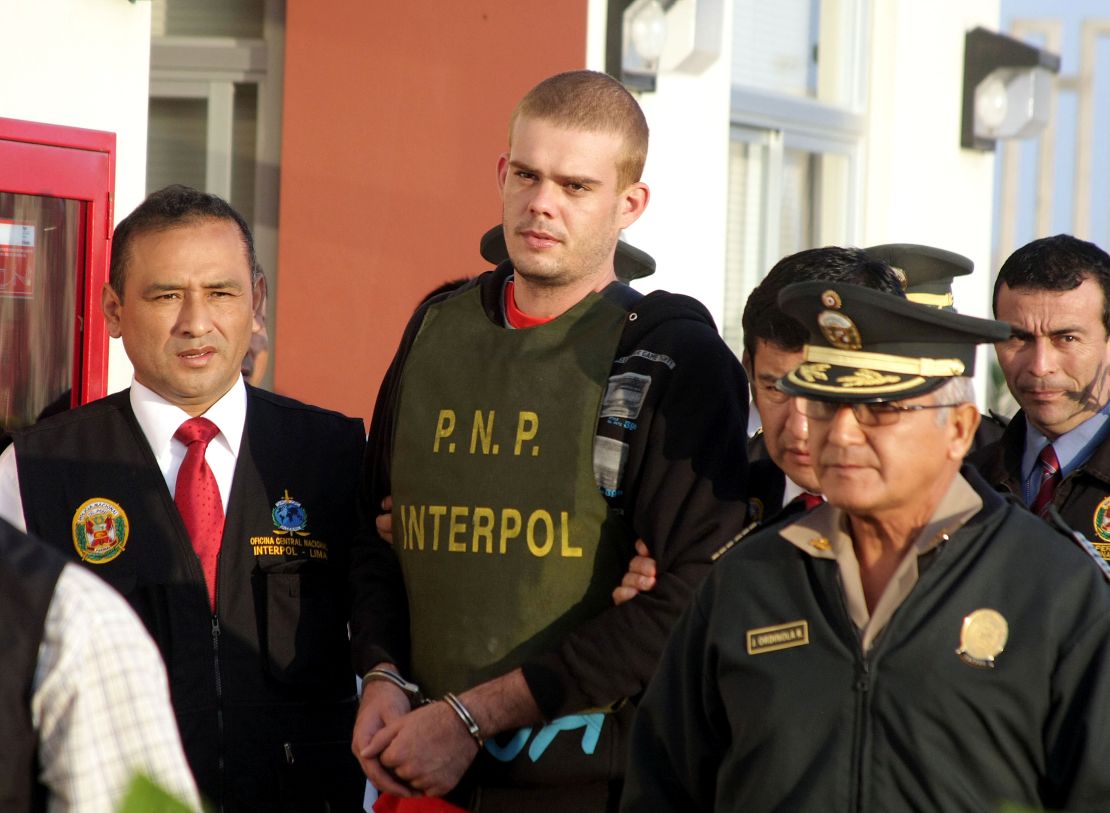 January 11, 2012: Van der Sloot pleads guilty to the charges against him in Flores' killing, including "qualified murder" and simple robbery, and says he's "really sorry for what happened."
January 12, 2012: An Alabama judge signs an order declaring Natalee Holloway legally dead.
January 13, 2012: Van der Sloot is sentenced to 28 years in prison for Flores' murder.
March 2014: Peru agrees to transfer van der Sloot to the United States to face the extortion and wire fraud charges after he serves the 28-year murder sentence, making him eligible for release in 2038, the Peruvian news agency Andina reports.
May 10, 2023: Peru changes course and agrees to transfer van der Sloot to the United States to face the extortion and wire fraud charges. He would be returned to Peru after legal proceedings against him conclude in the United States, Peru's judiciary said.
May 11, 2023: Van der Sloot will appeal, his attorney Maximo Altez says, calling the decision announced by President Dina Boluarte's government an attempt to divert public attention from the country's migration, social and political problems.
June 5, 2023: Altez files a habeas corpus petition against his client's temporary transfer to the US after previously telling CNN en Espanol the defense did not expect to file the petition.
June 6, 2023: In a statement published on social media, the superior court in Lima announces van der Sloot will be handed over to FBI agents on June 8.
June 8, 2023: Van der Sloot leaves the Ancón 1 prison in Lima and, after a six-and-a-half-hour flight, arrives in Alabama on an FBI jet in what the bureau calls a foreign transfer of custody operation. He is taken to a jail in Birmingham, not far from Holloway's hometown of Mountain Brook.
June 9, 2023: Van der Sloot is arraigned on extortion and wire fraud charges in federal court in Birmingham. US Magistrate Judge Gray Borden entered a not guilty plea on van der Sloot's behalf.
October 18, 2023: Van der Sloot changes his pleas to guilty to the extortion and wire fraud charges. He is charged with interference with commerce by threat or violence and fraud by wire, radio or television in connection with the claims made by the Holloway family. US Judge Anna Manasco accepts his guilty pleas.