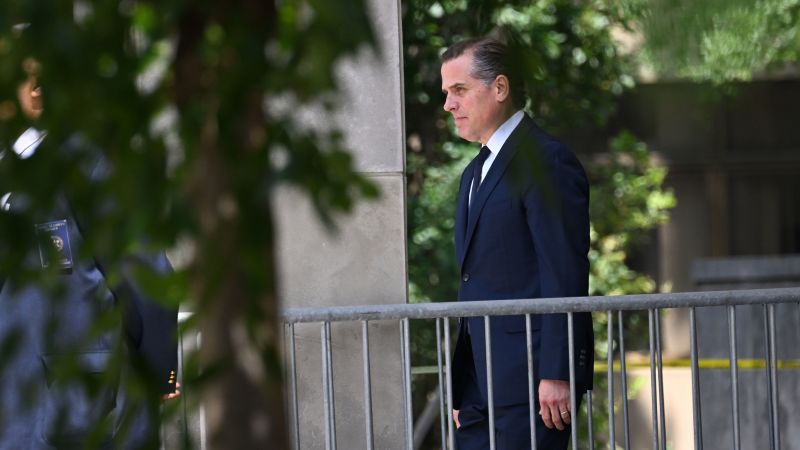 President Joe Biden's son, Hunter Biden, has been indicted by special counsel David Weiss in connection with a gun he purchased in 2018.
The charges include making false statements on a federal firearms form and possession of a firearm as a prohibited person.
It's an extraordinary turn of events after his original plea deal collapsed and potentially sets up a dramatic trial in the middle of his father's 2024 reelection bid.
The White House thought the Hunter Biden legal drama would end this summer, but a plea deal reached with Weiss to resolve the matter without charges collapsed over the summer amid scrutiny from a federal judge. House Republicans have also announced an impeachment inquiry into the president in relation to Hunter Biden's business ventures.
Hunter Biden's gun-related legal troubles relate to a firearm he purchased in October 2018. While buying a revolver at Delaware gun shop, he lied on a federal form when he swore that he was not using, and was not addicted to, any illegal drugs – even though he was struggling with crack cocaine addiction at the time of the purchase.
It's a federal crime to lie on the ATF form or to possess a firearm as a drug user. (Hunter Biden possessed the gun for about 11 days in 2018.) Prosecutors have previously said the statute of limitations for some of these offenses is set to expire in October.
Hunter Biden's attorney Abbe Lowell previously said that the earlier gun deal with prosecutors "prevents any additional charges from being filed" and that his client "has been abiding by the conditions of release under that agreement." Prosecutors say that deal never went into force.
Weiss has been leading the Hunter Biden investigation since late 2018. Over the years, his team investigated potential felony tax evasion, illegal foreign lobbying, money laundering and other matters, largely tied to Hunter Biden's overseas business deals.
The probe appeared to be winding down in June, when Weiss announced a two-pronged agreement where Hunter Biden would plead guilty to two federal tax misdemeanors, and enter into a "diversion agreement" where the gun charge would be dropped in two years if Hunter Biden passed regular drug tests and stayed out of legal trouble.
But at a stunning court hearing in July, the deals collapsed under scrutiny from the federal judge overseeing the case. The two sides tried to renegotiate an agreement, but talks reached an impasse and Attorney General Merrick Garland elevated Weiss to special counsel status in August – a major escalation in the probe.
In addition to the gun case, Weiss is still weighing whether to charge Hunter Biden with tax crimes. He said in a court filing last month that "a trial is now in order" on the tax offenses ad that he "may bring tax charges" possibly in California or Washington, DC.
This story is breaking and will be updated.