Hundreds of grieving residents gathered on a basketball court in Plainfield, Illinois, Tuesday to mark Wadea Al-Fayoume's love for the sport during a vigil to honor the 6-year-old Palestinian-American boy who authorities say was stabbed to death because he was Muslim.
The young boy's photos were on display on the court, flanking teary-eyed speakers who remembered his smile and his innocence.
The boy's father, Oday Al-Fayoume, spoke to the crowd briefly in Arabic, explaining that he had learned a lot of the English language he knows from his son. "With Wadea gone, I don't think there's room for me to speak English anymore," the grieving father said a day after his child was buried.
But there was one detail he wanted everyone to know. He pointed to a now widely shared photo of his son celebrating his birthday days before he was killed, and asked, "Do you know what Wadea is doing in this picture?"
"He was waiting for me to complete the half of heart he was making," the father said, raising his hand and curling his fingers to complete the shape of a heart.
Wadea was stabbed 26 times at his home by his family's landlord on Saturday, the Will County Sheriff's Office said. His mother, 32-year-old Hanaan Shahin, also suffered more than a dozen stab wounds but survived, authorities said.
The mother and son were "targeted by the suspect due to them being Muslim and the ongoing Middle Eastern conflict involving Hamas and the Israelis," the sheriff's office said.
The 71-year-old suspect has been charged with murder and hate crimes, among other charges. The attack is also being investigated by the Department of Justice as a hate crime.
Wadea was born in the United States and his parents are from a village in the West Bank, according to the Council on American-Islamic Relations' Chicago office.
"What you see is an All-American boy," Will County Mental Health Board member Juhie Faheem said. "He didn't wear a sign or necklace stating he was Muslim. He wore a smile on his face, stating he was a child — a child filled with love and not any hate."
Several children attended the vigil Tuesday, including a small boy who held up a sign that read, "I am not a threat," with a colored-in drawing of a Palestinian flag.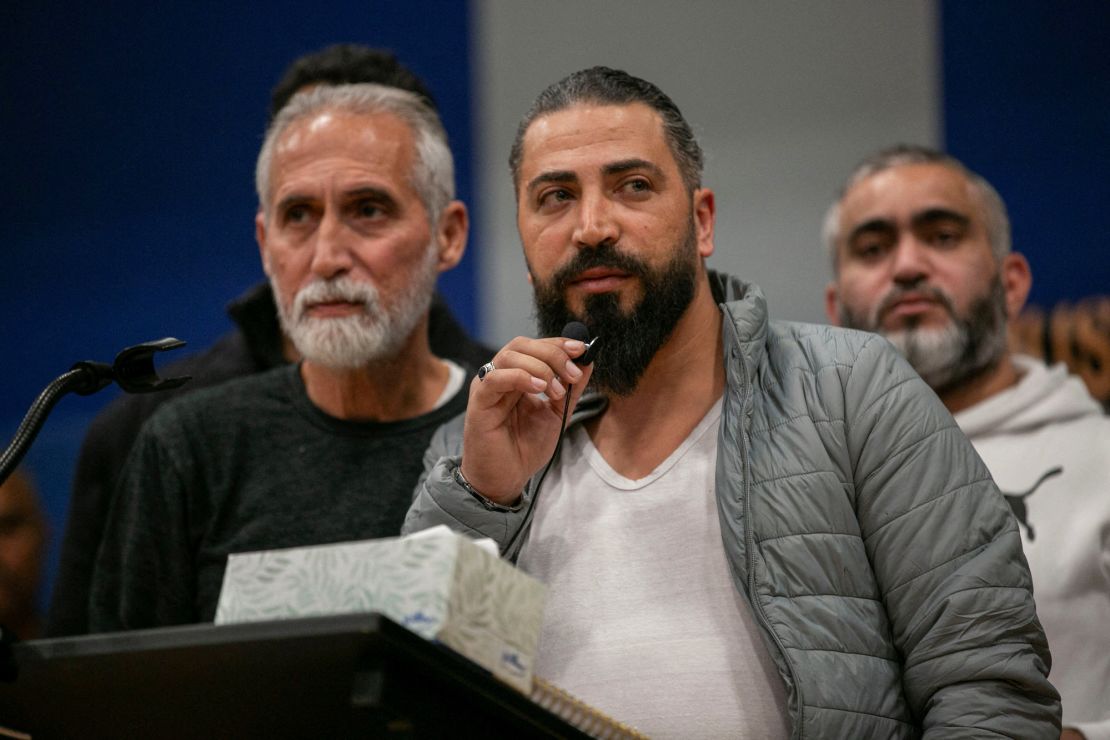 Cynthia Glass, the mother of Wadea's best friend, spoke through tears about how her son Dexter was mostly non-verbal and "Wadea" was one of his first words.
"This is about two boys who will never get to play together again. They will never ever get to sit next to each other in class again. They will never get to ride the bus together again," the mother said.
"We need to learn from these two sweet, sweet little kids," said Glass, receiving a hug from Wadea's father.
The vigil included a moment of silence and prayer, led by Imam Hassan Aly.
"Wadea is a name that means peaceful, yet he didn't get to experience peace in this world," Aly said. "But we strongly believe that he now rests in eternal peace alongside the innocent children of Gaza and other innocent children and civilians who have recently lost their lives to violence."
The highest-ranking Muslim official in the Biden administration, Dilawar Syed of the US Small Business Administration, was also in attendance Tuesday and spoke on behalf of the president.
"President Biden has been very, very clear. There is no place for hate in America," Syed told the crowd. "The President has and will continue to do everything in his power to fight Islamophobia and anti Semitism in our nation."
Syed was interrupted by yelling before organizers asked for calm, and a representative of the local Al-Aqsa Community Center said the focus should be on the victim. "Before Wadea was Palestinian, American or a Muslim, he was a human, and that brings us together," he said.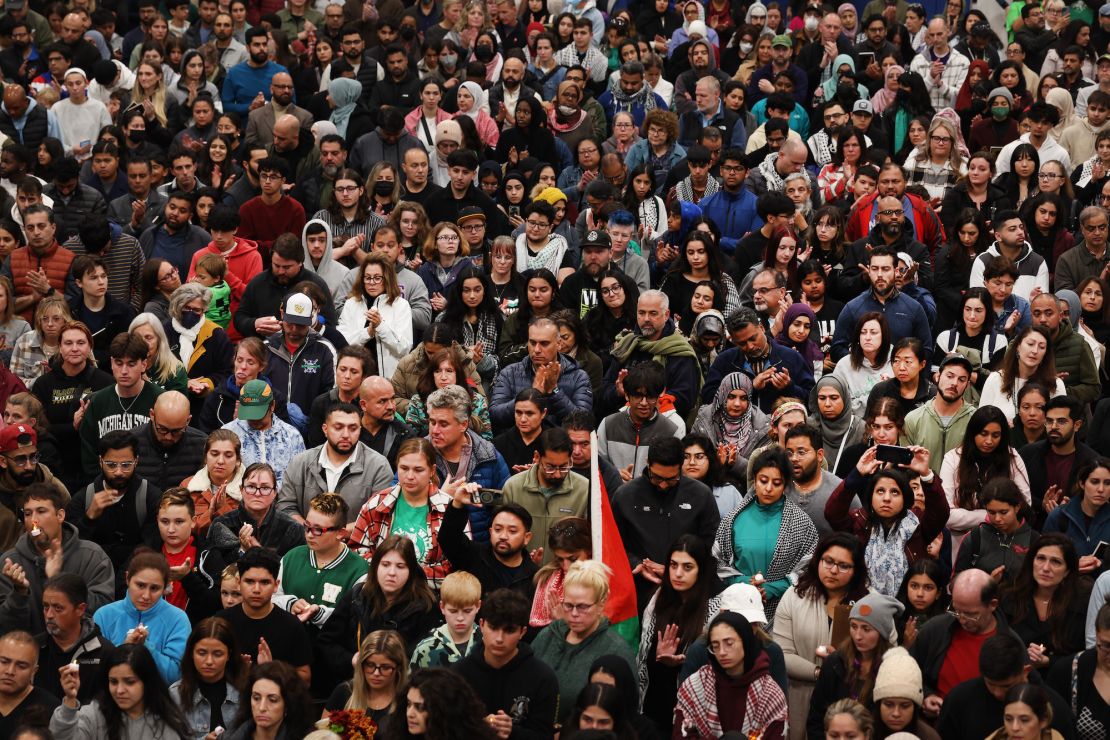 Family had been friends with the suspect

The family's landlord, Joseph M. Czuba, is charged with first-degree murder, attempted first-degree murder, two counts of a hate crime and aggravated battery with a deadly weapon, the Will County Sheriff's Office said.
A man who described himself as being like a grandfather to the boy said the suspect in Wadea's killing had previously been a friend of the family and they were shocked when they heard of the attack.
"This gentleman actually was one of the best friends of the family. He used to love the kid. He used to bring him toys. He used to play and spend a lot of the time with that kid. He treated him as a grandkid but unfortunately the wrong message when it comes to certain people, it becomes a killing machine," the man said during Tuesday's vigil.
The boy's family lived in the house for two years without "previous notable issues" with Czuba, the Council on American-Islamic Relations said.
Then, on October 11, Czuba told his wife he wanted Wadea and his mother to move out of the home, the wife told investigators after the incident, according to a Monday court filing.
The wife also told investigators that Czuba "believed that they were in danger and that (Shahin) was going to call over her Palestinian friends or family to harm them," according to the filing.
Shahin told authorities, according to the filing, that on October 11, Czuba also confronted her "about what was going on in the Middle East."
The mother also told authorities that on Saturday, moments before the stabbings unfolded, Czuba told her he was angry at her for what was going on in Jerusalem.
"Shahin stated she responded to him 'let's pray for peace.' Shahin stated Czuba gave her no chance to do anything. Shahin stated that Czuba then attacked her with a knife," according to the filing.
Shahin told police she was able to get away by locking herself in the nearby bathroom but was not able to get her son. While in there, she called police, according to the filing. "While on the phone with 911 Hanan stated, her son was being stabbed," the document said.
Responding deputies found Czuba sitting on the ground, near the home's driveway.
The mother and son were found in a bedroom. "Both victims had multiple stab wounds to their chest, torso, and upper extremities," the Will County Sheriff's Office said.
Both were rushed to a hospital, where the boy was pronounced dead, the document said.
A judge has ordered that Czuba be held without bond. His preliminary hearing is scheduled for October 30.
'Mom, I'm fine' were his last words to his mother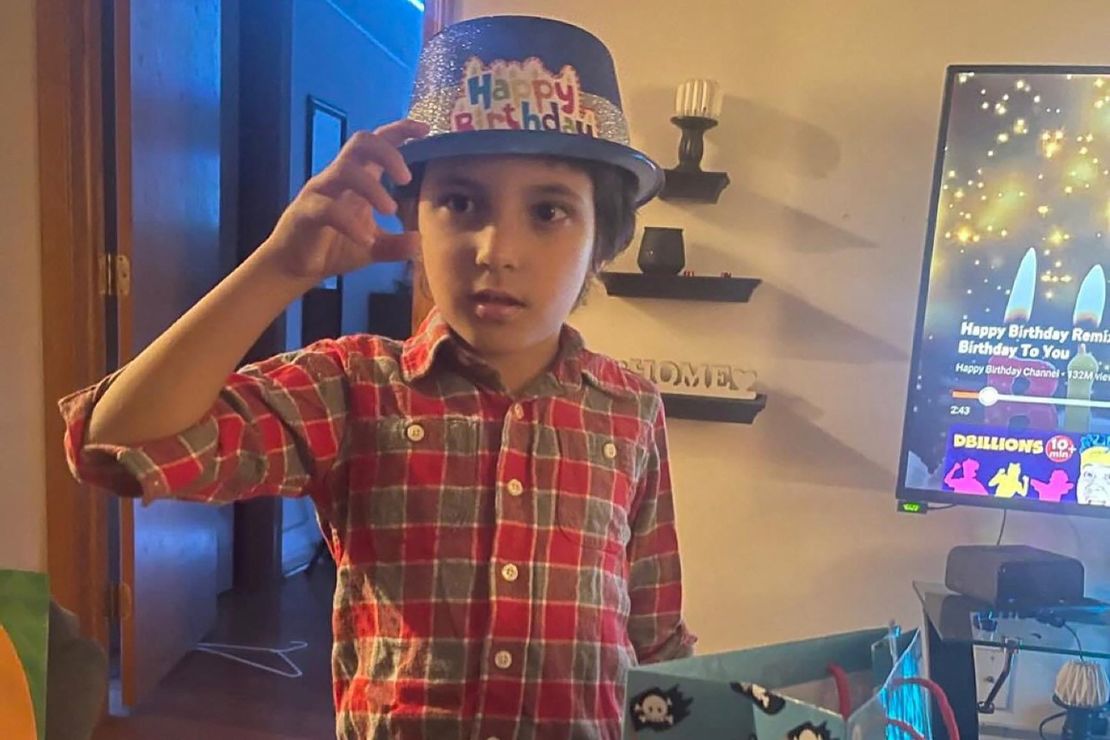 Like other children his age, Wadea enjoyed playing with his toys, coloring and playing any game with a ball, said Rehab, of the Council on American-Islamic Relations.
He was described as a warm, kind child who focused on enjoying life with his friends and playing outside, and who loved his parents and family deeply.
"He loved his parents, he loved his family and his friends, he loved life and he was looking forward to a long, healthy, prosperous life," Rehab said.
In his final moments, Wadea offered words of comfort to his mother, the man who called himself something of a grandfather said Monday.
"His last words to his mom: 'Mom, I'm fine," the man told reporters. "You know what, he is fine. He is in a better place."
The boy's mother could not attend his funeral services Monday as she remained in the hospital, Rehab said.
The mother is "dealing with her injuries, dealing with her emotional trauma and dealing with the biggest hole that can never be filled, the biggest gap of all, the loss of her child," he added.
CNN's Christina Maxouris, Holly Yan, Brad Parks, Lauren Mascarenhas and Virginia Langmaid contributed to this report.