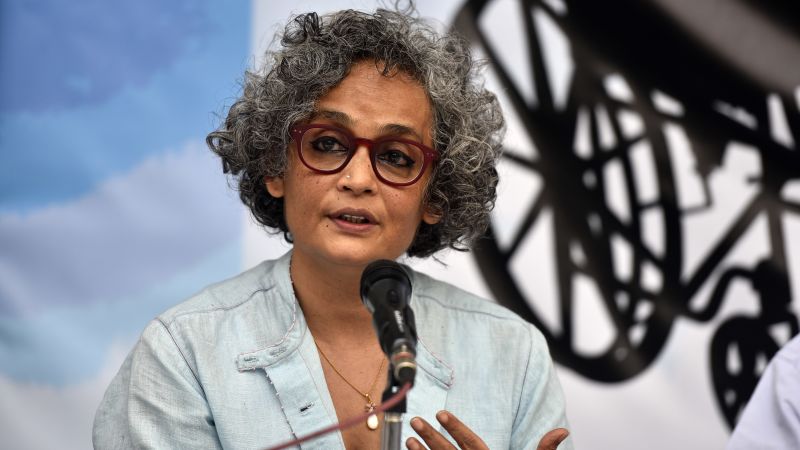 Booker Prize-winning Indian author Arundhati Roy could be prosecuted for allegedly seditious comments made over a decade ago, after a top official in Delhi said there was enough evidence to lay charges.
Roy rose to international prominence for her novels, including 1997 Booker Prize winner "The God of Small Things," but has also published two collections of political writing and long been an outspoken critic of Indian Prime Minister Narendra Modi.
In a 2022 op-ed published by CNN, Roy compared India's ruling Hindu nationalist Bharatiya Janata Party (BJP) to the January 6 US Capitol rioters and noted that "people like myself are on the A-list of 'anti-nationals,' largely for "the things I write and say. Particularly about Kashmir."
The recent developments in Roy's case come as Modi's government has escalated crackdowns against its critics, sparking renewed accusations that the administration is stifling free speech.
Earlier this month, police in New Delhi raided the homes of prominent journalists linked to a left-leaning news organization known for its scrutiny of the Indian government. Police said they had arrested the outlet's editor and a colleague as part of an ongoing investigation in connection with India's Unlawful Activities (Prevention) Act, or UAPA, an anti-terror law that critics describe as "draconian."
In February, Indian tax authorities raided the BBC's offices in New Delhi and Mumbai. Indian authorities accused the BBC of tax evasion but the raids came weeks after the country banned a documentary from the British broadcaster that was critical of Modi's alleged role in deadly riots more than 20 years ago.
On Tuesday, Delhi's Lieutenant Governor V. K. Saxena said in a statement that the case for sedition against Roy and others had been made and authorized prosecution pending approval by the courts.
The case was filed in 2010 over comments Roy made at a conference on Kashmir called "Azadi – the Only Way Ahead" – "azadi" means freedom or liberation and is often used as a slogan for the Kashmiri independence movement.
The initial complaint alleged that speeches by Roy and her co-defendants were provocative in nature and jeopardized public security by suggesting that Kashmir was never part of India and advocating for Kashmiri independence, the Lieutenant Governor's office said in a statement.
Two of the accused, Kashmiri separatist leader Sayed Ali Shah Geelani and Delhi University lecturer Syed Abdul Rahman Geelani, have died since the initial complaint was filed. Sheikh Showkat Hussain, a former international law professor at the Central University of Kashmir, is still facing charges alongside Roy.
In her 2010 speech, posted online, Roy spoke about Kashmiri efforts to seek justice, in part for the mass exodus of Hindus from Muslim-majority Kashmir in the early 1990s amid increasing violence.
For decades, Kashmir has been at the heart of a frequently violent territorial dispute between India and Pakistan, which both claim the entire mountainous region. Hundreds are killed in separatist violence in Kashmir every year, according to human rights groups.
The BJP had campaigned to revoke Kashmir's special semi-autonomous status, which Modi ultimately did in 2019, splitting the former state into two federal territories.
India said the move was to ensure the nation's laws were equal for all citizens and to increase economic development in the region, as well as to end separatism and terrorism it alleged was aided and abetted by Pakistan.
The decision, which Pakistan condemned as "illegal," ratcheted up tensions between the two countries and over Kashmir.