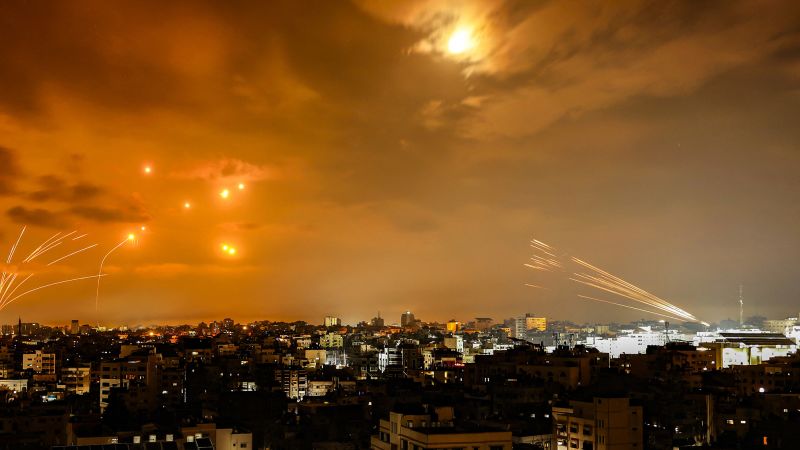 The United States has collected specific intelligence that suggests senior Iranian government officials were caught by surprise by Saturday's bloody attack on Israel by Hamas, according to multiple sources familiar with the intelligence.
The existence of the intelligence has cast doubt on the idea that Iran was directly involved in the planning, resourcing or approving of the operation, sources said.
The sources stressed that the US intelligence community is not ready to reach a full conclusion about whether Tehran was directly involved in the run-up to the attack. They continue to look for evidence of Iranian involvement, which caught both Israel and the United States by surprise.
And since the attack, government officials have noted that Iran has provided longstanding and significant support for Hamas, including weapons and financing, that unquestionably contributed to Hamas's ability to pull off such a massive operation.
But the sources said that this intelligence – which has been briefed to lawmakers on Capitol Hill – has led US analysts to lean toward an initial assessment that the government of Iran did not play a direct role in the attack.
The sources did not disclose any details about the nature of the intelligence, which one source briefed on the information said is extremely sensitive.
For some US and congressional officials, the hunt for direct evidence of Iranian involvement is a distinction without a difference.
"I know the administration is woe to peg Iran as responsible, but I think that all roads lead to Iran," House Foreign Affairs Chairman Mike McCaul, a Texas Republican, told reporters following a briefing Wednesday. "We certainly don't want to see this escalate, but Iran is already in this."
Tehran doesn't have advisers on the ground in blockaded Gaza, according to former security officials and other regional analysts, and it doesn't command the group's activities. But Iran has for years been Hamas' chief benefactor, providing it with tens of millions of dollars, weapons and components smuggled into Gaza, as well as broad technical and ideological support.
One source familiar with the intelligence noted that while the group maintains operational independence from Iran – making it plausible that the Iranian government may not have known about the attack in advance – without Iranian support, Hamas could not exist as it does now. In other words, this person suggested, why would Tehran be any less culpable if they didn't know about the specifics of the attack in advance, given that they enable the activities of the group that carried it out?
"That's why you can speak out of both sides of your mouth on this," this person said.
For days, senior US officials have said publicly that they have seen no indication that Iran was directly involved in the attack, even as they have condemned Tehran as broadly "complicit" because of its historic support for Hamas.
"We're looking to acquire further intelligence," national security advisor Jake Sullivan told reporters at the White House on Tuesday. "But as I stand here today, while Iran plays this broad role – sustained, deep and dark role in providing all of this support and capabilities to Hamas – in terms of this particular gruesome attack on October 7, we don't currently have that information."