Israel has stepped up its offensive in Gaza following Hamas' weekend assault as soldiers who retook villages from the Islamist group's fighters unveiled the brutality that had been meted out to civilians.
At least 1,200 people were killed in Israel and thousands more injured in Hamas' October 7 onslaught when armed militants poured over the heavily-fortified border into Israel, raiding homes, rampaging through farms and communities and taking as many as 150 hostages back to Gaza.
In Kfar Aza, a kibbutz in southern Israel, the Israel Defense Forces (IDF) told CNN that militants carried out a "massacre" in which women, children, toddlers and elderly were "brutally butchered in an ISIS way of action."
Less than 20 kilometers (12 miles) away, the farming community Be'eri was among the worst-hit, with more than 100 bodies recovered and eyewitnesses describing assailants going door to door, breaking into homes and executing civilians.
In retaliation for the atrocities, Israeli jets have been pounding Gaza – the densely-inhabited coastal strip that Hamas controls – with hundreds of airstrikes, reducing homes and neighborhoods to rubble and a "complete siege" has trapped residents, with many cut off from food and electricity.
Hamas warned Wednesday that its electricity generator "will completely stop within hours," limiting the ability to provide basic services.
"All basic services in Gaza depend on electricity, and it will not be possible to partially operate them with generators due to the prevention of fuel supplies through the Rafah gate," the government media office said in a statement.
The IDF has also bolstered troops and tanks along the border as speculation of a possible Israeli ground incursion into Gaza grows.
Israel's Defense Minister Yoav Gallant said he has "released all restraints" for the IDF in their fight against Hamas, saying the response will permanently change Gaza.
"They will regret this moment – Gaza will never return to what it was," Gallant said.
That has deepened fears that Palestinian civilian casualties will continue to rise in the days ahead as Israel responds to the worst attack on its territory in decades.
Airstrikes have killed at least 950 people in Gaza, including hundreds of children, women, and entire families, according to the Palestinian Health Ministry. It said 5,000 had been wounded.
Dozens of Israeli fighter jets struck more than 70 targets in the Daraja Tuffah area of Gaza Wednesday, where the IDF claimed "a large number of terror attacks against Israel are directed." The IDF also said it had struck Hamas naval targets in Gaza early Wednesday, which it claimed were used to carry out attacks on the Israeli coastline.
The Palestinian Ministry of Interior Affairs said residential areas in the eastern part of Jabalia and the Qizan al-Najjar region of Khan Yunis came under intense airstrikes, with attacks targeting civilians' homes and roads, resulting in "direct injuries among citizens," the ministry said.
US President Joe Biden on Tuesday pledged that the US would make sure Israel has the tools needed to defend itself and is surging military assistance to it.
Part of that includes ammunition and interceptors to replenish the Iron Dome anti-missile system. The first supply of US weapons since Hamas' attack arrived in Israel late Tuesday evening, according to the IDF.
Biden also confirmed that 14 Americans are among the dead and that American citizens are among those held hostage by Hamas. He called the attacks by Hamas "pure, unadulterated evil" that bring "to mind the worst rampages of ISIS."
Humanitarian crisis

Civilians in Gaza are facing a deepening humanitarian crisis as Israel ramps up its bombardment for a fifth day and what the Israeli government said would be a "complete siege" of the enclave starts to take effect.
The siege, ordered by the Israeli Defense Minister on Monday, would include the halting of supplies of electricity, food, water and fuel, which Israel mainly controls.
The Office of the UN High Commissioner for Human Rights said imposition of sieges that endanger civilians by depriving them of essential goods "is prohibited under international humanitarian law."
"These risks (are) seriously compounding the already dire human rights and humanitarian situation in Gaza, including the capacity of medical facilities to operate, especially in light of the increasing number of injured people," spokesperson Ravina Shamdasani said Tuesday.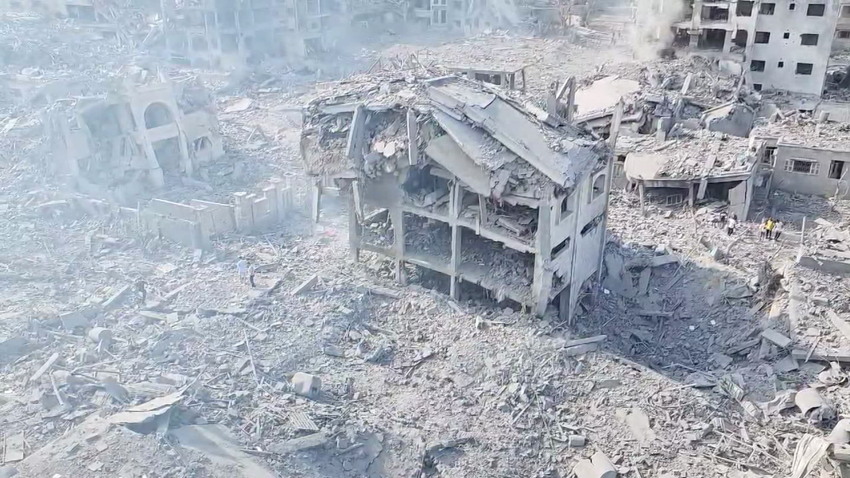 See the devastation in Gaza after Israeli strikes