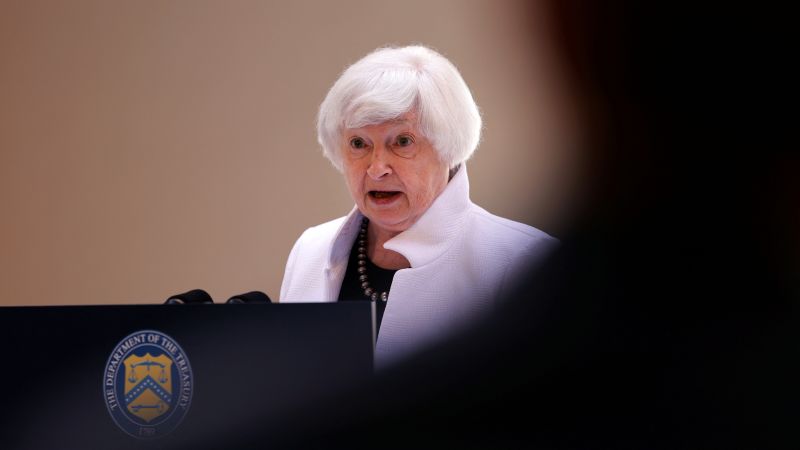 The war between Israel and Hamas is unlikely to have a significant impact on the global economy, US Treasury Secretary Janet Yellen said Wednesday.
"While we are monitoring potential economic impacts from the crisis [in Israel], I'm not really thinking of that as a major driver of the global economic outlook," she told delegates at the International Monetary Fund (IMF) and World Bank annual meetings in Morocco.
"Thus far I don't think we've seen anything suggesting it will be very significant," she added.
Stock markets around the world have largely brushed off the conflict, with Wall Street posting gains Tuesday partly boosted by a fall in oil prices.
Global oil prices had surged earlier in the week on fears that the war could cause wider instability in the oil-producing Middle East. One risk is the potential for tighter enforcement of sanctions on Iran, which has backed Hamas in the past but denies involvement in the latest assault.
Iranian oil exports have jumped this year, in particular to China, a development analysts have attributed at least in part to a softer stance in Washington toward Iran.
But Yellen said Wednesday that the United States had not "in any way" relaxed sanctions on oil exports from Iran.
"This is something we have constantly been looking at, using information that comes available to tighten sanctions," she said, adding, "I don't have anything new to announce."
A supply squeeze could put upward pressure on oil prices, which were already elevated following cuts to exports by major producers Saudi Arabia and Russia.
On Monday, Chevron (CVX) also said it had closed a natural gas field off the coast of Israel. A prolonged shutdown could lead to a drop in Israeli gas exports to its neighbors, Egypt and Jordan, as well as squeeze an already tight global gas market, causing energy prices to rise.
IMF chief economist Pierre-Olivier Gourinchas said this week that commodity prices posed a "serious risk" to the inflation outlook and could become more volatile amid climate and geopolitical shocks.
He said Tuesday that it was too early to assess how the war could affect economic growth in the region and the rest of the world.
For now, the IMF sees better odds that central banks will manage to tame inflation without tipping the global economy into recession.
But it cautioned in its latest World Economic Outlook report — finalized before the conflict erupted — that economic growth remained weak and patchy.
The agency expects the world's economy to expand by 3% this year, below the average of 3.8% achieved between 2000 and 2019. It revised its forecast for US growth upward, compared with predictions made in July, and downgraded its outlook for Europe and China.
The IMF shaved its forecast for global growth in 2024 by 0.1 percentage point to 2.9%.
— Robert North contributed reporting.