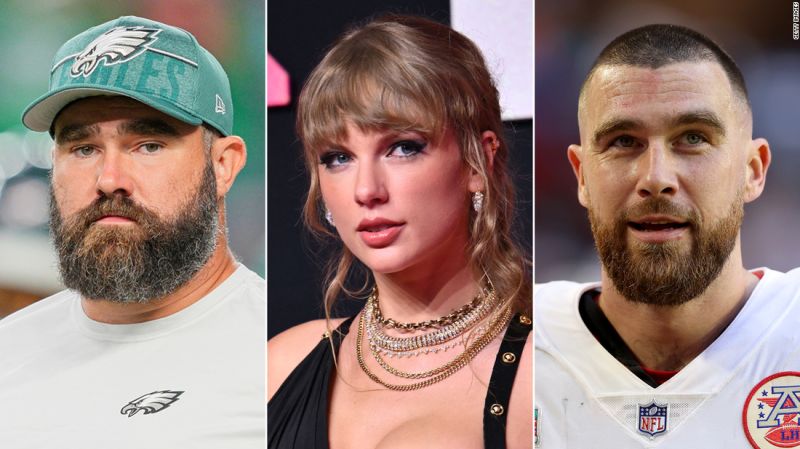 Neither Travis Kelce nor Taylor Swift are saying anything about chatter the two may be dating, but that's not stopping people from asking.
Following Thursday night's NFL game between the Philadelphia Eagles and the Minnesota Vikings, Jason Kelce was asked during an interview about speculation his brother is romantically involved with the pop star.
"I've seen these rumors, I cannot comment," Jason Kelce said.
It made sense to ask since the Eagles center had a hand in all of it.
Travis Kelce, who plays for the Kansas City Chiefs, recently shared on his podcast, "New Heights with Jason and Travis Kelce," that he had attempted to slide his digits to the superstar singer during one of her "Eras Tour" concerts.
"I was disappointed that she doesn't talk before or after her shows because she has to save her voice for the 44 songs that she sings," he told his brother after Jason mentioned he knew Travis had gone to see the show and asked about it. "So, I was a little bit hurt I didn't get to hand her one of the bracelets I made for her."
When his Jason Kelce asked his brother if he meant his jersey number or his phone number, Travis Kelce quipped, "You know which one."
On Thursday night Jason Kelce wasn't spilling any tea.
"Ever since 'Catching Kelce,' everybody has been infatuated with Travis' love life," Jason said. "I don't really know what's going on there. I know Trav is having fun."
"Catching Kelce" was a 2016 E! dating series about a group of women who were vying to be in a relationship with Travis Kelce.