Florida Representative Byron Donalds urged Republicans to unite and rally behind Donald Trump in 2024, citing Democrats' support of Pennsylvania Senator John Fetterman ahead of the 2022 midterm elections.
"For the Republicans who've had issues with Donald Trump, let me remind you that Democrats rallied behind John Fetterman," tweeted Donalds, an avid Trump supporter. "Democrats are about victory & victory only. Republicans must support our nominee, unite, & bring commonsense & America-First policies back to Washington."
Trump announced his 2024 presidential bid in November, even though some Republicans have expressed that they want to back other candidates who seem more favorable to the GOP. The former president is now facing his biggest challenger in the 2024 Republican presidential primary, Florida Governor Ron DeSantis, who launched his presidential campaign on Wednesday.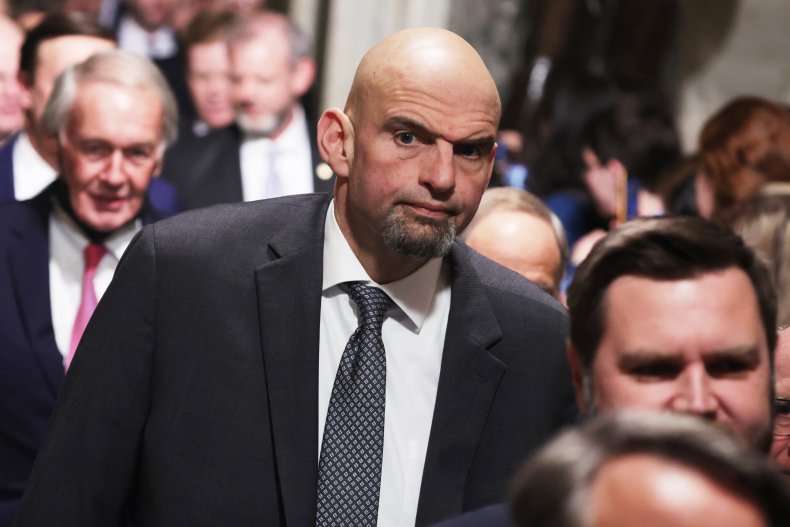 By citing Fetterman as an example of party support, Donalds on Thursday said in a video that he posted to Twitter that Democrats are focused on victory and don't care about whether "you want to support the nominee or not."
Fetterman is currently serving his first term as the senator from Pennsylvania after defeating Republican Trump-endorsed candidate Dr. Mehmet Oz last November. Concerns were raised before the midterm elections over Fetterman's health after he suffered a stroke in May, just a few days before the state's primary, but he still received endorsement for the Senate seat to replace Republican Pat Toomey. The Democrat was also endorsed by The Philadelphia Inquirer's editorial board.
Trump received backlash from his own party after his endorsed candidates lost in some races in the midterms, squashing the "red wave" expected in Congress.
.The former president is currently facing several criminal investigations on the federal and state level that could weaken his winning chances in 2024, including his alleged mishandling of hundreds of classified documents seized by the FBI from his Mar-a-Lago house last year and his alleged involvement in overturning the 2020 presidential election results in Georgia.
Trump was also indicted in Manhattan in March on 34 counts of falsifying business records in the first degree after an investigation into a hush money payment allegedly paid to former adult film star Stormy Daniels ahead of the 2016 election. Trump, the first president in U.S. history to face an indictment, pleaded not guilty to all charges and maintains his innocence.
The former president has launched a string of insults against DeSantis, who criticized Trump for adding trillions to the national debt during his time as president and supporting an amnesty for illegal immigrants.
Speaking to RealClearPolitics on Wednesday, the Florida governor was asked about Trump's criticism against him and whether his campaign will focus on not only why he should win, but why Trump should not get re-elected.
"So [Trump's] drawing helpful contrast with me now," DeSantis said.
"He's running attacks, attacking me for voting against an omnibus spending bill that he signed when he was president. Absolutely, I think he should not have signed those omnibus spending bills. He added almost $8 trillion to the debt in a four-year period of time," DeSantis said, referring to how the national debt rose from $19.9 trillion to about $27.7 trillion during Trump's time in office.
"I'm happy to be on the conservative side of that debate because I think our debt has gone up way too much," he added.
Newsweek reached out to Trump's press team via email for comment.