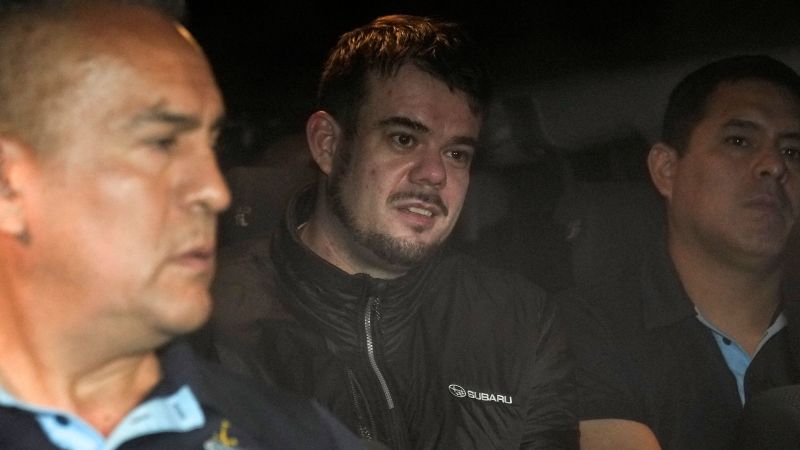 Almost two decades after Alabama teen Natalee Holloway vanished in Aruba, the prime suspect in her disappearance might soon reveal long-awaited details about how she died.
Dutch citizen Joran van der Sloot is also accused of extorting and defrauding the teen's mother. He is expected to enter a guilty plea to US federal charges in that case at a Wednesday hearing, Holloway family attorney John Q. Kelly said.
It's not clear what specific charges in the extortion case he will plead guilty to, or what the sentence will be. But Kelly confirmed to CNN that van der Sloot intends to plead guilty in connection to the case.
As a condition of a plea deal, van der Sloot is required to say how Holloway died and how her body was disposed of, Kelly told NBC's "Today" show.
"There won't be any further investigation or search … for Natalee's remains," Kelly said on "Today."
Beth Holloway, Natalee's mother, will hold a news conference after the hearing to share what van der Sloot told FBI authorities.
CNN has sought more information from Kelly and as well as comment from the US Justice Department and police in Aruba.
18 years of mystery and misery

Natalee Holloway was in the Caribbean nation on a high school graduation trip when she vanished in 2005.
The 18-year-old was last seen leaving a nightclub with van der Sloot and two other men, brothers Deepak and Satish Kalpoe.
The three men were arrested in 2005 but were released due to insufficient evidence.
They were rearrested and charged in 2007 for "involvement in the voluntary manslaughter of Natalee Holloway or causing serious bodily harm to Natalee Holloway, resulting in her death," Aruban prosecutors said at the time.
But a few weeks later, an Aruban judge ordered van der Sloot's release, citing a lack of direct evidence that Holloway died from a violent crime or that van der Sloot was involved in such a crime. The Kalpoe brothers were also released.
Attorneys for the men have maintained their innocence throughout the investigation.
Holloway's body has never been found. In 2012, an Alabama judge signed an order declaring her legally dead.
Why van der Sloot faces charges in the US

While US officials don't have jurisdiction over the criminal investigation in Aruba, a federal grand jury in Alabama indicted van der Sloot for an alleged plot to sell information about Holloway's remains to her family in exchange for $250,000.
According to the indictment, van der Sloot's scheme took place between March and May 2010. He was indicted in June 2010 on charges of extortion and wire fraud.
In the weeks between the alleged extortion and indictment, van der Sloot killed 21-year-old Stephany Flores at his hotel room in Peru on May 30, 2010.
Van der Sloot confessed to killing Flores and was sentenced to 28 years in a Peruvian prison.
But in June, van der Sloot was temporarily transferred to the US to face the extortion and fraud charges under an agreement between Peru and the US.
After his US legal proceedings play out, van der Sloot will return to Peru to finish his murder sentence in the Flores case.
He would then return to the US to start serving whatever sentence he might receive for the federal charges.
CNN's Michelle Watson contributed to this report.