Starbucks violated federal labor law when it increased wages and offered new perks and benefits only to non-union employees, a National Labor Relations Board judge found Thursday.
The decision is the latest in a series of NLRB rulings finding that Starbucks has violated labor law in its efforts to stop unions from forming in its coffee shops.
"The issue at the heart of this case is whether, under current Board law, [Starbucks] was entitled to explicitly reward employees," for not participating in union activity, "while falsely telling its workers that the federal labor law forced it to take this action," wrote administrative law judge Mara-Louise Anzalone. "It was not."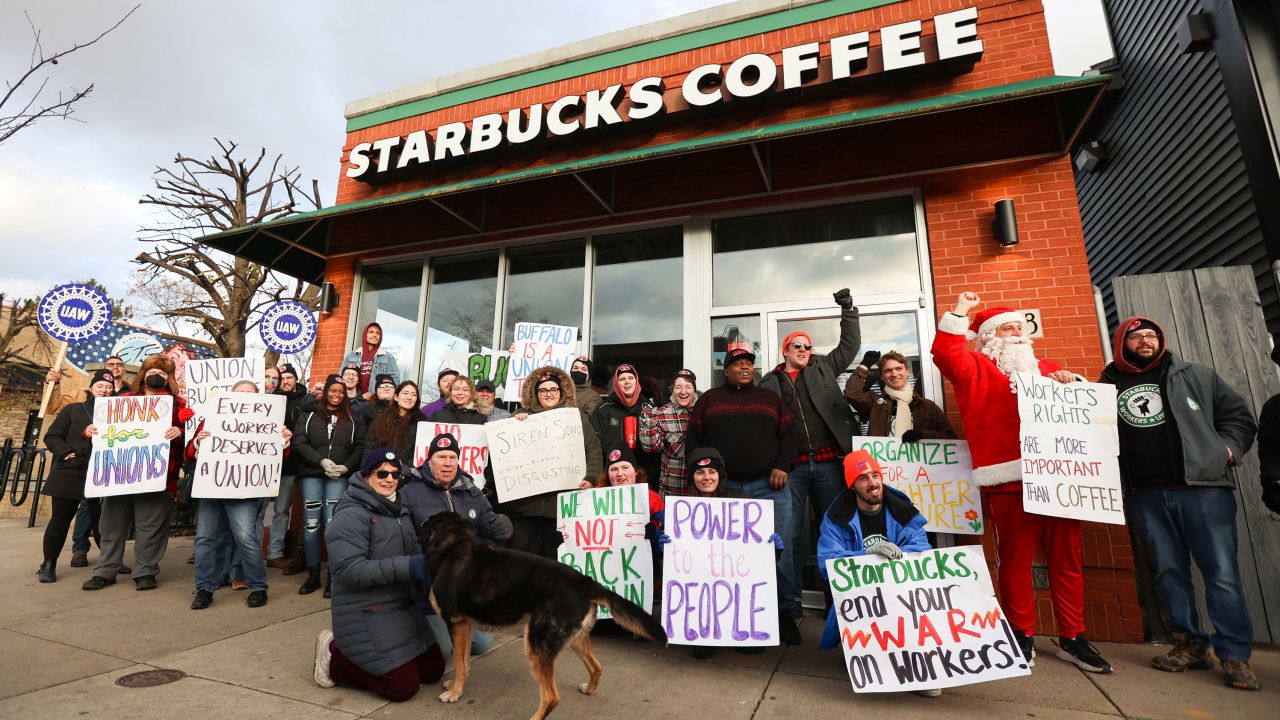 In its actions, the company engaged in a "flagrant, corporate-wide attack on its employees' right to choose union representation," the judge added.
Nearly two years ago, the first Starbucks location voted to unionize, setting off a national campaign to organize. In that period, Starbucks has been fighting the effort, in some cases acting illegally, according to the NLRB's findings. Starbucks is currently facing hundreds of unfair labor practice charges.
Who gets a pay bump?

Last year, Starbucks announced that it would raise wages for non-union employees, and offer them other new benefits. When announcing the new wage hike, Howard Schultz, then interim CEO of the company, said that '"we do not have the same freedom to make these improvements at locations that have a union or where union organizing is underway," because federal law "prohibits us from promising new wages and benefits at stores involved in union organizing."
In Thursday's decision, Anzalone said she was not convinced by that reasoning, which was reinforced by Starbucks' witness in the case.
Anzalone wrote that in order to believe Starbucks had acted in good faith with this claim, she would have to conclude the company had "misapprehended basic labor law concepts," wrongly concluding that it had to deny wages and benefits to union workers "without even considering bargaining with the union or deferring its award of new pay and benefits for unionizing partners."
The judge added that "in light of the otherwise compelling evidence of [Starbucks'] antiunion motive, such an inferential leap is not warranted." Earlier this year, an NLRB judge said that Starbucks had displayed "egregious and widespread misconduct" in its dealings with employees involved in efforts to unionize Buffalo, New York, stores. Starbucks said in a statement at the time that it is "considering all options to obtain further legal review," adding that "we believe the decision and the remedies ordered are inappropriate given the record in this matter." Starbucks has appealed, and the case is still open.
In Thursday's decision, Anzalone recommended that Starbucks offer the benefits and higher pay to excluded employees, starting from the date when they went into effect for non-union workers, among other remedies.
Starbucks should also post a notice in its cafes telling workers that the NLRB found Starbucks had violated federal labor law, and detailing employee rights, she said.
Starbucks is planning to appeal the decision.
"We continue to contend that Starbucks has honored established organizing and collective bargaining rules and plan to file exceptions to the ALJ's recommendation," Starbucks spokesperson Rachel Wall said in a statement to CNN. "The ALJ's recommendation that Starbucks should or could have disregarded these rules creates an untenable situation," she added.
'A massive victory'
Starbucks has come under fire for its approach to the union.
In March, senators led by Bernie Sanders questioned Schultz, then Starbucks' chairman emeritus, about the company's labor practices. Starbucks said this month that Schultz is stepping down from its board of directors, but holding the title of "lifelong Chairman Emeritus."
Shareholders, too, said they want answers. Earlier this year, investors voted to approve a proposal that would have the board of directors "commission and oversee an independent, third-party assessment of Starbucks' adherence to its stated commitment to workers' freedom of association and collective bargaining." Shareholder proposals are not binding.
So far, nearly 360 Starbucks stores have voted to unionize and been certified by the NLRB, a relatively small number compared to the roughly 9.300 company-operated locations in the US. About 70 locations have voted against unionization and had their results certified.
Those organizing the union saw the most recent ruling against Starbucks as a win.
Thursday's decision was "a massive victory for Starbucks workers," Starbucks Workers United, which has been leading the union charge, said in a statement to CNN.
The decision "shows that Starbucks' anti-union campaign started from the top [and] was coordinated."