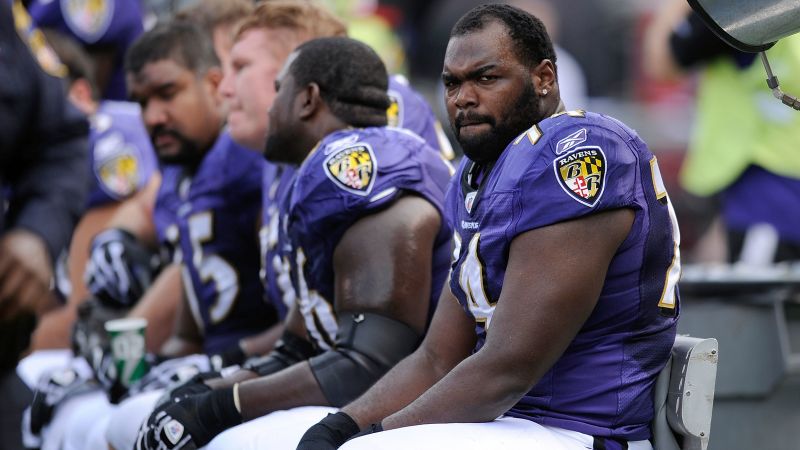 A Tennessee judge signed an order Friday ending Sean and Leigh Anne Tuohy's conservatorship over Michael Oher, a month after the former NFL player accused the couple of representing themselves publicly as his adoptive parents and using him for financial benefit.
Oher, whose life story was portrayed in the Oscar-winning movie "The Blind Side," filed a petition last month in Tennessee court claiming the Tuohys told him they were going to adopt him, but instead filed a conservatorship that kept millions of dollars from him.
Shelby County Probate Court Judge Kathleen Gomes issued an order to terminate the conservatorship, but the case has not yet been dismissed. Several outstanding issues still remain in Oher's lawsuit, including payments and accusations of false signatures.
CNN reached out to attorneys for Oher and the Tuohys.
Oher's petition to the court asks for an order for the Tuohys "to show cause for failure to meet their required duties to provide regular accountings or to act in the best interest of their ward, Michael J. Oher."
In their response to Oher's petition, the Tuohys said in court documents filed in Tennessee court they "vehemently deny" Oher's claims that they were "enriching themselves at the expense of their Ward [Oher]."
They say Oher never asked to terminate the conservatorship, either verbally or in writing, and "they have always acted in the best interest" of Oher.
Shortly before turning 11 in 1996, Oher became a ward of the state of Tennessee, and soon after began living on the streets.
A friend's father helped get him into a school where he started playing football. He had to take buses and walk over an hour to school, according to the petition.
During the summer after his junior year, Oher started staying with Sean and Leigh Anne Tuohy occasionally.
"Where other parents of Michael's classmates saw Michael simply as a nice kid in need, Conservators Sean Tuohy and Leigh Anne Tuohy saw something else: a gullible young man whose athletic talent could be exploited for their own benefit," the petition says.
Oher never received any payment from movie, he says

The petition claims the Tuohys did not take legal action in juvenile court to assume legal custody of Oher, but invited him to stay at their house more often and took him on shopping trips.
In July 2004, after Oher turned 18 but was still a student, the Tuohys offered for Michael to come live with them, the petition states. Soon after he moved in, the Tuohys gave him legal papers he thought were necessary for the adoption, Oher claims.
The papers requested that the conservators "have total control over Michael Oher's ability to negotiate for or enter any contract, despite the fact he was over 18 years of age and had no diagnosed physical or psychological disabilities," the petition states.
Oher said in the petition the Tuohys never informed him they would have "ultimate control of all his contracts" and the couple "falsely and publicly represented themselves as the adoptive parents of Michael, continuing to the date of the filing of this petition."
Around September 2006, the Tuohys negotiated contracts for the movie "The Blind Side" based on the book on Oher's life story for themselves and their two other children through Creative Artists Agency. Each person would receive "$225,000 plus 2.5% of all future 'Defined Net Proceeds'" contingent on Oher signing.
Another contract from April 2007 exists that was "purportedly signed by Michael Oher" in which Oher gives away his name, likeness, voice, etc. to the movie studio. However, Oher claims he never received any money from the movie.
Oher thinks the signature on the contract looks similar to his, but he is not sure if it was forged because he said "at no time ever willingly or knowingly" did he sign a document that explained he would be giving away rights to his name, image, etc.
In their response filed in court, the Tuohys say all the money received from the movie has been split equally between Sean and Leigh Anne, their two children and Oher – 20% each. The Tuohys said Oher's share was paid to him. It was first given to them, they paid the taxes for a period of time but wrote Oher a check for his full 20% share.
The petition is asking the Tuohys to provide a sworn accounting of the money belonging to Oher that should have been paid to him.
Oher started 47 consecutive games at Ole Miss and was named a consensus All-American in 2008.
The Baltimore Ravens selected Oher with the 23rd pick of the 1st round of the 2009 NFL Draft and the 6-foot-5, 309-pound lineman made an immediate impact, as he was named the runner-up in AP Offensive Rookie of the Year voting.
He played both left and right tackle in Baltimore for five seasons, helping them win a Super Bowl in 2013. Over his NFL career, he started 110 games over eight seasons with Baltimore, the Tennessee Titans and the Carolina Panthers.
Oher earned over $34 million during his NFL career, according to Spotrac, a website that tracks sports contracts.
CNN's Jennifer Henderson and Eric Levenson contributed to this report.