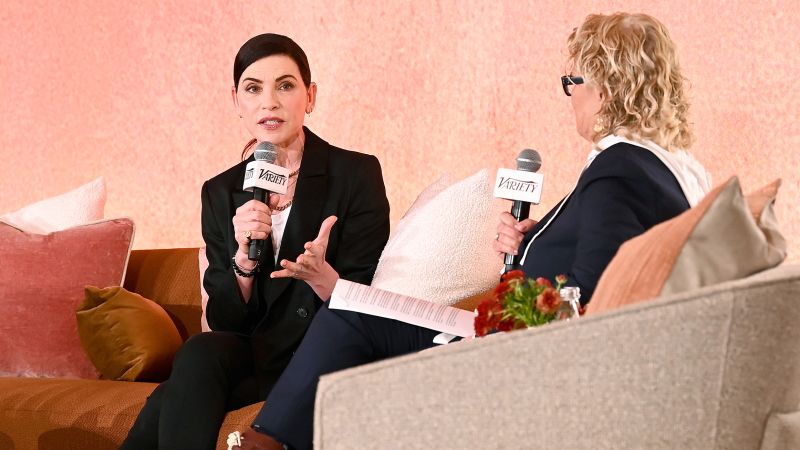 Julianna Margulies is feeling "disheartened" that more people in the entertainment industry aren't speaking out against antisemitism.
During Variety's Hollywood and Antisemitism Summit in Los Angeles on Wednesday, Margulies said she's trying to "understand and work around why every single person in our industry isn't standing up" against hatred.
"I don't understand," she added.
"Maybe they're afraid. I honestly don't know what they're afraid of… losing followers?" Marguilies continued. "It's just insane to me."
"That's not how I roll," Margulies said, adding that while she didn't expect to be "the one actress speaking up for Jews," she's proud to do so.
Margulies, who is Jewish, currently stars as a journalist on Apple TV's "The Morning Show." She recalled an experience she now "regrets" while working on the series.
During a fitting, Margulies said, a costume designer for the show placed a cross around her neck as part of her character, Laura Peterson's wardrobe. She explained the designer intended the cross to be a symbol of her character's travels as a journalist.
"I did not think twice," Margulies said. "I put the cross on and then the character became popular, and I went in the next season and there in my dressing room was that cross."
Margulies leads a Holocaust education program at the Museum of Jewish Heritage in New York, a role she stepped into after filming the second season of "The Morning Show." It's something that she said inspired her to ask herself, "why did I not say, hold on a minute, why am I wearing a cross?"
"On television, characters are not ever wearing a Star of David if they're just a regular character, without talking about their religion, but wearing it. And I regret that, and I'm sorry for that," she said, adding, "and I'm going to be much more careful in the future."
She also said she doesn't believe that "any religious aspect of characters I play need to be a part of the character's backstory, but because it's so easy to just put on a cross, why isn't it just as easy" to put on a Star of David.
Margulies weighed in on debate about whether it's appropriate to cast actors to play a Jewish person, or a gay person, on screen, if they identify differently in their real lives.
"Look, I'm playing a gay, lesbian journalist. I'm a married woman to a man with a child, so does that mean I can never play a single, motherless woman? I think it's a slippery slope," she said, adding that when it comes to religion, "I'm on the fence about it."
"I'm an actor, I'm supposed to make the character I play believable, so that's a slippery slope for me, honestly," she said.
Speaking about her work with the Museum of Jewish Heritage, Margulies shared her passion for educating children about the Holocaust, an effort she believes is having an impact.
"It's working," Margulies said. "We've reached 7000 kids who knew nothing about Jews and the Holocaust."