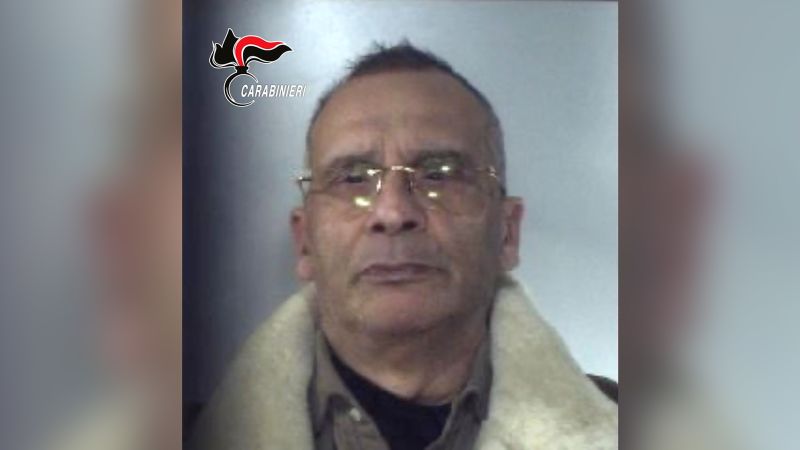 A Mafia boss who spent nearly three decades evading law enforcement before he was arrested in January has died while receiving medical treatment, according to Italian media reports.
Matteo Messina Denaro, who is thought to have ordered dozens of Mafia-related murders for the Cosa Nostra crime group, died at the San Salvatore hospital in L'Aquila, central Italy, where he had been treated for colon cancer, public broadcaster Rai reported Monday.
Before his arrest at a private health clinic in Palermo in January, the former boss of the Sicilian Mafia had been a fugitive since 1993 and was considered by Europol one of the most wanted men in Europe, prosecutor Maurizio de Lucia told CNN at the time.
Messina Denaro was given several life sentences in absentia for his many crimes, most notably in 1992 for his involvement in the murders of anti-Mafia prosecutors Giovanni Falcone and Paolo Borsellino.
He received his most recent life sentence in 2020 for fatal bombings in Milan, Florence and Rome in the late 1990s, and for the murder and torture of the 11-year-old son of an enemy who gave evidence against the Cosa Nostra.
Before he died, cases for the murders of Falcone and Borsellino, and for the murder of 11-year-old Giuseppe Di Matteo were in the process of being brought before higher courts.
Having been a wanted man for nearly 30 years, he was the Cosa Nostra's longest-hiding fugitive.
The January police raid at the Maddalena clinic that ended in his capture involved more than 100 agents with the anti-Mafia Carabinieri.
Anti-Mafia security forces had been closing in on Messina Denaro's circle, seizing around €3 billion ($3.25 billion) in assets belonging to companions, relatives and associates thought to be supporting his life in hiding, and making arrests in a crackdown between 2009 and 2010.
Messina Denaro – known as Diabolik – is regarded as one of the successors of Bernardo Provenzano, who was famously arrested while in hiding in a farmhouse outside Corleone, Sicily, in April 2006.
Crime was a family affair for Messina Denaro, born to a known Mafia boss in Sicily on April 26, 1962. Among those arrested in the 2009-2010 crackdown was his brother, Salvatore Messina Denaro, who refused to testify about his whereabouts.
In 2013, his sister, Patrizia Messina Denaro, was sentenced to 14 years in prison, a term she is still serving, for being a member of the Mafia.
Felia Allum, professor of comparative organized crime and corruption at the UK's University of Bath, said in January that Messina Denaro was the last of an old generation of Mafia bosses.
"He represents the final link between the belligerent and overt Cosa Nostra of the early 1990s and the silent, business-like Mafia of the 21st century," she said at the time.